The right Enterprise Resource Planning (ERP) software can greatly enhance manufacturing efficiency. In this article will delve into understanding the best ERP systems for manufacturing businesses. We aim to guide you through the selection process with expert insights and top-notch comparative analysis. Why do you even need an ERP manufacturing system you ask? A recent study stated that 95% of organizations improved their process efficiency after implementing an ERP system.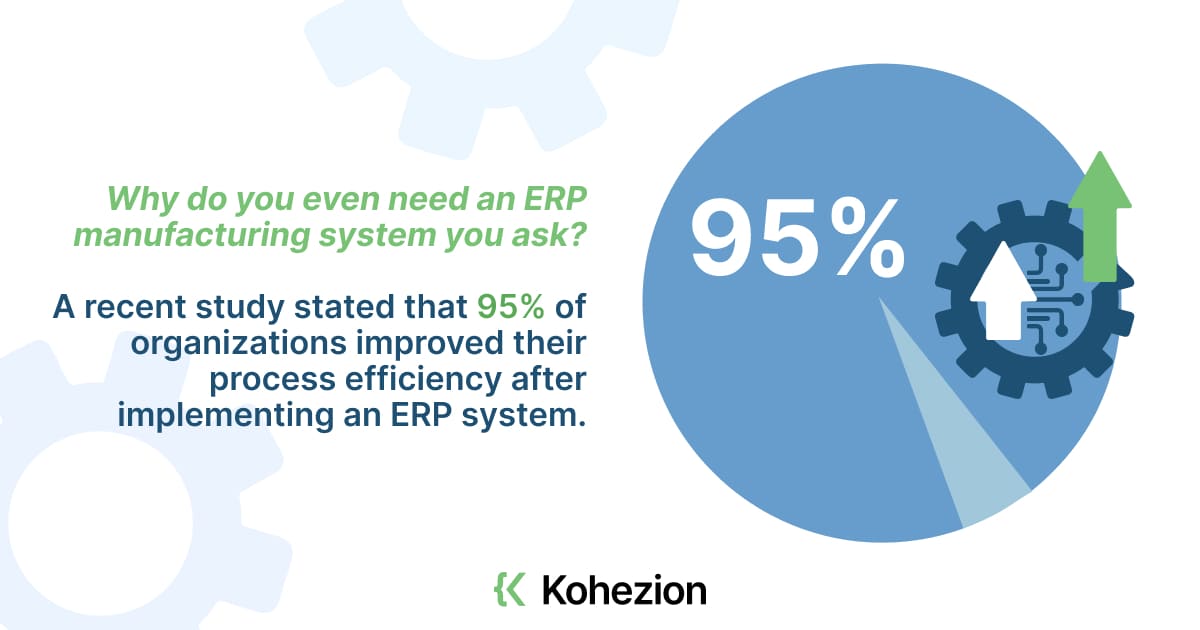 Add a header to begin generating the table of contents
What is a Manufacturing ERP Software?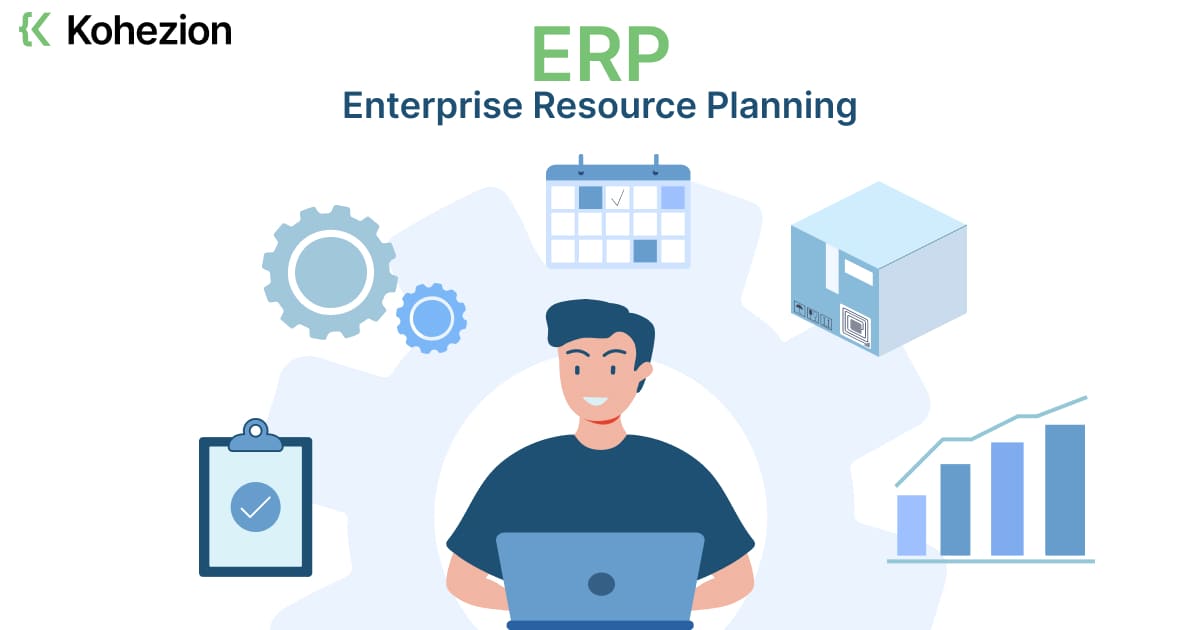 Manufacturing ERP (Enterprise Resource Planning) software is a comprehensive system that combines and synchronizes all aspects of manufacturing operations. It integrates various functional areas like financial management, production planning, scheduling, shop floor control, inventory management, and warehouse management, among others. Specifically catered to meet manufacturers' requirements, the software offers insights, control, and analytics aimed to enhance efficiency, reduce costs, and increase profitability. This tool is designed for industries such as metal, food, automotive, textile manufacturing, and more.
Factors to Consider When Choosing a Manufacturing ERP System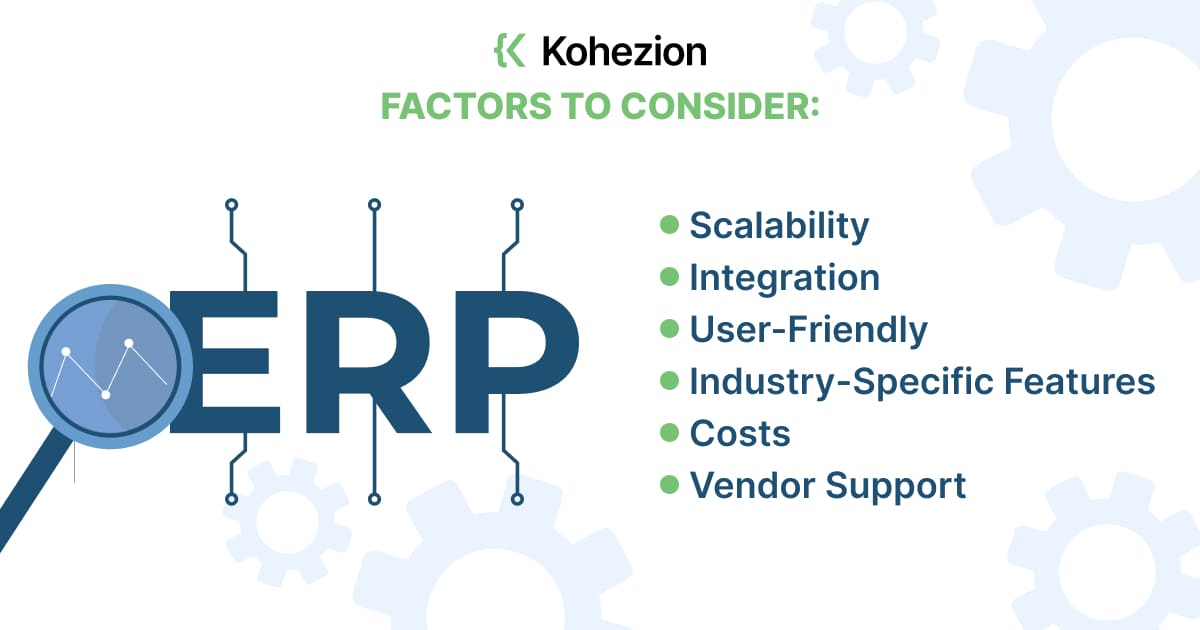 Selecting an ERP system for your manufacturing business is critical and should be made after a careful analysis. Here are some of the factors to consider:
Scalability: Find an ERP that can grow alongside your business. It should be flexible and scalable to accommodate your future needs and expansions.
Integration: A good ERP software must be able to integrate seamlessly with your existing systems and technologies. This will ensure smooth and uninterrupted operations.
User-Friendly: Your employees are the ones to use the system. Therefore, the ERP software must be user-friendly, intuitive, and require minimal training.
Industry-Specific Features: The ERP should cater to your industry's specific needs. It should help you to streamline your manufacturing processes and enhance productivity.
Costs: Apart from the initial implementation cost, consider other related costs like training, maintenance, upgrading, and licensing costs.
Vendor Support: Choose a vendor that offers robust customer service and support post-implementation. They should be quick to respond and assist you in case any issues arise with the system.
15 Best ERP Software for Manufacturing
1. Kohezion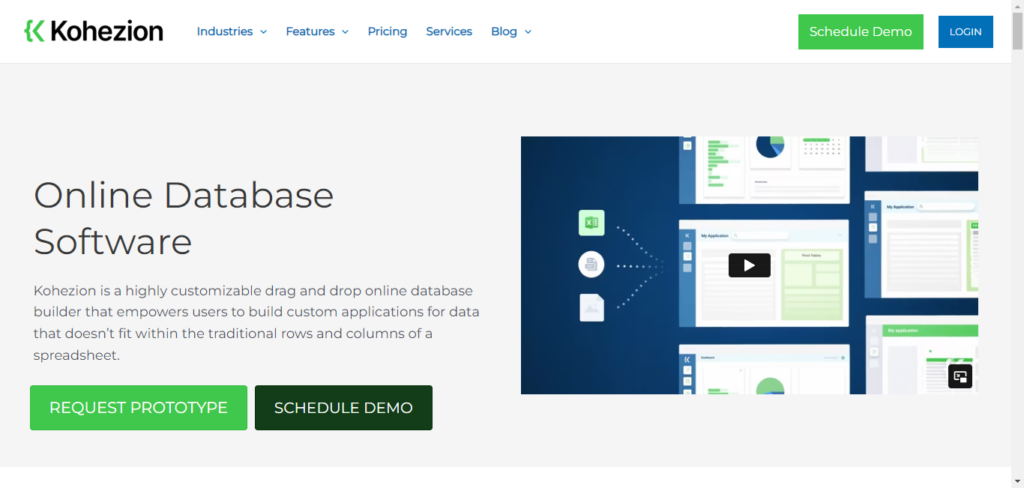 Kohezion is a powerful and highly customizable online database software that serves as an excellent ERP alternative for manufacturing. The software is known for its user-friendly interface and its ability to streamline business processes. Kohezion specializes in providing advanced tools that intuitively connect disparate workflows, enabling integrated, real-time monitoring and control of various business functions.
The prime features of Kohezion encompass quality management, a unique competency in global financial integration, and support for both cloud-based and on-premises deployments. This versatility allows businesses to choose the right fit according to their specific needs, which guarantees optimum operational efficacy.
Its advanced capabilities offer solutions for workflow management, data collaboration, reporting, and analytics. It eliminates the need for coding and empowers users to design database applications tailored to their specific requirements. While it's not a traditional ERP, its flexibility and customizability make it a suitable choice for manufacturing organizations seeking a more personalized approach to resource planning.
What differentiates Kohezion from other ERP systems is its user-friendly design that ensures companies can effortlessly navigate through the system, focused on business growth and efficiency. Coupled with its robust global support, Kohezion fosters a nurturing environment conducive to seamless communication, resulting in decreased downtime and elevated productivity.
Kohezion's value proposition lies in its adaptability and scalability. The software can be effortlessly tailor-made to meet the needs of almost any manufacturing operation, making it an ideal solution for businesses of all sizes, looking forward to enhancing their operational efficiency and building a solid digital foundation for the future.
2. Epicor Kinetic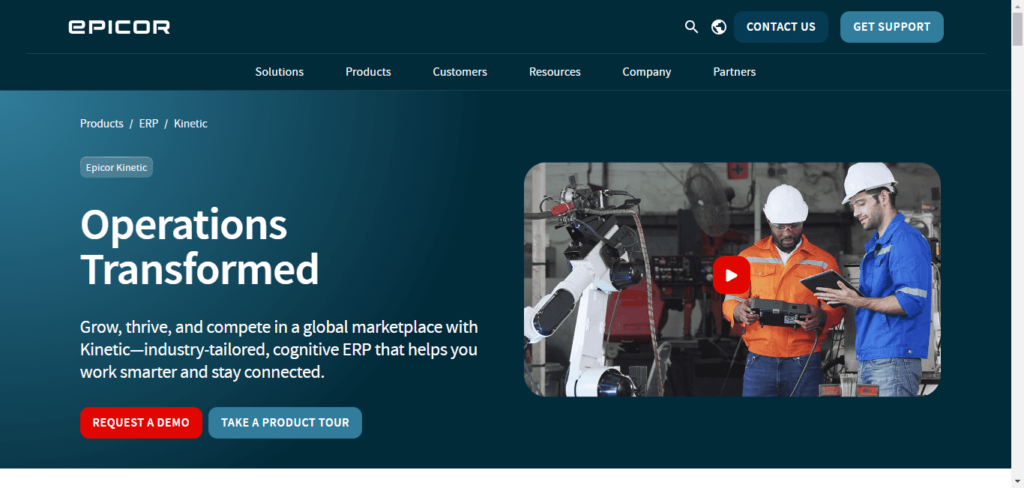 Epicor Kinetic, also known as the gold standard for mid-market discrete manufacturers, enjoys a significant place in the manufacturing ERP market. Previously known as Epicor ERP, it has been re-engineered to align with modern manufacturing needs. Its deployment options include both cloud and on-premise environments.
Epicor Kinetic features excellent real-time performance monitoring, advanced quality management capabilities, and efficient global financial integration. Boasting a user-friendly design, it provides an intuitive navigation experience. This ERP solution allows consistent customer experiences at every touchpoint and supports business growth and efficiency.
Some salient features include built-in reporting, advanced BI (Business Intelligence) capabilities, and preventive maintenance identification. The system is particularly beneficial for high-tech manufacturers as it provides real-time performance data and carries out automated data collection. Epicor Kinetic pricing starts at $175 per user/month, offering flexibility in its usage.
3. Acumatica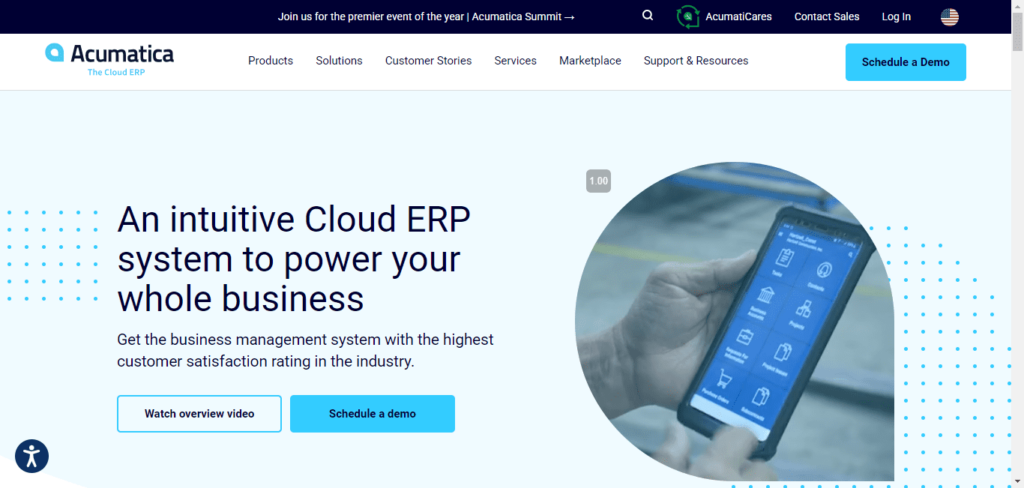 Acumatica, a relatively new entrant in the ERP market, has quickly made a name for itself as a fast-growing and highly flexible system, specifically for small to mid-size manufacturing organizations. Focusing exclusively on manufacturing, Acumatica's standout features include its ability to integrate manufacturing, inventory management, and accounting, which allows businesses to generate accurate pricing and calculate total manufacturing costs.
One of Acumatica's highlights is its financial management interface, skillfully designed for companies with complex requirements. This enables businesses to automate reporting, streamline operations, and reach international markets. The software can be deployed via the cloud or through an integration process, providing ample flexibility.
The cost per user is currently not listed, but the company indicates an a-la-carte model for pricing. The reported price range is about $7.50K - $50K. Acumatica ensures a high retention rate of 78%, which suggests customer satisfaction and business success.
However, larger organizations might find Acumatica a bit limiting, and there could be more fitting ERP systems for larger, more complex operations.
4. Infor CloudSuite Industrial (Syteline)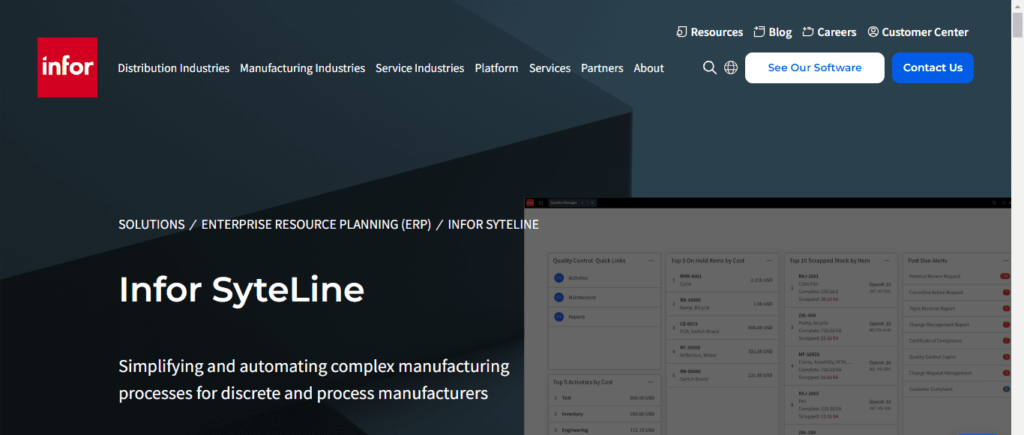 Infor CloudSuite Industrial, previously known as Syteline, is a highly flexible and reliable ERP solution tailor-made for mid-sized and large manufacturers. This ERP system is designed to simplify and automate complex manufacturing processes and management. Key highlights include planning and material management capabilities, collaboration portals with customers, vendors, and resellers, and the ability to coordinate costing transactions with operations management.
What sets it apart is the feature that utilizes its inventory sourcing and procurement capabilities, as well as multi-site management capabilities, and allows businesses to manage their entire supply chain. Its pricing starts at $150 per feature added, offering options suitable for diverse budget ranges.
Infor CloudSuite Industrial also excels at enhancing efficiency across various manufacturing types. It offers deployment options in the cloud and on-premises and puts a strong emphasis on user-friendliness to promote smart manufacturing. With its impressive flexibility, you can expect improved operational performance and modern business agility.
This ERP solution is best suited for large manufacturing enterprises with revenue of $250 million or above. It connects suppliers and manufacturers, brokers, 3PLs, and banks to the supply chain, showcasing an impressively comprehensive approach to manufacturing ERP. The software has extended and evolved components that allow you to design and deploy applications as required, ensuring that your ERP grows as your business does.
5. Oracle ERP Cloud

Oracle ERP Cloud has a strong legacy in catering to upper-market organizations, with an impressive history in the manufacturing field. As Oracle focuses on transitioning its functionalities from legacy software to the cloud, it continues to offer robust solutions across multiple business areas.
The strong points of Oracle ERP Cloud include its scalability, real-time analytics, and advanced data visualization options. It stands out in providing features like procurement, comprehensive financial management, order management, and supply chain management, and makes it an ideal pick for manufacturers. Its financial management dashboard is impressively data-powered, providing invaluable business decision insights.
Notably, NetSuite ERP, now an Oracle Software product, has been instrumental in making ERP system capabilities accessible for smaller to mid-sized manufacturers. The system replaces outdated QuickBooks systems more than any other ERP system today, signifying its modern approach and comprehensive features.
The costs per user start from $125 per month, with the price range falling between $10K and $100K. It also offers flexible options such as subscription-based pricing.
6. Plex Manufacturing Cloud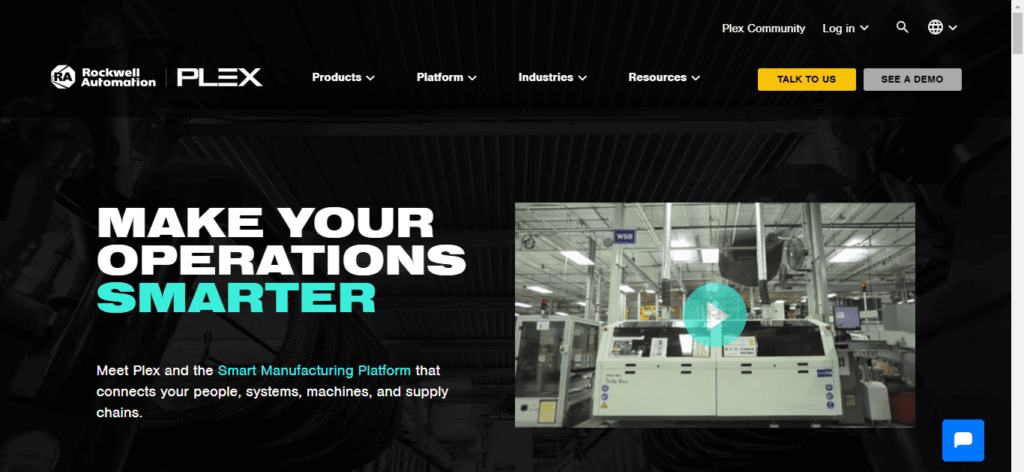 The Plex Manufacturing Cloud was among the frontrunners of Cloud ERP solutions. Because of its early adoption, Plex is one of the most mature cloud-based ERP systems catering specifically to the manufacturing industry.
The software offers a comprehensive system that aids in managing sectors such as inventory management, supply chain planning, manufacturing execution (MES), and quality management. Plex's focus on the sub-verticals within manufacturing and commitment to fitting the specific needs of manufacturing organizations set it apart.
Plex also provides real-time production tracking, allowing for seamless shop floor control, increasing productivity, and reducing costs due to waste. From recipe management to order fulfillment, Plex Manufacturing Cloud ensures end-to-end visibility and control over the entire manufacturing process.
Pricing for Plex Manufacturing Cloud is a bit more costly than some other options, but considering its complete suite of offerings, the cost is well justified. It's particularly suited for medium to large-sized manufacturing firms seeking a reliable, cloud-based solution that provides not only the standard ERP functionalities but also a wide range of industry-specific features.
7. Global Shop Solutions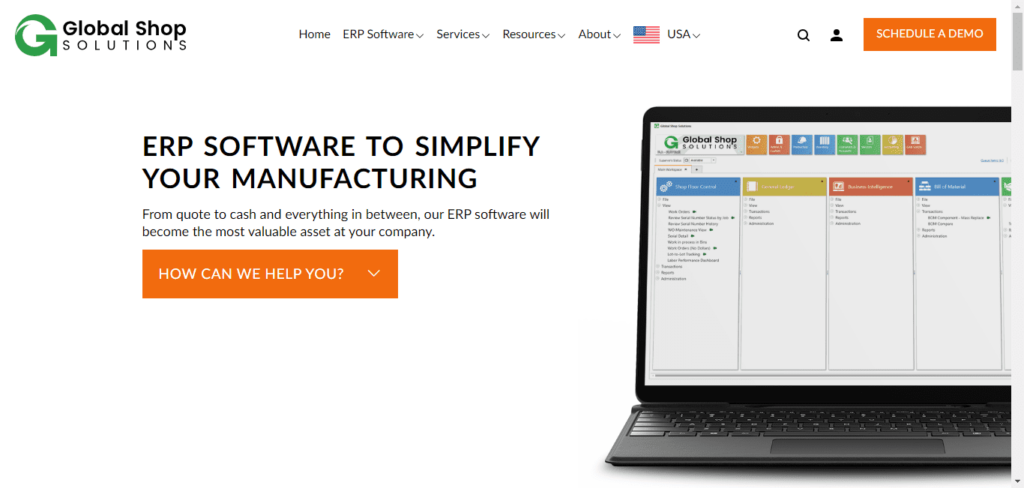 Global Shop Solutions (GSS) has been serving the manufacturing industry with ERP software solutions since 1976. Known for their customer-centric approach, this Texas-based, family-owned business has established a strong reputation for reliability and outstanding customer service.
GSS serves a wide range of manufacturing industries including aerospace, concrete, metals, wood, plastics, and medical devices. It offers both on-premise and cloud solutions, tracking real-time data from the shop floor and offering a "Supply and Demand screen" for efficient inventory management. The software addresses all major areas of business operations, from inventory and shop management to customer relationship management (CRM).
A unique feature of GSS is the Continuous Improvement Team that works with current customers to manage consulting and other custom business-based requirements. The software serves manufacturers in 25+ countries and is designed to grow along with your manufacturing business, making it a reliable choice for small to mid-sized manufacturers. Pricing varies by industry, and the minimum fee to implement is around $20,000.
GSS has successful installations of around 3000 and serves users ranging from 5 - 500, supporting multi-location and multinational deployments.
8. Odoo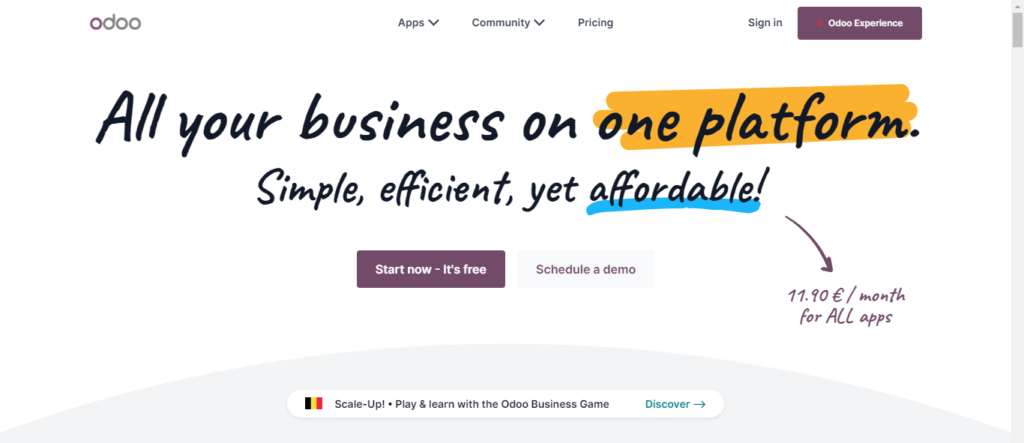 Odoo is a comprehensive suite of open-source enterprise management applications. It is one of the most used open-source solutions in the world. Its unique value proposition is its fully integrated range of apps, which enables businesses to streamline various functions and operations.
Some of the key functionalities of Odoo's Manufacturing module include managing bills of materials, planning manufacturing orders, tracking orders, and more. The system also has advanced routing, flexible consumption and production strategies, and comprehensive quality control procedures.
Its user-friendly interface and modular approach make Odoo particularly appealing to small to medium-sized manufacturing companies. Also, Odoo's open-source nature gives users maximum flexibility, allowing them to tailor the system to their unique needs. Pricing for Odoo is modular, meaning you only pay for the modules you use. The pricing starts at $12 per user per month.
9. IFS Applications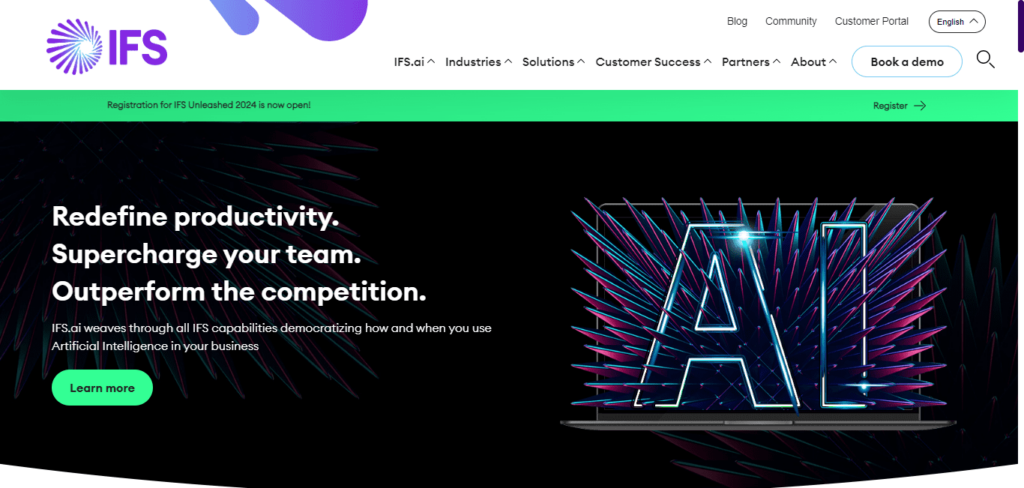 IFS Applications, brought to you by Europe-based company IFS, has emerged as a powerhouse in the global ERP space in recent years. IFS pre-eminently caters to organizations with heavy project management requirements, including those peripherally affiliated with field service crews.
The cloud-based enterprise software is robust and combines Enterprise Resource Planning (ERP), Enterprise Asset Management (EAM), and Enterprise Service Management (ESM). The stability and functionality of the software are backed by its maturity and years of trusted operations, suitably making it a dependable choice for many users.
What stands out is IFS's strength in manufacturing-specific ERP capabilities. Being in the industry for decades, the IFS Applications 10.0 suitably caters to manufacturers with revenues exceeding $75 million. Working seamlessly for both on-premise and cloud deployments, these systems support thousands of global and domestic manufacturers.
This system typically serves user ranges from 100 and up, and it's a great fit for multi-site and multi-national manufacturers and costs around $7,500 per user/month. The software is designed and primed for flexibility across core processes like manufacturing and supply chain, which ensures smooth and efficient operations.
10. Sage Business Cloud X3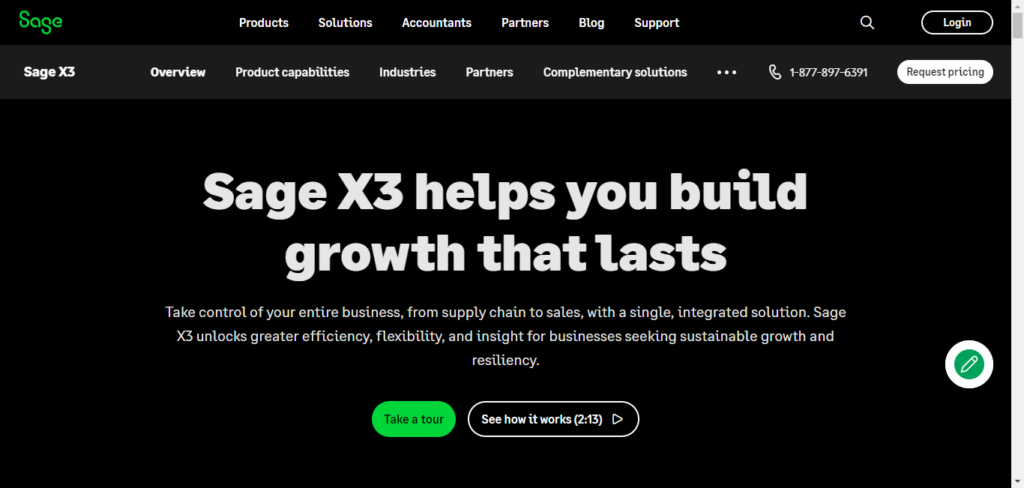 Sage Business Cloud X3, also known as Sage X3, is a robust ERP system that caters to various industries and businesses of all sizes. Offering both on-premise and cloud deployment options, it offers a comprehensive solution for every manufacturing need.
Users highly praise Sage X3 for its ability to customize the solution according to specific business requirements. Sage X3 also permits APIs enabling users to utilize external services, thus extending its functionality and ensuring a seamless experience.
An impressive feature is the advanced analytics which allows decision-makers to get actionable insights from their data. This aids in making informed decisions and optimizing business outcomes. Its process manufacturing module, in particular, includes unique features such as formula management, potency, by-products, and co-products, quality control, and lot tracking.
As for pricing, Sage X3 is known to provide flexible pricing models, including options per user or per module. The initial fee to implement Sage X3 can start from $15,000.
11. QAD Adaptive ERP

QAD Adaptive ERP is a cloud-based solution primarily customized for international manufacturers. It ties together traditional ERP features with a modern interface, integrating functionalities like Financial and Supply Chain Management while being complemented by apps like QAD EQMS. Rapid deployment and 24/7 support enhance the scalability of this software.
This system's strength lies in serving mid-sized discrete manufacturers with over $50 million in revenue and is ready for growth. QAD Adaptive ERP is worldwide appreciated for its quick and smooth implementations. With an available complete suite of application integrations, it proficiently addresses many manufacturing industries' evolving and complex requirements.
Another notable aspect is this ERP solution's configuring flexibility, making it appealing to many companies. QAD Adaptive ERP facilitates customization and recoding of the modules within the software, adding a sense of personalization that is desirable to many.
The cost per user is around $250/month, with a price range approximately ranging from $25K - $500K.
12. Deacom ERP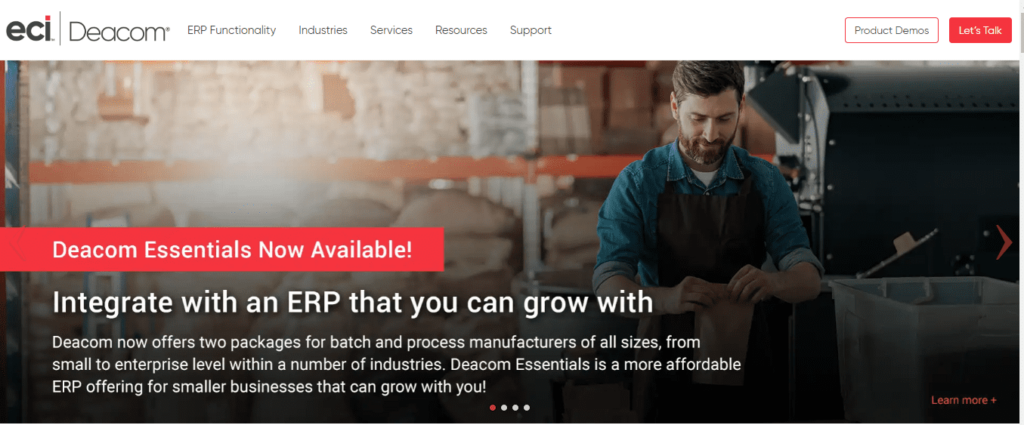 Deacom ERP, primarily focused on the manufacturing sector, offers a fully integrated solution with comprehensive capabilities for every manufacturing operation. Deacom's unique approach of providing a single, comprehensive system specifically caters to the manufacturing industry.
Deacom effectively addresses challenges that manufacturers face and simplifies the complexity of your business processes. Its ERP software excels in managing inventory, production, and planning, among others. The system is designed to be flexible with a scalable architecture perfect for expanding businesses.
A standout feature is the company's fixed bid implementation, which gives users peace of mind about budget adherence. This is particularly useful for smaller companies that might be concerned with keeping within a strict budget.
13. SYSPRO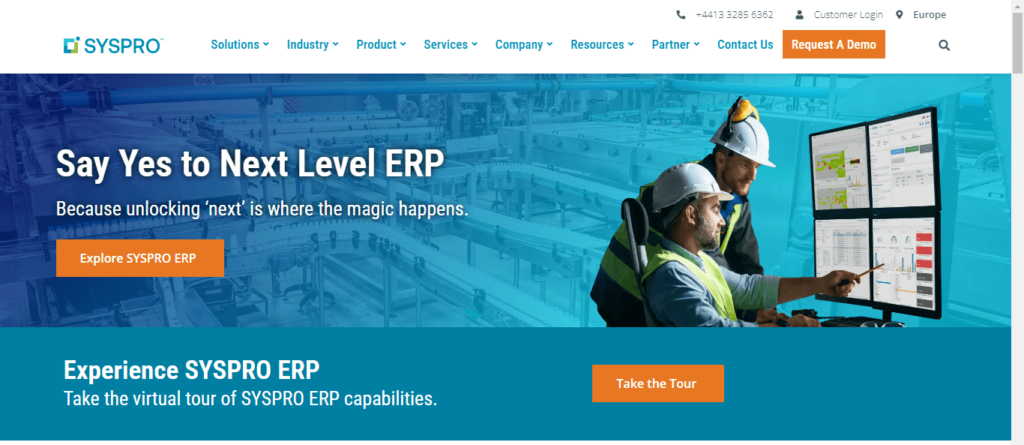 SYSPRO is a global, independent provider of industry-built ERP software designed to simplify business complexity for manufacturers. With over 40 years of experience, SYSPRO's ERP software is built to align with your business and industry strategies, such as automotive, food and beverage, electronics, and many others.
SYSPRO stands out for its user-friendly customization, cloud and on-premise deployment options, and robust integration of advanced analytics for real-time decision-making. Further, it interconnects flawlessly with emerging technologies like AI and IoT.
Another significant feature of SYSPRO is its high customer satisfaction. Over 90% of SYSPRO users express satisfaction with their system three years into using the ERP software. Combined with a 95% retention rate, this speaks volumes about its usability and efficiency.
Designed for both discrete industries and process industries, SYSPRO is an ideal ERP system for most manufacturers with revenue over $10 million. The cost per user is $150 per month, with an expected minimum implementation fee of $25,000.
14. Fishbowl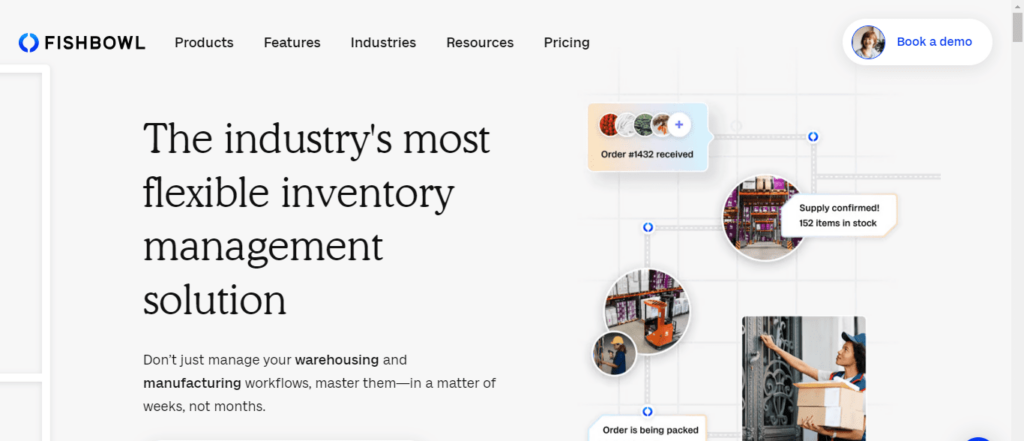 Fishbowl, originally known for its tight integration with Quickbooks, has quickly established itself as a comprehensive inventory management and asset tracking solution. It is especially beneficial for businesses of any size, making it an accessible and ideal ERP solution.
Fishbowl's software includes barcode scanning technology that syncs with Customer Relationship Management (CRM) capabilities, making it an absolute breeze for tracking and managing inventory in manufacturing operations. Additionally, the system integrates with various e-commerce platforms including Amazon, eBay, and Shopify, allowing you to diversify and manage multiple job sites effectively.
A unique selling point of Fishbowl is its ability to integrate with any version of Quickbooks so that users can continue using a connected software with which they are already familiar. This decreases the learning curve and increases user adaptability.
While Fishbowl does not publish pricing on its website, it offers a free trial period followed by a product demo price reveal. The pricing is competitive, considering the comprehensive features and simplicity the software offers, making it a good bargain for any manufacturing business.
15. Deltek Costpoint

Deltek Costpoint is a leading engineering-to-order solution that caters to a multitude of industries, including federal contractors, manufacturers, construction firms, and research and development companies. It delivers project management, human resources, and accounting functionalities all in one system.
The software's ability to intuitively manage projects and finances in an aligned interface is particularly useful for organizations that struggle with keeping their finances and operations working hand-in-hand. It also offers smart AI capabilities and real-time intelligent reporting, enhancing decision-making and providing significant competitive advantages.
What sets Deltek Costpoint apart from other ERP solutions is its ability to automate labor and expense collection and reduce the reconciliation efforts. This becomes particularly handy when dealing with prime contractors and subcontractors, making the entire process seamless and highly efficient.
While the pricing details are available upon request and vary based on business size and industry, it is a highly rated system for its ability to provide deep visibility, compliance, control, and competitive insights.
Benefits of Using Manufacturing ERP Software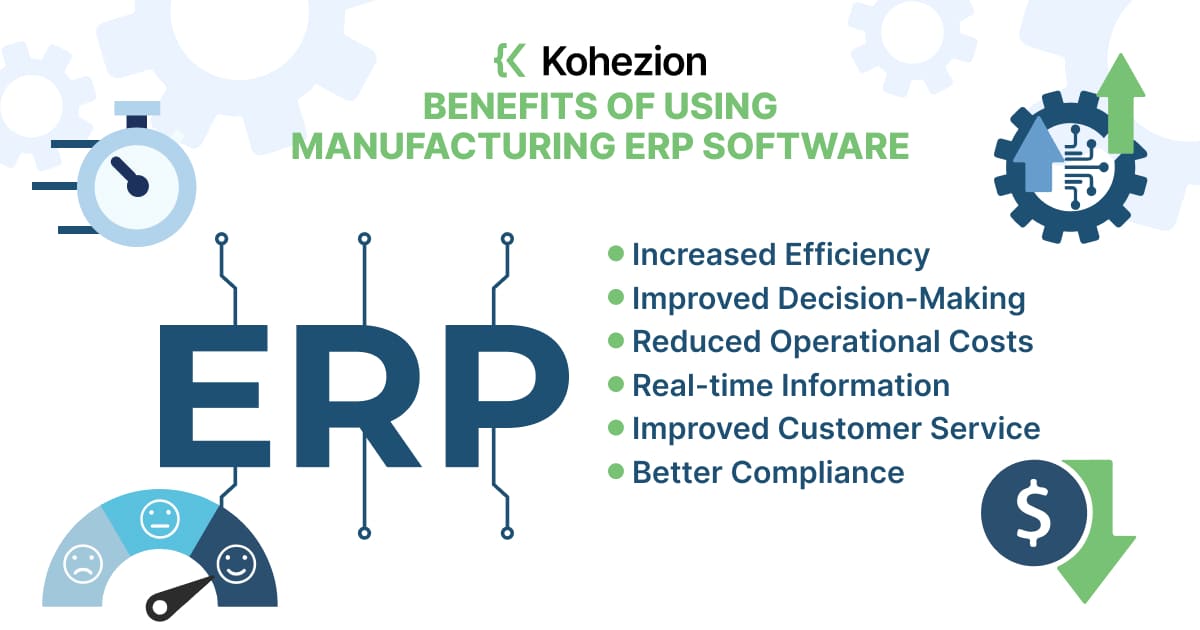 Implementing manufacturing ERP software holds numerous benefits for your business in terms of streamlining operations, ensuring efficiency, and driving growth. Let's delve into some of the key benefits such software can offer:
Increased Efficiency: An ERP system automates your business processes, reducing the need for repetitive manual tasks and enhancing efficiency across all business operations.
Improved Decision-Making: ERP software collects and analyzes business data, providing insightful analytics that can drive informed decision-making, helping to improve strategic planning and operational control.
Reduced Operational Costs: ERP software streamlines your business processes and improves efficiency, which ultimately leads to significant savings in terms of operational costs.
Enhanced Data Security: ERP systems provide high-end user permission settings, which add extra layers of security to your most sensitive data while making it accessible for the required operations.
Real-time Information: ERP provides real-time information about resource allocation, production levels, inventory status, and more. This allows for immediate response to changing conditions and demands.
Improved Customer Service: Having a unified and streamlined system allows for quicker response times, improved on-time delivery performance, and an overall better customer experience.
Better Compliance: Manufacturing ERP software provides features like audit trails and reporting capabilities and ensures compliance with industry and government regulations.
Important Manufacturing ERP System Features
In order to effectively manage your manufacturing operations, ensure your ERP system includes these vital features:
Accounting & Financial Management: ERP systems simplify the process of keeping accurate accounting records. They can automatically track and sync accounts payable, and accounts receivable, and manage tax bookkeeping, reducing the risk of human error.
Payroll: This function ensures that payroll is always properly authorized and disbursed. Automated payroll functions track overtime and ensure timely payment for your workforce.
Inventory Management: A critical feature, inventory management enhances visibility into inventory levels in real time. It facilitates tracking the movement of raw materials, work in progress, and finished goods, streamlining procurement and sales processes.
Project Management: ERP software often comes equipped with project management features, enabling effective planning and tracking of production, materials, and costs.
Quality Management: ERP software tracks manufacturing processes, manages tests and inspections, and adheres to international quality standards, which aids businesses in maintaining product quality.
Manufacturing Scheduling: ERP systems can manage a master production schedule, offering insights into production timelines, resource allocation, and capacity planning.
Build an Effective Manufacturing ERP with Kohezion
An effective manufacturing ERP system streamlines your manufacturing processes, enhances productivity, and drives business growth. Among the numerous options available, Kohezion stands out for its high customizability, ease of use, and robust capabilities. It allows users to build their applications without any need for coding, making it one of the most user-friendly ERP solutions for manufacturing businesses.
However, the right ERP for your company depends largely on your unique business needs and constraints. Be sure to consider factors such as scalability, integration, user-friendliness, industry-specific features, costs, and vendor support before making your final decision.
In the end, investing time and effort in selecting the most suitable ERP system will yield long-term benefits, including operational efficiency, improved decision-making, reduced costs, and increased competitive advantage. Take the leap today and transform your manufacturing operations with Kohezion — a reliable, feature-rich, and industry-specific ERP system.
Frequently Asked Questions (FAQs) about ERP Systems for Manufacturing
Whether a cloud-based or on-premise ERP system is better for manufacturing depends on a variety of factors related to your specific business needs and circumstances.
These systems offer flexibility and scalability, making them ideal for growing companies. Data in a cloud-based ERP is accessible through any device with internet access, offering ease of access for remote teams. These systems come with lower upfront costs as they usually operate on a subscription basis, with regular updates and maintenance included.
On-premise systems generally have higher upfront costs as they require servers, maintenance, and IT staff. They offer better control over data security and can be customized easily. However, you are responsible for updates, maintenance, and ensuring that the system doesn't become obsolete.
Therefore, the choice between cloud-based or on-premise systems depends on factors such as your budget, IT capability, need for data control, need for customization, and the structure of your workforce. Do a comprehensive requirement analysis and assess the pros and cons of each before making your decision.
Different manufacturing businesses will have different priorities when it comes to ERP software, based on their specific operational requirements and challenges. However, there are a few features that are universally beneficial for most manufacturers:
Inventory Management: This is critical for manufacturers to keep track of raw materials, work in progress, and finished goods. It also helps to prevent stock outages or overstocks and maximize warehouse efficiency.
Production Management: This enables visibility into production schedules, machine utilization, and shop floor activities, helping to ensure on-time manufacturing and delivery.
Quality Control: Ensures that your products are meeting your quality standards and complying with relevant regulations.
Financial Management: Including features like general ledger, accounts payable/receivable, and financial reporting helps to streamline financial processes and ensure accuracy in financial data.
Customer Relationship Management (CRM): To manage customer interactions, maintain customer relationships, and enhance sales forecast accuracy.
Supply Chain Management: To manage suppliers, logistics, and distribution activities, ensuring a smooth flow of goods from supplier to customer.
Other factors you could consider include the system's scalability to grow with your business, ease of integration with existing systems, user-friendliness, industry-specific features, and after-sales support by the vendor. It's best to prioritize features that align closest with your business goals and processes for maximum effectiveness.