Many companies are turning to ERP (Enterprise Resource Planning) systems to tackle challenges like stringent regulations, pricing pressures, and increasing operational costs. This article will provide an in-depth overview of the best Pharma ERP software to consider in 2024.
Add a header to begin generating the table of contents
What is Pharma ERP Software?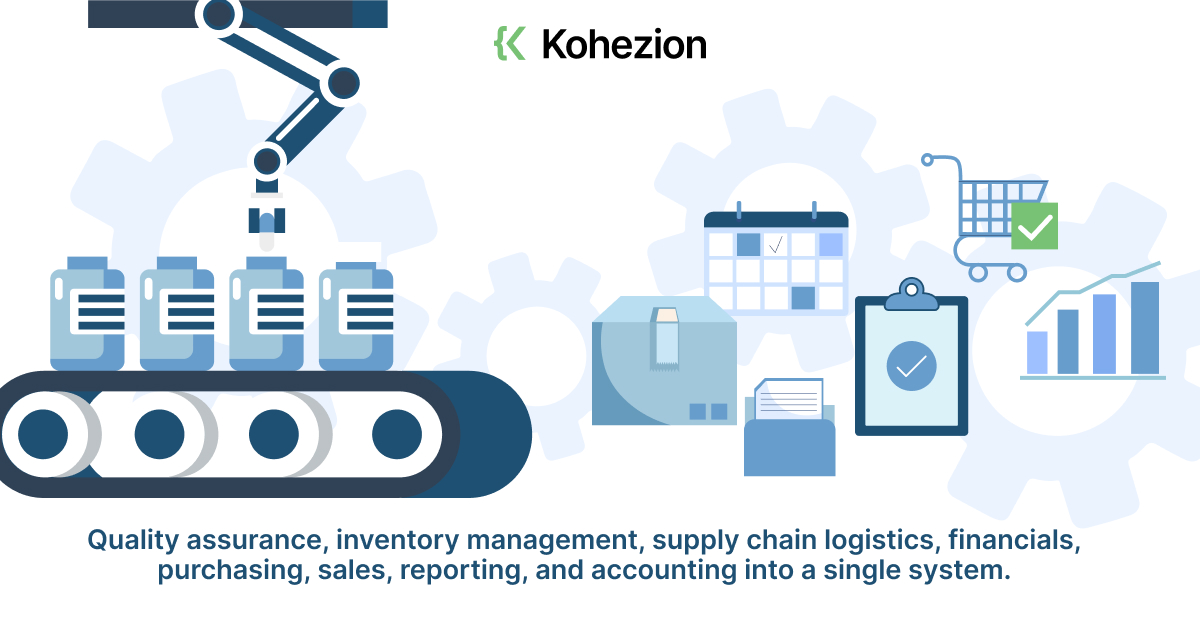 Pharma ERP software is a specialized application designed to streamline and manage operations in the pharmaceutical industry. It consolidates various business processes such as quality assurance, inventory management, supply chain logistics, financials, purchasing, sales, reporting, and accounting into a single system. The use of ERP software in pharma businesses enables real-time information access, facilitating improved interdepartmental communication and decision-making.
Its unique features include serial and lot number tracking, NDC code capturing, and expiry-based inventory issuance. It also addresses aggressive traceability requirements essential for DSCSA compliance. Armed with these features, pharma ERP software aids in optimizing time, reducing labor and IT costs, and enhancing overall business performance.
Importance of Choosing the Right ERP in Pharmaceuticals
Choosing the right Pharma ERP software has significant implications for a pharmaceutical company. It sets the foundation for the entire operation mechanism of the organization. A well-tailored ERP system can help a pharmaceutical company adhere to stringent compliance requirements, manage complex supply chains involving restricted substances, and ensure fast inventory turns due to perishable goods.
The pharma industry's heavily regulated nature demands extensive tracking, accountability, and reporting, which could be highly time-consuming and prone to errors without the help of an efficient ERP system. Hence, it's critical to select an ERP that's specially designed for the pharmaceutical industry, keeping in view all these requirements. Being strategic about the choice can ultimately lead to streamlining business processes, increasing operational efficiency, meeting regulatory compliance, and enhancing overall productivity.
Top Rated Pharma ERP Software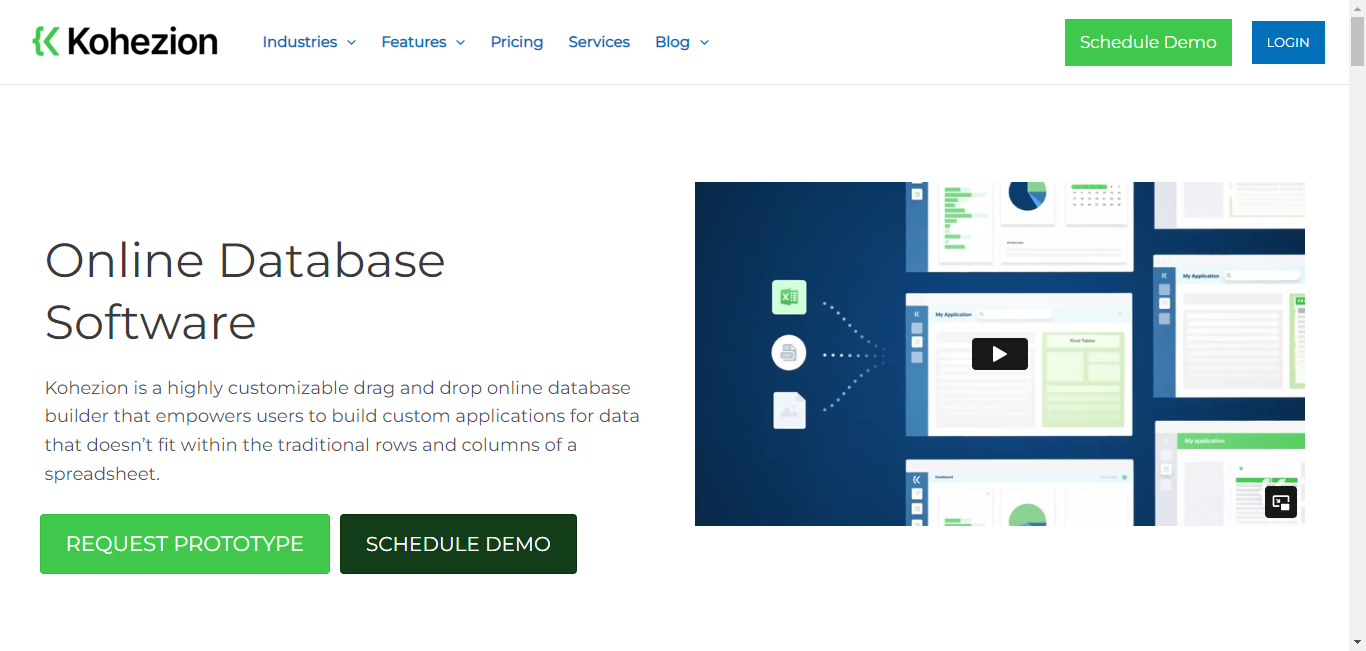 Kohezion is a highly customizable online database software that serves as a powerful ERP solution for pharmaceutical industries. This tool is known for its flexibility and adaptability, bypassing the need for extensive coding knowledge while setting up and modifying the system.
Key features of Kohezion include project and task management, customer relationship management (CRM), and inventory tracking. Besides, it comes with a dynamic reporting tool, enabling you to generate custom reports with real-time data. Its integration capabilities facilitate seamless data exchange between different systems, thus enhancing operational efficiency.
Especially in the pharmaceutical sector, Kohezion maintains robust documentation and aids in meeting regulatory guidelines. It keeps track of drug formulas, manufacturing batch records, and quality control processes. Therefore, if you're seeking an adaptable, user-friendly, and comprehensive Pharma ERP solution, Kohezion could be a solid choice.
2. Oracle NetSuite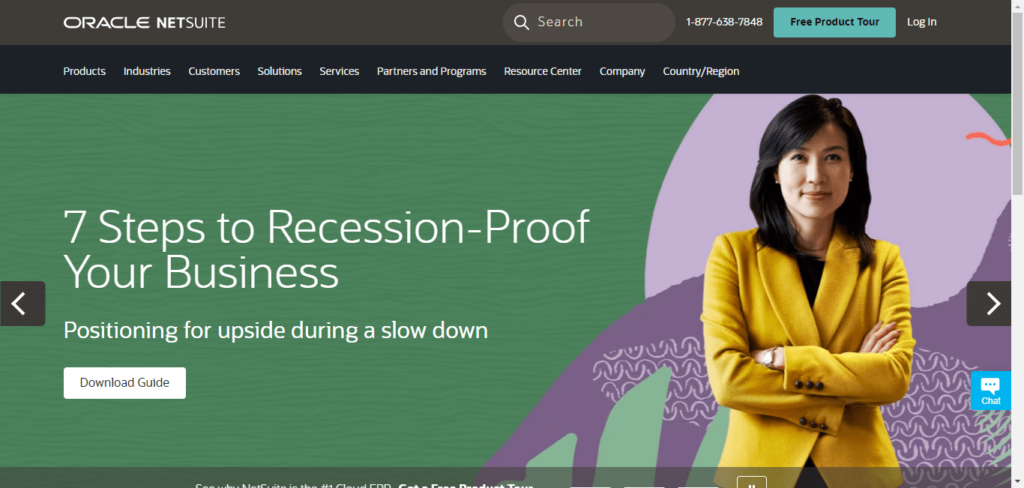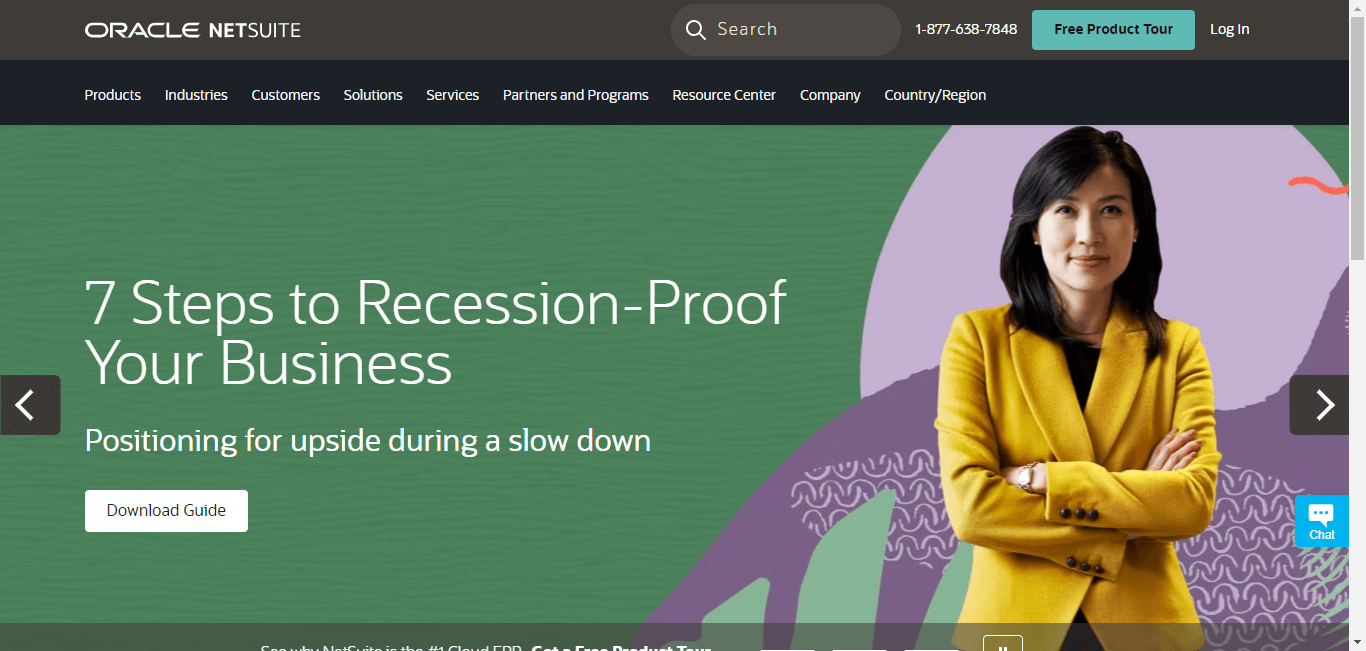 Oracle NetSuite is one of the top-rated ERP solutions, well-admired for its cloud-based technology and comprehensive financial management capabilities. It offers a singular platform to integrate and streamline the entirety of operations, including procurement, project management, and financials.
NetSuite specifically caters to the distinct needs of the pharmaceutical industry. It provides real-time visibility into inventory levels, expiry dates, and lot numbers— an essential feature in the pharmaceutical industry for avoiding wastage and ensuring compliance with regulations.
Its compliance management suite enables rigorous tracking and documentation for all facets of production and distribution, ensuring that every process meets regulatory standards.
The financial management component of Oracle NetSuite, encompassing accounts payable, accounts receivable, general ledger, and financial reporting, allows pharmaceutical companies to track and manage finances across multiple locations. With personalized dashboards and analytics, it enables decision-making in real-time, resulting in stronger operation outcomes.
3. SYSPRO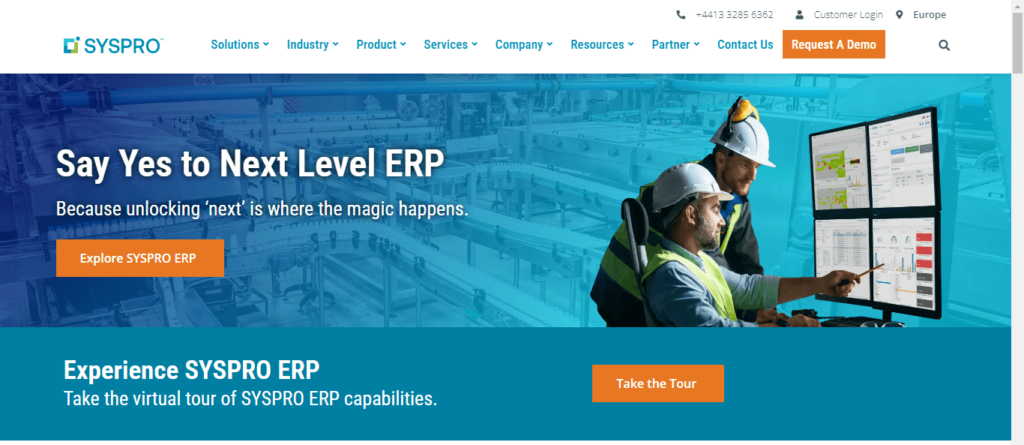 SYSRPO, often recognized as an ideal choice for small pharma distributors, provides an extensive platform featuring formulation management and support for diversified business models. Its target market includes smaller pharma companies with diversified business models due to its native support for discrete and process manufacturing capabilities.
SYSRPO ERP software is built to accommodate various business models for smaller drug manufacturers, distributors, repackagers, or laboratories that produce drugs and devices. The platform offers deeper supply chain and finance capabilities than many of its peers, including robust unit-of-measure support, bin number capabilities, inventory valuation methods, and cost layers.
However, be aware that SYSRPO may not be ideal for larger pharma companies with multiple entities and a presence in numerous countries, mainly due to its challenges in data sharing between entities. In addition, while showcasing significant strengths, it has limited DSCSA compliance functionality and may require additional add-ons or custom development.
Apart from this, SYSRPO excels in terms of usability and functional richness, making it a preferred ERP for many small to medium-sized pharmaceutical organizations.
4. SAP S/4 HANA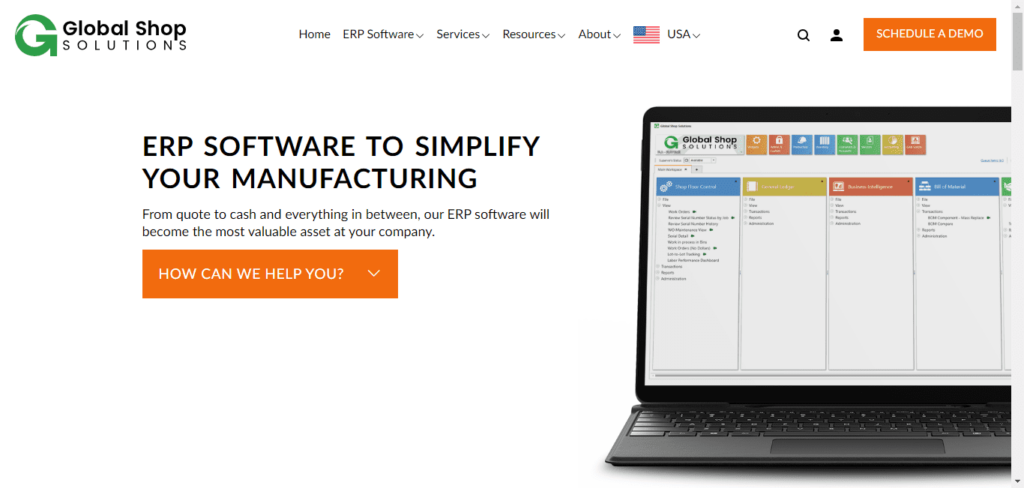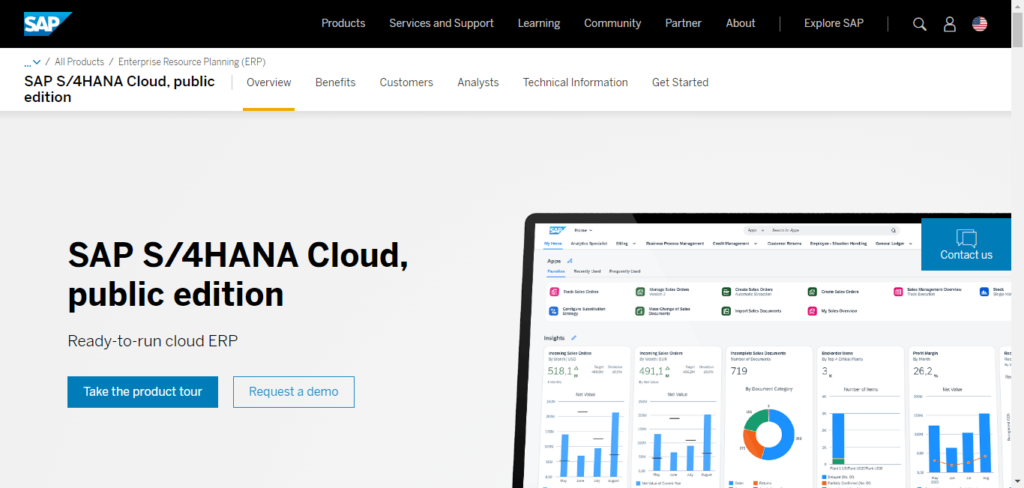 SAP S/4 HANA, developed by the enterprise software giant SAP, is a modular ERP that interfaces major business processes across an organization. Specifically designed for larger pharmaceutical companies, SAP S/4 HANA flourishes in environments with over $1 billion in revenue and more than 1000 employees.
Strengths of SAP S/4 HANA include:
Superior Financial Control and Governance: High-level financial traceability, and SOX (Sarbanes-Oxley Act) compliance support makes it ideal for significantly sized, publicly-traded companies.
Ability to Support Diversified Business Models: Whether you're a repackager, assembler, dispenser, medical device manufacturer, drug manufacturer, or a hybrid of these, SAP S/4 HANA can accommodate your business model.
Solid Best-of-Breed Options: SAP S/4 HANA incorporates best-in-class products such as CallidusCloud for CPQ (Configure, Price, Quote), SAP EWM for warehouse and TMS (Transport Management System) capabilities, and SAP Hybris for e-commerce.
SAP S/4 HANA does come with limitations, which include:
Limited Last-mile Functionality for DSCSA compliance: SAP S/4 HANA has limited functionality for DSCSA (Drug Supply Chain Security Act) compliance, which you typically find in smaller specialized pharma ERP systems.
Overbloated Financial Control Processes: The comprehensive financial control processes make the solution less than ideal for smaller organizations as it may appear overbloated.
5. WinMan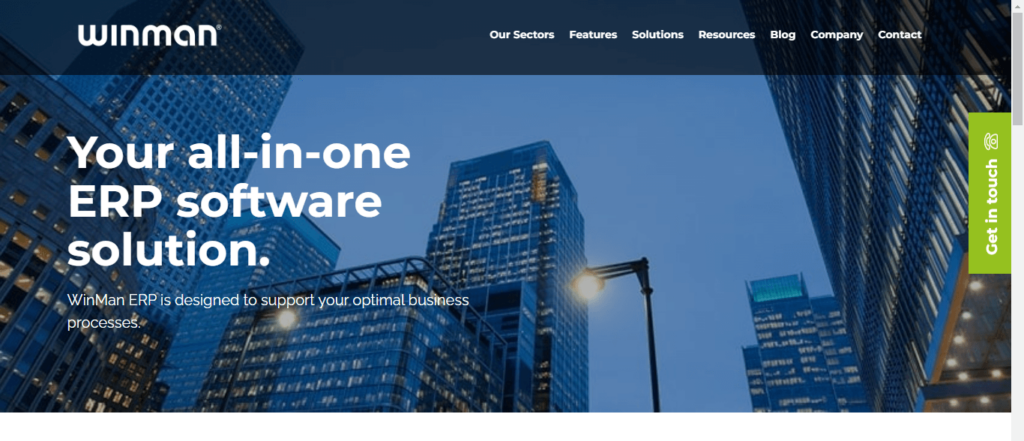 WinMan ERP software is a powerful solution, specially designed to support business processes in the pharmaceutical sector. It prioritizes the visibility of data across all departments, which aids in effective decision-making and operation management.
In the pharma industry, where regulatory compliance, stock management, and maintaining high-quality standards are crucial, WinMan supports easy tracking of batch numbers, serial numbers, and date codes. This software can also automate documentation for essential certificates, facilitating compliance with stringent regulations.
The manufacturing capabilities of WinMan include BoM (Bill of material), MRP (Materials Requirement Planning), job scheduling, and capacity planning. All these functions help in managing resources effectively, leading to improved productivity.
With robust financial management capabilities, WinMan proves to be a comprehensive software package for pharmaceutical entities of different sizes. The software is versatile and can seamlessly integrate with other systems, making data management a hassle-free task. Hence, WinMan ERP software is a wise investment for pharmaceutical businesses seeking operational excellence.
6. Sage Intacct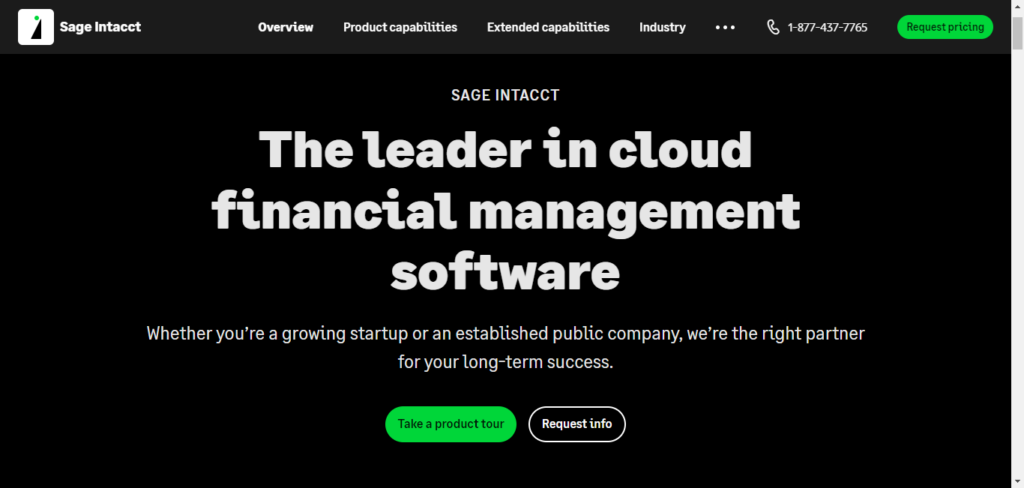 As a provider of robust cloud accounting and financial management software, Sage Intacct carves a spot on the list of featured ERP software for pharmaceuticals. Designed for the unique requirements of larger pharma companies, this tool offers superior supply chain management and deep functionality.
Strengths of Sage Intacct include:
Highly Suitable for Large Pharma Companies: Sage Intacct can offer substantial value to upper-mid to large pharma companies, especially those looking to replace other larger products due to subpar operational support and overwhelming workflows.
Designed for Specific Industries: This ERP solution has been designed with a specific focus on process and food and beverage manufacturing and distribution, implying that it offers far deeper features for large pharmaceutical companies.
Availability of Consulting Expertise: Sage Intacct boasts a robust ecosystem of consultants that can guide companies through the process of pharma validation, allowing them to maximize the advantages of their ERP solution.
However, caution must be exercised if considering Sage Intacct for smaller pharma companies as it might not be the best fit in terms of the value-to-cost ratio or its less-than-optimal support for multi-country operations. But if your organization belongs to the larger company category, consider Sage Intacct.
7. Blue Link ERP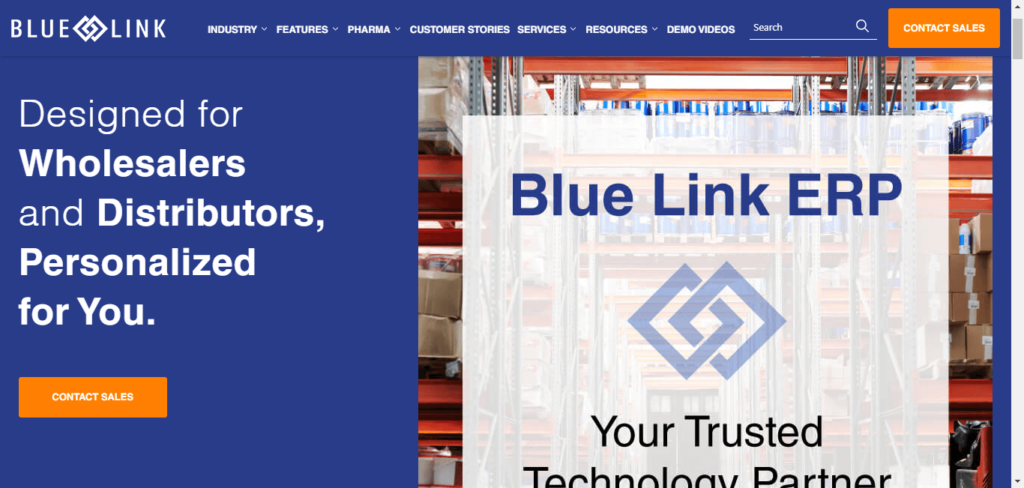 Blue Link ERP is an integrated accounting and inventory management ERP software specially designed for small-to-medium-sized businesses which forms the primary target of Blue Link ERP. Leveraging innovative technology, enables pharmaceutical distributors to meet the unique demands of the sector and stay regulatory compliant.
Strengths of Blue Link ERP include:
Deep Last-Mile Capabilities: Its biggest strength lies in its last-mile functionality. These capabilities include suspicious drug monitoring, CSOS, and ARCOS reporting which are crucial functionalities for pharma distributors.
DSCSA Compliance Expertise: Blue Link ERP's strong involvement with the DSCSA community and its continuous product updates to meet regulatory compliance changes is a testament to its commitment.
Strong Technical Architecture: When compared with other comparable ERP solutions, Blue Link ERP's use of Microsoft SQL Server database, provides a more robust technical architecture.
However, it's not without its weaknesses:
Size Limitations: Blue Link ERP is not suitable for larger pharma manufacturing companies with heavier manufacturing capabilities and might prove limiting.
Limited Ecosystem and Financial Standing: It has a smaller talent ecosystem and its financial stability could be a concern as it's not backed by a private equity firm or a corporate investor.
8. AX for Pharma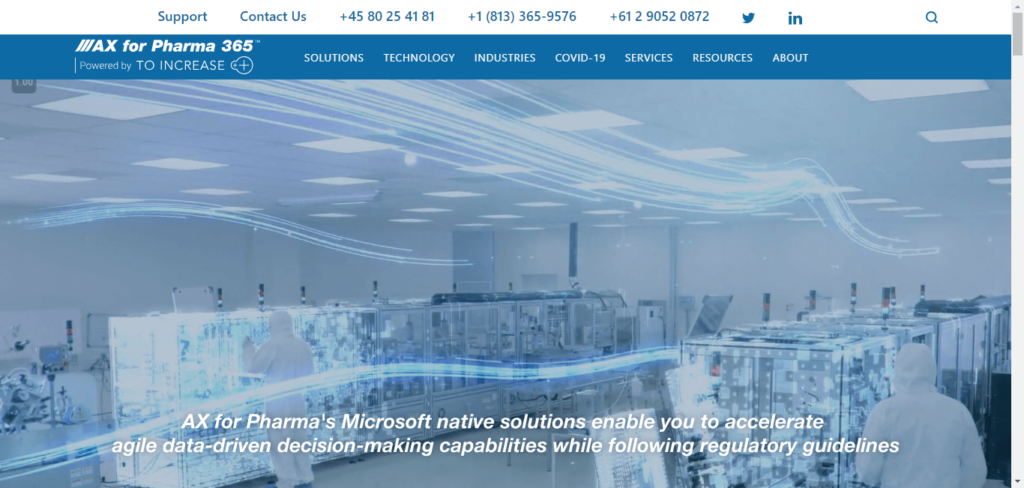 AX for Pharma is an innovative, configurable, GAMP 5 Category 4 ERP solution that combines the robust Microsoft Dynamics 365 platform with added industry-specific functionality. The primary target audience includes midsized to larger pharmaceutical companies, looking to scale and streamline their processes.
Unique strengths of AX for Pharma include:
Industry-Specific Functionality: This product has been designed to cater specifically to Life Sciences firms offering critical industry-specific modules across supply chain management, LIMS/Advanced Quality Management, Clinical Supplies, Warehouse Management, and Weighing and Dispensing.
Seamless Integration: It flawlessly integrates with Microsoft Dynamics 365, enhancing the capabilities of the already powerful ERP system with tailored functionalities for pharmaceutical companies.
Cloud Compliance Modules: For companies seeking to migrate their ERP systems to the cloud, AX for Pharma offers a complete suite of Cloud Compliance modules specifically crafted to maintain peak performance and ensure compliance after all Microsoft upgrades.
The software, however, is relatively new and doesn't have the breadth of consulting or ISV ecosystem mature products boast. While the solution provides robust functions for pharmaceutical companies, the depth of those functionalities and alignment with specific business needs must be assessed before making a decision.
9. Aptean Process Pro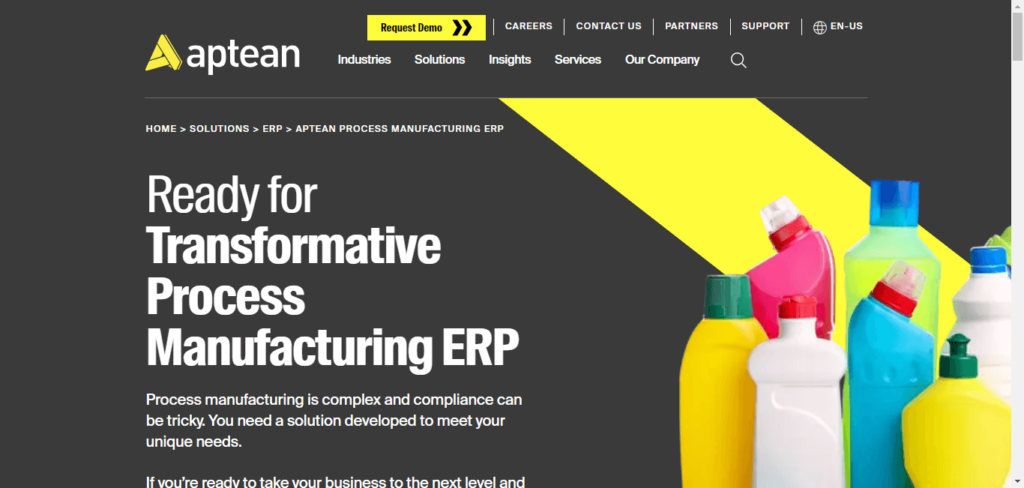 Making its mark on the arena of ERP solutions, Aptean ProcessPro is a preferred choice for small to medium-sized process manufacturers, especially those requiring heavier manufacturing capabilities. It is designed to deal with the unique challenges of the pharmaceutical industry, as it supports formulation management, batch manufacturing, and much more.
Here are some strengths that make Aptean Process Pro stand out:
Deep Process Manufacturing Capabilities: This includes formulation management and batch manufacturing, making it a superior choice for manufacturers needing these functions.
Financial Stability of a Private Equity Company: ProcessPro is backed by Aptean, a firm supported by one of the largest private equity companies. This translates to financial stability for the software.
Deeper ERP Capabilities than Smaller Pharma ERP Systems: Aptean ProcessPro offers broader product features than some specialized ERP systems like Blue Link ERP or Deacom. Its manufacturing and supply chain capabilities are on par with Netsuite, Acumatica, or Sage X3.
Then, Aptean Process Pro has its share of weaknesses as well:
Legacy Interface: Owing to the software receiving lesser attention as compared to other Aptean offerings, it has a somewhat dated user interface.
Smaller Ecosystem: The adoption rate and a relatively smaller ecosystem for support may be a concern for some users not satisfied with the support offered by Aptean.
Weaker DSCSA Compliance Capability: Its functionality for DSCSA compliance is not as strong as specialized pharma ERP systems like Blue Link ERP or Deacom.
Therefore, while Aptean Process Pro is an excellent choice for small to medium-sized pharmaceutical manufacturers, larger companies and those requiring stronger financial controls or stronger DSCSA compliance offered by specialized systems might want to explore other options.
10. Microsoft Dynamics 365

Microsoft Dynamics 365 ranks as one of the most popular and widely used ERP software globally, gaining a strong foothold in the pharma industry due to its robust capabilities. It is best suited for larger pharma companies with revenue over a billion dollars and a workforce of over 1,000 employees.
Key strengths include:
Deep ERP Capabilities: Comparable to other large ERPs like SAP S/4 HANA and Oracle Cloud ERP, Microsoft Dynamics 365 offers deep core ERP functionality, with a majority of features available in its cloud version.
Ability to Support Diversified Business Models: The software has a robust product model, supporting diversified manufacturing and distribution businesses, such as process and discrete manufacturing capabilities needed by larger pharma companies with different divisions and focuses.
Pre-integrated Best-of-breed Options: Dynamics 365 comes pre-packaged and pre-integrated with the Microsoft Dynamics 365 CRM providing an airtight data model and transactional data integrity, which is essential for planning territories for controlled substances.
However, it does have some limitations:
Limited Last-mile Functionality for DSCSA Compliance: It may require an add-on or custom development to support pharma-specific compliance and regulatory processes.
Overbloated Financial Control Processes: Some processes such as compliance, allocation, and approval flows may only be necessary for large organizations, and seem overbloated for smaller companies.
Not suited for smaller to mid-size pharma companies: SMB companies may find the product overwhelming and run the risk of implementation failure due to its complex processes and extensive functionalities.
Despite these limitations, Microsoft Dynamics 365 remains an excellent choice for larger organizations looking for a comprehensive pharmaceutical ERP solution given its broad capabilities and functionalities.
Benefits of Pharmaceutical ERP Software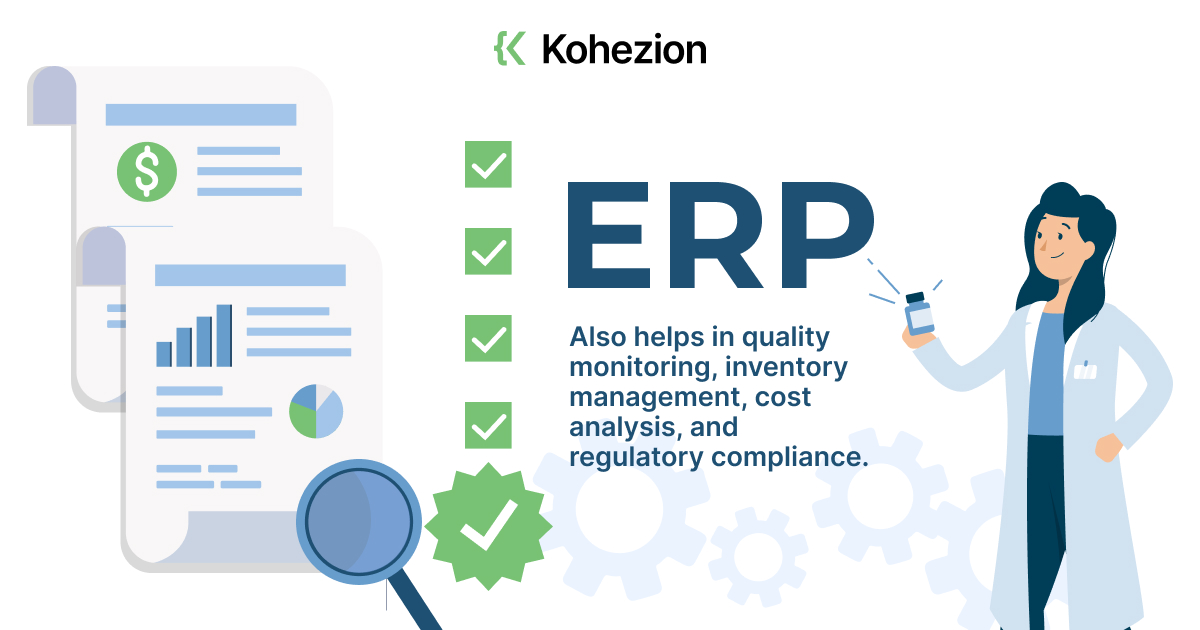 A Pharma ERP system not only drives day-to-day operations but also helps in quality monitoring, inventory management, cost analysis, and regulatory compliance. It boosts the overall business performance and streamlines complex processes in an increasingly demanding industry.
Improved Efficiency and Productivity with ERP
One of the main benefits of implementing ERP software in pharmaceutical companies is the significant improvement in efficiency and productivity it offers. At its core, an ERP system integrates all business processes into a single, unified platform. This integration eliminates the need for separate software for different departments, reducing redundancy, and increasing operational speed.
On the production floor, ERP software can automate repetitive procedures to reduce manual work and the possibility of human error. For instance, once a drug formula is stored in the system, the same information can be utilized repeatedly without re-entry.
Beyond production, ERP systems enable real-time tracking of raw materials and finished products, predict demand, and avert stock-outs or overstock situations. This capability not only improves efficiency but also contributes to significant cost savings.
In the finance department, ERP facilitates faster financial closing and provides real-time visibility into the financial performance of the business. It ensures transparent and accurate financial reporting, compliance with financial regulations, and better cash flow management.
Better Supply Chain Management Using ERP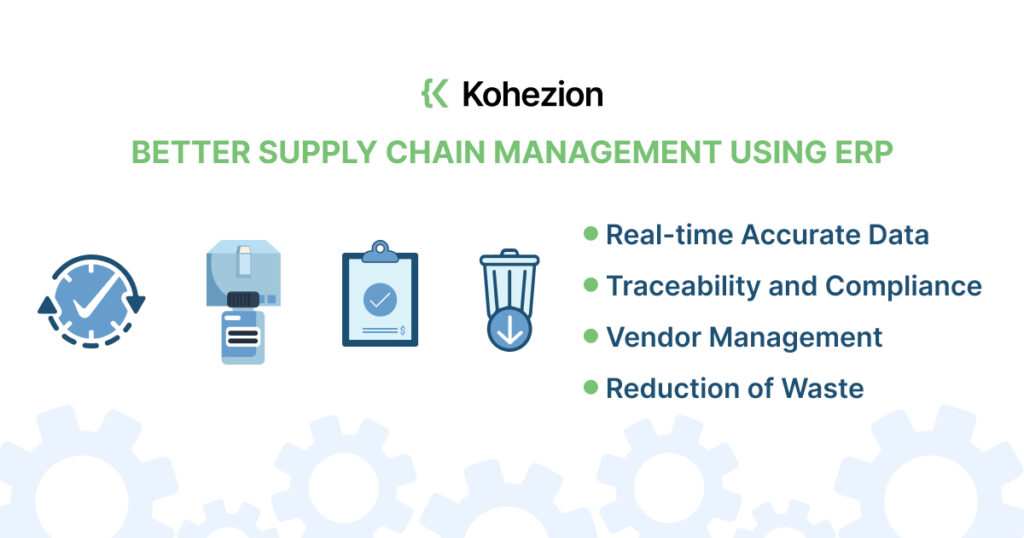 In the pharmaceutical industry, effective supply chain management is crucial not just for operational efficiency, but also for maintaining compliance with regulations and ensuring patient safety. ERP software can significantly enhance supply chain management in several ways.
Real-time Accurate Data: ERP systems provide real-time visibility of data across the supply chain – from raw material orders to the distribution of finished drugs. This visibility can aid in making accurate forecasts, reducing inventory holding costs, and making timely decisions.
Traceability and Compliance: ERP software can track each batch of drugs, right from the raw material stage to the final product stage. This level of traceability is vital for adhering to Good Manufacturing Practices (GMP), and for ensuring swift action in case of a recall.
Vendor Management: With an ERP system, companies can manage vendor-related data in one place. It can track vendor performance, manage pricing agreements, and streamline purchase orders, which improves the overall vendor relationship and negotiation power.
Reduction of Waste: Proper inventory management powered by ERP software can significantly reduce waste. This is especially relevant in the pharmaceutical industry, where materials and drugs often have a limited shelf life.
Enhanced Quality Control and Compliance Capabilities with ERP
Quality control and regulatory compliance hold supreme importance in the pharmaceutical industry, given the direct impact of drugs on human health. Striving for premium quality and rigorous compliance requires enhanced tracking, control, and reporting mechanisms that a well-configured ERP system offers.
Track and Control Capabilities: ERP systems can track the movement and status of every batch of drugs manufactured or sold. They provide complete visibility into the formulation, production, quality test, and batch release stages of a drug's lifecycle. Whenever a deviation occurs, immediate action can be taken to rectify the issues and prevent the batch from progressing further, which ensures control over quality.
Documentation and Reporting: All documentation and records related to quality control, like Standard Operating Procedures (SOPs), Master Production Records (MPRs), laboratory test results, and Batch Production Records (BPRs), can be centrally managed on an ERP system. This centralized control makes it easier to retrieve the documents during audits and inspections.
Compliance Management: An often underestimated but valuable feature of ERP software is the built-in compliance management. This function supports the pharmaceutical company in conforming to the regulations of different authorities like the FDA (Food and Drug Administration). Businesses can consistently update the ERP system to stay updated with the ever-evolving regulatory landscape.
Step-by-Step Guide to Select Suitable Pharma ERP Software
Choosing an ERP system for a pharmaceutical company involves careful assessment and evaluation as it will shape your business operations. Here's a step-by-step guide to assist in the selection process:
Step 1. Build an ERP Business Case
Identify why your company needs a Pharma ERP system and clearly define your expectations. Understand what functions it needs to cater to, what issues it can solve, and how it can transform your business operations. Documenting a formal business case can help persuade your organization to consider this investment.
Step 2. Compare ERP Vendors
Research existing ERP vendors and analyze their offerings. Pay attention to their industry knowledge, client base, product features, customization capabilities, customer reviews, and after-sale support. The ideal vendor should be supportive of your company's needs and objectives.
Step 3. Get Pricing Estimates
Once you've shortlisted vendors that seem to align with your requirements, get pricing estimates from them. While affordability matters, it shouldn't be the only criterion. The software's ability to meet your needs and return on investment (ROI) should be the primary concern.
Step 4. Organize a Solution Demo
Many ERP vendors offer demos to help you understand their software functionalities better. Utilize these demos to comprehend how these tools can be integrated into your operations and how they can enhance your business performance.
Step 5. Define ERP Requirements
Define your requirements for the ERP system based on your business needs, difficulty points that need resolution, and the functionalities you expect from it. This document can serve as a reference point in identifying the right ERP system.
Step 6. Shortlist Potential Vendors
After thorough research, demos, and price estimates, shortlist 4-8 vendors based on their potential to meet your requirements, their reputation, system adaptability, user-friendliness, client feedback, and other relevant factors.
Step 7. Make the Final Choice
Based on all the aforementioned evaluation factors, select the most apt software and vendor for your pharmaceutical company's needs. The right ERP system has the potential to streamline processes, enhance productivity, ensure compliance, and contribute to your company's growth and success.
Key Modules & Features in Pharma ERP Software.
Given the complex and heavily regulated nature of the pharmaceutical industry, it's vital to consider certain specific modules while choosing a Pharma ERP solution. The software must align with pharmaceutical processes and regulatory compliance to ensure efficient and hassle-free operations. Here are some key modules and features to look for:
Batch and Recipe Management: Being in a batch process manufacturing industry, your ERP software should thoroughly manage recipes and batch production. It should include features for recipe versioning, scalability, batch sizing, yield predictions, and adjustments.
Regulatory Compliance: Ensure that your ERP software is capable of addressing the assortment of regulatory requirements (like FDA, MHRA), including quality control, traceability, electronic records, audit trails, and adherence to Good Manufacturing Practices (GMP).
Quality Management: This module should handle quality checks at various stages, conduct inspections and audits, and maintain a quality history for each batch. It should help in maintaining quality standards and ensure compliance with regulations.
Traceability: The ability to trace each batch from raw materials to the finished product is vital. It helps maintain quality, enables quick recalls, and ensures regulatory compliance.
Inventory Management: Efficient inventory management is critical to avoid overstocking or understocking. Your ERP software should offer real-time inventory tracking, shelf-life tracking, and efficient warehouse management.
Financial Management: This module should be able to handle all your accounting needs, including accounts receivable, accounts payable, general ledger, and financial reporting.
Supply Chain Management: The ERP system should optimize all aspects of the supply chain, including procurement, demand planning, suppliers' quality assessment, and integration with suppliers and third-party logistics.
Reporting and Analytics: Your ERP software should provide robust reporting capabilities, with real-time dashboards and analytical tools for better decision-making.
Serialization: In the pharmaceutical industry, serialization or unique identification of each saleable unit is a legal requirement in many countries. Your ERP system should be able to manage this efficiently.
Key Challenges in Implementing Pharma ERP software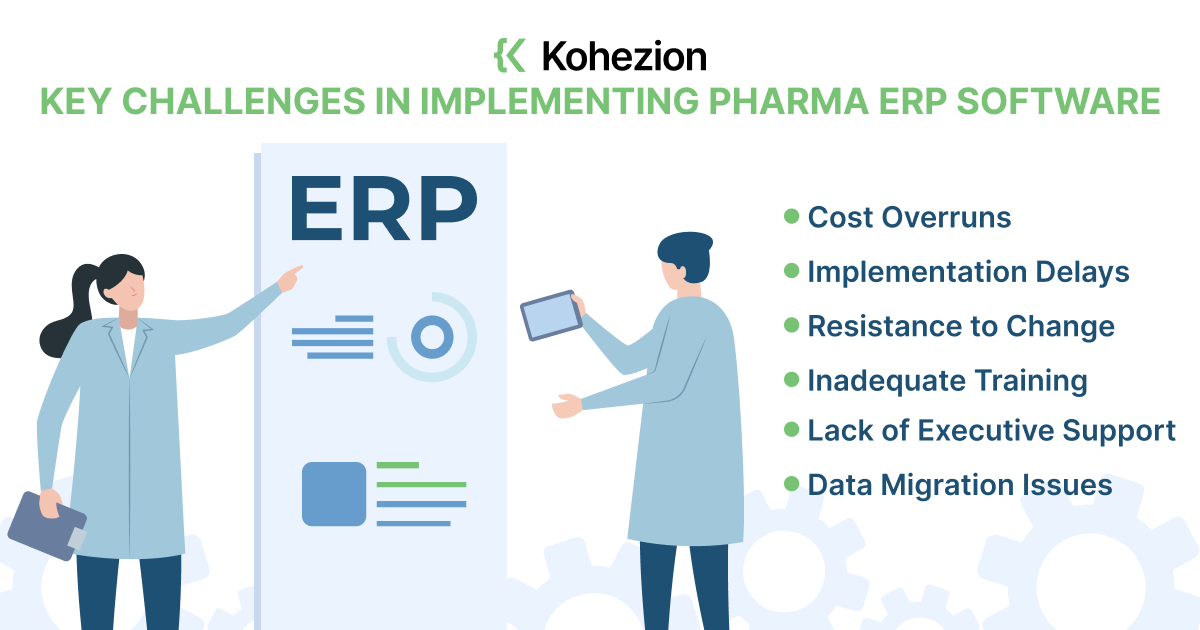 The implementation of a Pharma ERP system can face a series of challenges, given the system's complexity and the critical role it plays in business operations. Failing to address these challenges can lead to project failure and substantial financial losses. Here are some common implementation challenges in the pharma industry:
Cost Overruns: ERP projects often exceed their budget, caused by inaccurate cost estimates, unexpected complications, and scope creep. Map out a clear and accurate budget beforehand and strictly adhere to it.
Implementation Delays: A frequent issue seen in ERP projects is implementation taking longer than anticipated. Project timelines may be extended due to a lack of adequate resources, underestimation of the time required, and unforeseen problems.
Resistance to Change: Resistance from employees is one of the biggest hurdles in implementing an ERP system. Employees used to a certain way of working might resist new processes introduced by the ERP system. Manage change effectively and secure user buy-in.
Inadequate Training: Employees require sufficient training to effectively utilize the ERP system, and inadequate training can result in incorrect usage and reduced benefits.
Lack of Executive Support: For an ERP project to succeed, have strong backing from top management. Lack of executive support can lead to reduced funding, lack of organizational alignment, and failure of the project.
Data Migration Issues: Migrating data from old systems to the new ERP system can be a significant challenge, especially if the data are unstructured or of poor quality.
These are just a few of the potential challenges your company may encounter when implementing a pharma ERP system. Anticipate them early on and take measures to mitigate them.
Ways to Resolve Common Pharma ERP Challenges
While the aforementioned challenges can complicate the ERP implementation process, several proven strategies can help mitigate these issues. Implementing these strategies can ease the transition to the new system and ensure that it delivers the anticipated benefits.
Comprehensive Planning: Start with a well-defined, realistic project plan that includes a detailed timeline, budget, resource allocation, and contingency plans for any unexpected issues. Regularly review and update the plan to reflect any changes.
Invest in Training and Change Management: A robust training program helps ensure that employees can effectively use the new system. Change management strategies include communicating the benefits of the ERP system to employees, involving them in the implementation process to reduce resistance, and providing ongoing support as they adapt to new ways of working.
Secure Executive Support: Executive buy-in is crucial for the success of any major project. Actively involve top management in the implementation process and ensure they understand the benefits, costs, and time required for successful ERP implementation.
Data Cleaning: Prior to migrating data to the new ERP system, conduct a comprehensive data cleaning process to eliminate outdated, duplicate, or irrelevant data. This step is crucial to ensure that the ERP system operates optimally.
Engage a Reliable ERP Vendor: Work with a reputable ERP vendor who understands your business requirements and offers a robust product and strong post-implementation support. They can provide valuable advice and assistance throughout the process.
Adopt a Phased Approach: Instead of implementing the entire ERP system at once, consider a phased approach where you start with critical modules and gradually introduce additional ones. This method can help your team adjust gradually and reduce the risk of system overload.
Create an efficient Pharma ERP Software with Kohezion
To operate successfully in the fast-paced and heavily regulated pharmaceutical industry, invest in a robust Pharma ERP. A Pharma ERP system maximizes efficiency, enhances visibility, and ensures precision, which can be a game-changer for your business, leading to substantial productivity and profitability gains. To choose the most suitable ERP for your business, assess your specific business needs, consider the potential challenges, and make an informed decision. Your choice can profoundly impact your company's future, making it vital to choose wisely.
Highly customizable and user-friendly, Kohezion provides a powerful and adaptable solution that does not demand extensive coding knowledge. It effectively addresses the pain points of pharmaceutical business owners, as it integrates various departments to provide real-time information. From project management to CRM and inventory tracking, Kohezion serves as a comprehensive ERP solution ensuring traceability, optimizing time, and enhancing overall performance.
FAQs on Pharma ERP software
Pharmaceutical ERP (Enterprise Resource Planning) software serves the quintessential purpose of integrating and managing the critical processes of a pharmaceutical firm, thus ensuring operational efficiency and regulatory compliance. The system presents a unified platform that connects different departments, including manufacturing, sales, finance, QC, and procurement, and facilitates the flow of real-time information among them.
Some specific objectives of a Pharma ERP include:
Streamlining the end-to-end business operations and enhancing productivity.
Facilitating compliance with stringent regulatory mandates by maintaining proper documentation and records.
Managing inventory efficiently to avoid overstock or understock situations.
Supporting quality management and standardization of products to meet GMP guidelines.
Providing real-time data for making informed business decisions.
Reducing operational costs and increasing profitability.
The cost of ERP software for the pharmaceutical industry can vary significantly based on several variables, including the size of the company, the software's complexity, the extent of customization required, integration needs, and the vendor's pricing model.
According to industry research, costs for pharma ERP can range from $100,000 in Year 1 to several million over the course of implementation, operation, and maintenance. Pharma ERP costs typically comprise software licensing, support, and implementation fees.
For Cloud ERP software solutions, which are increasingly gaining popularity, annual fees can range from $500-2000 per user. These are subscription-based and save on the upfront costs associated with traditional on-premise ERP software.
The following pricing examples from providers within the pharmaceutical industry offer a rough idea:
ProcessPro: $3000 per user (annual subscription)
Epicor: $645 per user (annual subscription)
DEACOM: $7000 per user (perpetual license)
SAP Business One: Starts at $20,000 for professional licenses
While considering the cost, the advertised price is only a baseline. Additional costs to factor in include networking hardware and software costs, server hardware and software costs, workstation hardware and software costs, installation and integration costs, and data migration costs.
Given the substantial investment involved in an ERP implementation, ensure that the chosen product offers value for money and contributes significantly to the business's success.
Given the heavily regulated nature of the pharmaceutical industry and the specific needs businesses in this sector have, look for the following features when considering an ERP solution:
Compliance Management. Pharmaceutical companies have to comply with a host of regulations such as FDA, MHRA, DSCSA, GMP, and others. The ERP system should manage compliance seamlessly, documenting all processes and facilitating easy audit trails.
Quality Control and Assurance. The software must contain a quality management module that enables quality checks at various stages of the manufacturing process, documentation of results, and statistical process control.
Inventory and Warehouse Management. Effective inventory management avoids overstocking or understocking situations. The ERP system must support real-time tracking of inventory levels, batch and lot tracking, and have dynamic inventory control capabilities.
Batch and Formula/Recipe Management. The ERP system should support batch processing, process manufacturing, and recipe/formula management, which are crucial in pharma manufacturing.
Full Traceability. The ERP should allow full traceability from raw materials to final products, ensuring compliance and enabling swift recalls when necessary.
Integration Abilities. The ERP system should be able to integrate with other systems, such as BI tools, CRM software, or third-party regulatory databases, to enhance functionality and provide a complete overview of the business.
Serialization and Unique Identification. The ability to generate and manage unique product identifiers is necessary for the pharmaceutical sector as per numerous country-specific legislation.
Supply Chain Management. A strong supply chain module optimizes procurement, streamlines operations, reduces costs and supports supplier relationships.