OutSystems is a global leader in high-performance application development. The company offers a low-code platform that enables businesses to develop, deploy, and manage enterprise-grade apps. With its rapid application development approach, OutSystems provides developers with a faster time to market, even when making alterations to apps that have already been deployed. This makes it an ideal choice for freelancers, small businesses, mid-size businesses, and large enterprises alike.
The platform also integrates with numerous business systems and apps, including Facebook, Twitter, LinkedIn, Salesforce, ZenDesk, PayPal, Twilio, QuickBooks, UPS, Okta, Box, Dropbox, Amazon EC2, and Google Drive among many others.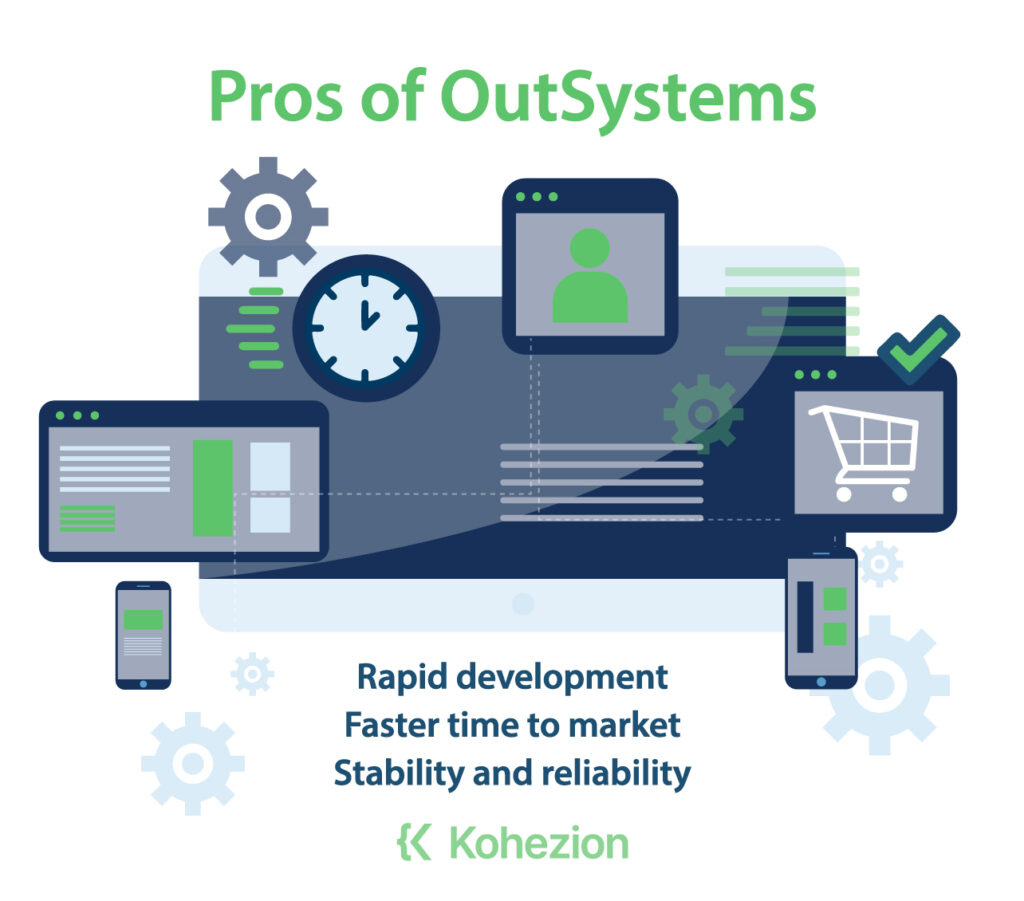 Listed below are key features of OutSystems:
Rapid application development

Drag-and-drop interface

Visual development environment

Pre-built templates and components

Full-stack development capabilities

Built-in collaboration tools

Automatic code generation

Reporting and analytics tools
Pros of OutSystems
OutSystems offers many advantages to both developers and companies. It streamlines the creation, deployment, modification, and management of unique mobile and web applications for developers because of its drag-and-drop capabilities and user-friendly platform. Here are some key advantages of using OutSystems:
Rapid development: Developers can build applications quickly with drag-and-drop functionality, which saves time and effort.
Faster time to market: With OutSystems, developers can enjoy a faster time to market for their applications.
Easy alterations: There's the ability to make changes to deployed apps with ease, which allows businesses to adapt their applications to evolving market demands and customer needs.
Integration capabilities: OutSystems integrates seamlessly with various business systems and applications. Thus, it enables businesses to leverage existing systems and data, enhancing the functionality and value of their apps.
Stability and reliability: The platform is designed to handle large-scale apps and can support high user volumes without compromising performance.
Cons of OutSystems
Despite these great advantages, there are several cons or limitations to using OutSystems that users should consider such as:
Limited features: Compared to ServiceNow or Kohezion, OutSystems offers fewer features. This limited feature set may restrict the functionality and capabilities of apps developed using OutSystems.
Higher implementation cost: When considering the total cost of implementation, both OutSystems and ServiceNow are more expensive than Kohezion. 
Scalability limitations: As the complexity and size of an application increase, OutSystems may struggle to handle the growth efficiently.
Customization options: Despite being a user-friendly platform, some users may find limitations in terms of customization. You may encounter challenges when trying to implement specific customizations or unique requirements.
Learning curve: There's a learning curve involved, especially for users who are not familiar with the platform or have limited experience with rapid application development.
What Is ServiceNow?
Overview of ServiceNow
ServiceNow is a provider of cloud-based services that automate enterprise IT operations. As a significant player in the realm of enterprise software, ServiceNow offers a suite of applications built on its proprietary platform that automates workflow and provides integration between related business processes. The platform focuses on transforming enterprise IT by automating and standardizing business processes.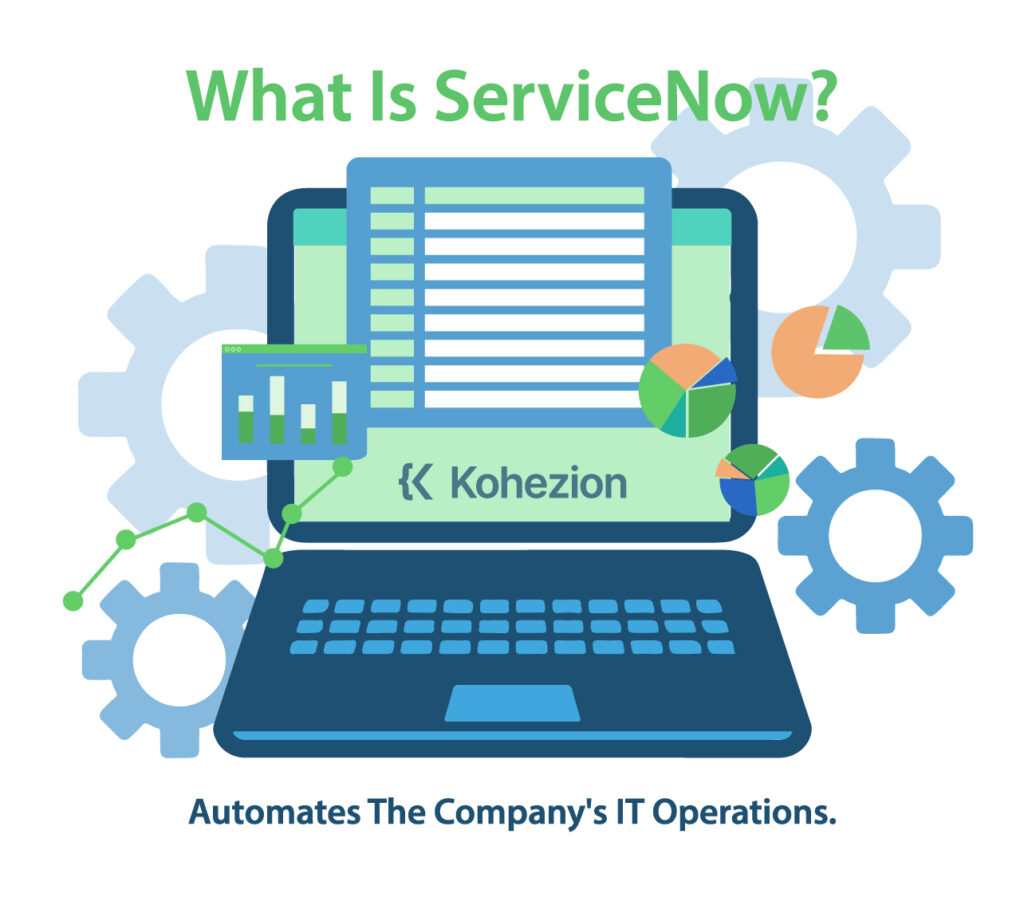 Known for being a "feature-rich" platform, ServiceNow offers a broad range of important features. There are comprehensive tools for managing various aspects of customer service. Listed below are its key features and functionalities:
Asset Management

Billing and Invoicing

Change Management

Contract Management

Customer Survey

Email Integration

Incident/Request Management

ITIL compliance
Pros of using ServiceNow
In comparison to the OutSystems Platform, ServiceNow stands out with its extensive capabilities. That's why many people opt for this cloud-based platform. Here are some key advantages of using ServiceNow:
Asset Management

Billing and Invoicing

Change Management

Contract Management

Customer Survey

Email Integration

Incident/Request Management
Cons of using ServiceNow
Complexity: Businesses with little in the way of IT resources or experience find that setting up and configuring ServiceNow is fairly challenging. For users who are unfamiliar with the system, the platform's many customization choices can be intimidating. The use of specialized resources or additional training can be necessary due to its intricacy.
Dependency on its ecosystem: For new features or integrations, businesses might become reliant on the ServiceNow ecosystem. This may restrict the ability to integrate with or customize other third-party systems, potentially resulting in vendor lock-in.
Learning curve: Due to its complexity and extensive feature set, ServiceNow may have a steep learning curve for new users. The platform requires users to understand its underlying data model and workflows, which can take time to grasp.
Limited flexibility for non-ITSM applications: There are some limitations when it comes to developing non-ITSM apps. Those looking to build custom apps outside the realm of IT service management may find that its capabilities and flexibility are not tailored to their specific needs.
What is Kohezion?
Overview of Kohezion
Kohezion serves as an alternative to Outsystems and ServiceNow, offering an array of different features and capabilities for advanced workflows and automation building. 
While Outsystems and ServiceNow got more visibility due to the large funding rounds, Kohezion has been on the market for a decade and its strengths lie in the simplicity of its use, its customizability, and its affordability. 
Pros of Kohezion
Very involved leadership: Kohezion is recognized for its approach to customer care: you'll get a very personable treatment to ensure that the solution will be tailored to your business needs. 
Flexibility and Scalability: Kohezion caters to a diverse range of business needs, from simple to complex applications, allowing businesses to scale their applications as and when required without compromising performance or efficiency.
Reduced Development Time: Adopting Kohezion means shortened time-to-market as it accelerates the application development process through reusable templates, drag-and-drop tools, and other out-of-the-box functionalities. Kohezion also offers

white glove application development in just 8 weeks

. 

Cost-Effectiveness: Kohezion provides a financially attractive solution compared to ServiceNow or Outsystems.
To summarize, Kohezion's appealing qualities — being very personable and approachable, as well as flexibility, ability to solve complex workflows without workarounds, speed, cost-effectiveness of their platform — render it an advantageous option for rapid business application development. 
What to Consider When Choosing Between OutSystems, ServiceNow and Kohezion?
1. Ease of use
When deciding between OutSystems and ServiceNow, ease of use is a key consideration to take into account. Both platforms strive to offer a user-friendly interface. Even so, the productivity and efficiency of a platform can be greatly impacted by its intuitiveness and usability. Let's dig a bit deeper into this consideration.
OutSystems:
User Interface: OutSystems boasts a user-friendly platform with a visually appealing and intuitive user interface.

Customization Options: There's a wide range of customization options. The platform offers themes, styling guides, and approach components that can be easily integrated into applications, enhancing the overall user experience.

Available Documentation: Comprehensive documentation includes detailed guides, tutorials, and a vibrant community forum. Users can find answers to their questions and receive support from the community.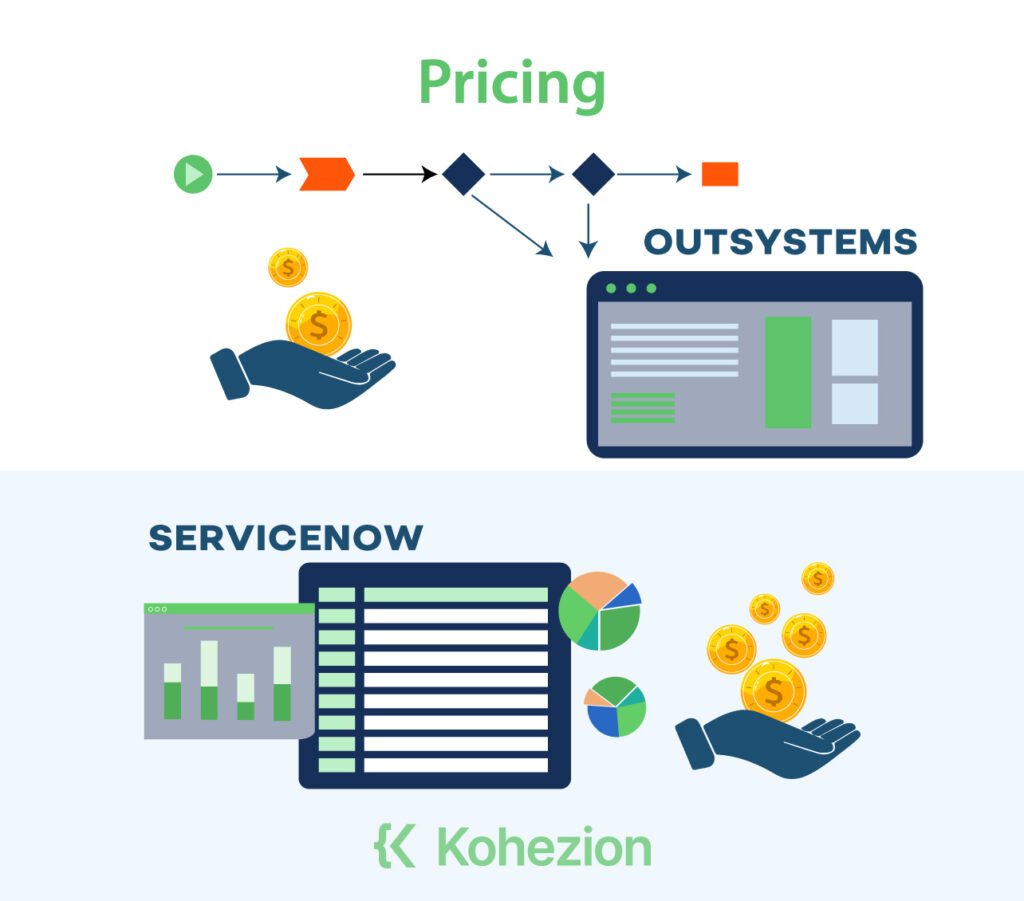 ServiceNow:
User Interface: A straightforward interface is designed to simplify the navigation and usage of the platform. The Workspace feature lets users edit and manage tickets from a single screen, streamlining workflows and increasing efficiency.

Customization Options: The solution offers optimization, customization, automation, and reporting features with the goal of empowering users to customize and optimize their workflows according to their unique requirements.

Available Documentation: From guides to tutorials, and a robust knowledge base, ServiceNow offers comprehensive documentation. Users can access resources that provide step-by-step instructions and best practices.
2. Pricing
Pricing factors are a major factor to take into account when deciding between OutSystems and ServiceNow. Understanding the price schemes offered by both platforms is crucial for businesses to make an informed decision. These are the main factors to think about:
Starting Price: OutSystems Platform has a starting price of roughly $1,500 per month. Depending on the requirements and the intended business, ServiceNow might cost anywhere between $30,000 and $60,000 as a package.

Editions and Modules: It's worth noting that both platforms offer different editions and modules, each with its own pricing. While OutSystems has Basic and Pro editions, ServiceNow offers IT Service Management editions.

Free Trial and Freemium Version: OutSystems offers a free trial, so businesses can test the platform before committing to a purchase. ServiceNow doesn't provide a free trial or a freemium version.

Premium Consulting/Integration Services: Premium consultation and integration services are available from OutSystems, but there may be additional fees. Businesses that need specific support to deploy the platform may find these services useful.
3. Features
The features play a crucial role in determining which platform is better suited for developing non-ITSM applications. Let's compare the features offered by OutSystems and ServiceNow. We will also highlight their functionalities and benefits for businesses.
OutSystems:
Low-code Solution: OutSystems is a low-code platform offering a user-friendly application development environment. Its drag-and-drop feature allows users to create applications without extensive coding easily.

Flow Editor: The flow editor is a valuable feature that provides a simple and intuitive interface for designing and managing application workflows. It guides users step-by-step, making it easier to create efficient and streamlined processes.

Validation before API Calls: Before calling the API, OutSystems allows users to perform validation. This ensures that data is validated and errors are caught before interacting with external systems.

Themes and Styling Guide: There are a variety of themes (besides a styling guide) that can be used to customize the appearance of apps. This lets businesses create visually appealing and consistent user interfaces.
ServiceNow:
Asset Management: ServiceNow's software includes asset management capabilities, allowing businesses to effectively track and manage their assets throughout their lifecycle.

Billing and Invoicing: These functionalities enable businesses to streamline their financial processes.

Change Management: Robust change management capabilities allow businesses to effectively plan, track, and implement changes to their IT infrastructure.

Contract Management: These functionalities enable businesses to efficiently manage their contracts throughout their lifecycle.

Customer Survey: With ServiceNow, you can conduct customer surveys to gather feedback and measure customer satisfaction.

Email Integration: It allows businesses to seamlessly integrate their email communication with the platform.

Incident/Request Management: Those functionalities enable businesses to manage and resolve IT incidents and service requests in an efficient manner.

ITIL Compliant: ServiceNow is ITIL (Information Technology Infrastructure Library) compliant, which means it adheres to the best practices and guidelines for IT service management.
4. Support
The next thing you need to consider is the support services provided by each platform. Support plays a crucial role in ensuring that any issues or challenges encountered while using the software are addressed promptly. 
Let's examine the support capabilities of both platforms. We will focus on factors such as availability, response time, support channels, and self-service resources.
Availability

: OutSystems offers support services during regular business hours, typically from Monday to Friday. This means that support may not be available during weekends or outside of normal business hours. ServiceNow provides

support services

24/7, ensuring that users can receive assistance at any time, including weekends and holidays.

Response Time

: Depending on how serious the problem is, the response time for help requests made through OutSystems may change. They usually respond in a timely manner, albeit this may not always be what certain people would like. ServiceNow is renowned for its lightning-fast responses. To ensure that users' operations are not significantly disrupted, they prioritize important issues and work to give prompt resolutions.

Support Channels

: To accommodate various user preferences, Out Systems provides help through a variety of channels. Contact options for users include phone, email, and online chat. Users are now able to select the channel that best suits their needs. ServiceNow offers support across various platforms, including email, online chat, and phone. There's also a community forum where users can ask for help from other users and professionals, encouraging a supportive, cooperative environment.

Self-Service Resources

: Users can access self-service resources from OutSystems' knowledge base and video lessons. They can look up answers to frequently asked topics or conduct their own self-help problem-solving using these tools, which are always available. The extensive knowledge library provided by ServiceNow contains manuals, user guides, and frequently asked questions. For users to improve their abilities and platform expertise, they also offer training materials and certificates.
5. User interface (UI)
In addition to enhancing productivity, a well-designed and intuitive UI can improve user satisfaction and contribute to the success of the software implementation. Let's check out the key factors to consider when evaluating user interfaces.
Customization Options

: Users have commented that OutSystems provides a wide range of customization possibilities, enabling users to modify the user interface (UI) to suit their unique demands. Thanks to great flexibility and extensive customization capabilities, ServiceNow users can customize the UI to align with their organization's branding and design preferences.

Visual Appeal

: Users may construct aesthetically beautiful apps with the help of OutSystems thanks to its drag-and-drop capability and customizable themes. ServiceNow platform is widely recognized for its clean and professional design. The clear and intuitive interface facilitates efficient navigation and task completion.

Integration with Other Systems

: As for OutSystems, it's designed to integrate with various external systems and databases to let users seamlessly connect their apps with other software and services. Renowned for its strong integration capabilities, the ServiceNow platform offers robust APIs and connectors that enable seamless integration with a wide range of third-party systems and apps.

Mobile Accessibility

: OutSystems' mobile development capabilities let users create responsive and mobile-friendly apps. The UI is designed to adapt to different screen sizes and resolutions. The ServiceNow mobile app allows users to manage their IT management tasks on the go. Thanks to a simplified and optimized experience for mobile devices, users can stay productive even when they're away from their desks.
6. Integrations
Due to their ability to connect various systems and services, integrations are essential to software platforms. The ability of the chosen platform to interface with other critical products and services utilized by the organization must be taken into account while deciding between OutSystems and ServiceNow.
OutSystems
The platform offers robust integration capabilities through its connectors, which can connect to any service without needing separate integration tools. Some key integrations supported by OutSystems include:
Data Import/Export

Basic Reports

Online Customer Support
ServiceNow
Likewise, this platform offers an expansive range of integrations to enhance its IT Service Management capabilities. Some key integrations supported by ServiceNow include:
Asset Management: Through this connectivity, businesses may have a centralized view of their assets, track their lifecycle, and simplify procedures linked to assets.

Billing and Invoicing: It helps organizations streamline their financial operations and ensure timely and accurate billing.

Change Management: Businesses can use this interface to develop consistent change management procedures, monitor change requests, and guarantee that changes are properly documented and approved.

Contract Management: It lets organizations streamline contract creation, negotiation, and renewal processes.

Customer Survey: This enables organizations to gather valuable insights and identify areas for improvement.
7. Security
In order to safeguard their data and guarantee the integrity of their systems, businesses must select a platform with strong security measures. Making a decision based on knowledge of the security features of OutSystems and ServiceNow that is in line with your organization's unique security needs is crucial.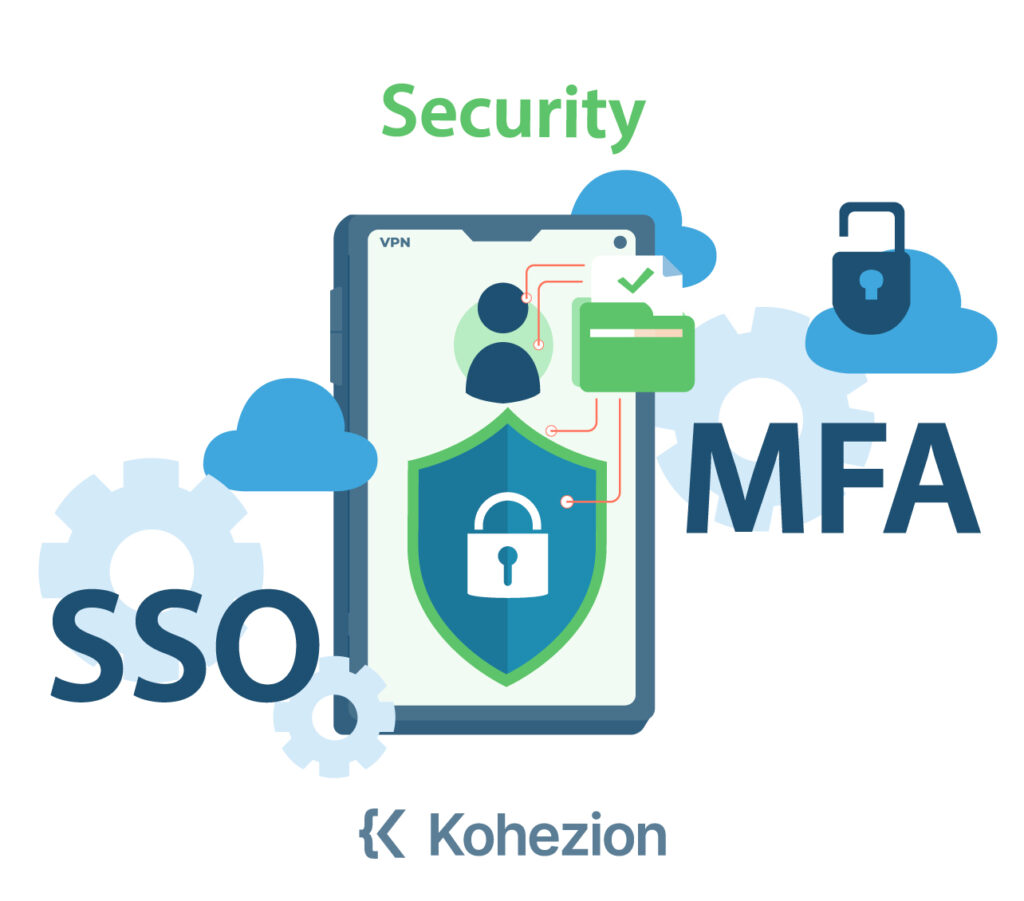 The following is a thorough comparison of the security factors to take into account while selecting between these systems.
Authentication Mechanisms:
OutSystems: In addition to username/password authentication, single sign-on (SSO) connection with third-party identity providers, and multi-factor authentication (MFA) choices, OutSystems offers a variety of authentication mechanisms. By ensuring that only authorized users may access the system, these techniques help lower the possibility of illegal access.

ServiceNow: Strong authentication options are provided by ServiceNow, such as MFA support, SSO integration, and username/password authentication. By confirming users' identities before giving access, these techniques improve the platform's security.
Data Encryption:
OutSystems: It supports encryption at rest and in transit, thereby protecting data both when stored in databases and when transmitted over networks. This encryption helps prevent unauthorized access to sensitive information.

ServiceNow: As an added layer of security, it employs encryption (at rest and in transit) to prevent unauthorized access.
Access Controls:
OutSystems: It offers granular access controls, allowing organizations to define roles and permissions for users. This ensures that users only have access to the necessary functionalities and data based on their roles.

ServiceNow: By enabling organizations to define user roles and permissions, it helps users enforce the principle of least privilege, ensuring that users only have access to the resources they need for their job functions.
Vulnerability Management:
OutSystems: By routinely delivering updates and patches to fix any discovered vulnerabilities, OutSystems gives vulnerability management a top priority. It also offers resources and capabilities for penetration testing and vulnerability assessments.

ServiceNow: By delivering updates and patches, ServiceNow also places a strong emphasis on vulnerability control. It has the ability to scan for vulnerabilities and interfaces with external vulnerability management systems.
Compliance Certifications:
OutSystems: It adheres to various industry-standard compliance certifications (like SOC 2 Type II and ISO 27001). These certifications validate the platform's commitment to maintaining robust security controls and processes.

ServiceNow: It complies with industry-standard certifications, too. This demonstrates ServiceNow's dedication to maintaining a secure environment for its users.
8. Automation
While OutSystems includes automation features for tasks like code generation and deployment, its primary focus is on accelerating the application development lifecycle. Features like data import/export and basic reports allow users to import and export data from external sources, which enables seamless integration with other systems and databases.
ServiceNow provides a full suite of tools and capabilities for workflow automation, including incident management, problem management, change management, and more. Their primary focus is on streamlining and automating service delivery and IT operations, though.
The following are key automation features that should be considered when choosing between these two platforms.
Application Development Automation: By offering a visual development environment, code generation, and automatic deployment tools, OutSystems excels at automating the development process.

Workflow Automation: ServiceNow provides a powerful workflow engine that lets organizations automate complex business processes across various departments.

Asset Management: The management of IT assets, including hardware, software, and licenses, is automated via ServiceNow. It offers a thorough overview of all assets, their setups, and their connections.

Contract Management: The management of contracts, including their generation, negotiation, approval, and renewal, is automated by ServiceNow. It offers a consolidated location for keeping track of and preserving contract information.

Billing and Invoicing: Thanks to ServiceNow's automation of the billing and invoicing process, users (organizations) can create precise and timely invoices for their IT services.
9. Workflows
Workflows are essential to software development because they help businesses automate and streamline their business operations. Workflows guarantee that work is carried out effectively and consistently by establishing the order of activities and actions.
Both the OutSystems and ServiceNow platforms provide workflow features that aid in the efficient creation of applications and the administration of IT services. Understanding the differences between OutSystems and ServiceNow's features and areas of focus is crucial when comparing the two systems' workflows.
OutSystems
OutSystems offers a visual development environment and low-code approach, which allows developers to create workflows as part of their application development process. Listed below are some key aspects of OutSystems workflows:
Visual Workflow Designer

Integration Capabilities

Event-Driven Workflows

Collaboration and Approval Processes
ServiceNow
ServiceNow is famous for its workflow automation capabilities. This is particularly true for the service management and IT operations. Here are some key aspects of ServiceNow workflows:
Workflow Engine

Pre-built Process Templates

Integration with ITIL Practices

Service Catalog and Self-Service Automation
10. Scalability
When deciding between software systems like OutSystems and ServiceNow, scalability is an important issue to take into account. It speaks to a system's capacity to manage escalating workloads and support expansion without sacrificing performance or stability. There are a number of things to consider when contrasting the scalability of OutSystems versus ServiceNow.
First and foremost, the scalability of the underlying infrastructure and architecture is essential. This includes the ability of the platform to distribute workloads efficiently across multiple servers or instances, as well as the availability of resources such as processing power, memory, and storage.
The scalability of the application development process itself is another essential consideration. The high-performance low-code platform used by OutSystems, which enables quick application development and deployment, is well known. ServiceNow provides a variety of IT service management tools that could be more targeted toward particular processes and features.
Next, you need to consider the scalability of customer support and vendor reliability. As businesses scale and encounter new challenges, it's vital to have reliable and responsive support from the platform provider. OutSystems has a higher rating in terms of user reviews and customer satisfaction, which suggests a higher level of reliability and support.
11. Design
Design is important since it has a direct impact on user experience and overall productivity during software development. It's crucial to take into account the design features of both platforms when deciding between OutSystems and ServiceNow to make sure they match your unique needs and specifications. We will compare the design capabilities and features of both OutSystems and ServiceNow in this comparison, concentrating on the user interface, customization possibilities, and aesthetic appeal.
OutSystems design
| | |
| --- | --- |
| PROS | CONS |
| User-friendly platform with a drag-and-drop feature | Limited workflow-based automation |
| Extensive customization options for tailored design | Documentation could be more robust |
| Visually appealing and modern templates | |
ServiceNow design
| | |
| --- | --- |
| PROS | CONS |
| Straightforward and accessible user interface | Less emphasis on visual aesthetics compared to other platforms |
| Extensive customization options for tailored design | Limited visual customization options |
| Focus on functionality and usability | |
So, which platform should you choose in this regard? Your choice ultimately depends on your specific requirements and priorities. If you prioritize a visually appealing and customizable design with a user-friendly interface, OutSystems may be the preferred choice. Yet, if functionality, usability, and customization for business processes are more important, ServiceNow may be the better option.
12. Analytics
Low-code development platforms must have analytics capabilities because they let businesses collect and analyze data to produce insights that can be put to use. Analytical comparisons between OutSystems and ServiceNow must take into account elements like data visualization, reporting, predictive analytics, and integration possibilities.
Let's explore the analytics capabilities of both platforms and go over their advantages and disadvantages.
OutSystems Analytics:
Data Visualization: It offers robust data visualization capabilities, allowing users to create visually appealing charts, graphs, and dashboards to represent data in a meaningful way.

Reporting: OutSystems offers a robust reporting function that lets users create custom reports according to their unique needs. There are many different pre-built reporting templates available on the platform.

Predictive Analytics: While OutSystems does not have built-in predictive analytics capabilities, it provides integration options with third-party tools and services, allowing users to incorporate predictive analytics into their applications.

Integration Options: Users can acquire data from numerous sources and use it for analytics thanks to OutSystems' easy connection with a variety of external systems and data sources.
Pros of OutSystems Analytics:
User-friendly and intuitive

Flexibility in terms of data visualization and reporting

Amazing integration capabilities
Cons of OutSystems Analytics:
Limited predictive analytics (it lacks built-in predictive analytics capabilities)
ServiceNow Analytics
Pros of ServiceNow Analytics:
Robust data visualization capabilities

Comprehensive reporting feature

Useful predictive analytics

Seamless integration with various data sources and external systems
Cons of ServiceNow Analytics:
Complexity: ServiceNow's analytics features may be more complex and require a higher level of technical expertise.

Scalability: For some users, the platform may have limitations in handling and analyzing massive datasets.
13. Customization
When deciding between the platforms offered by OutSystems and ServiceNow, customization is a key consideration to take into account. The overall efficacy and efficiency of a system can be significantly impacted by the software's capacity to be customized to fit certain company needs. We will discuss the customization options provided by both platforms in this comparison, emphasizing their essential features and any shortcomings or restrictions.
OutSystems
Customization Capabilities:
Custom Workflows: Users can easily construct unique workflows using the visual workflow editor offered by OutSystems.

Design Custom User Interfaces: Users may create and change user interfaces with OutSystems' drag-and-drop interface builder without needing to know much about coding.

Extend Functionality through Custom Code: While OutSystems promotes a low-code development approach, it also allows developers to write custom code when needed.
Limitations/Constraints on Customization:
Limited Customization for Basic Reports

Constraints on Customizing Platform Features
ServiceNow
Customization Capabilities:
Custom Workflows: The Workflow Editor in ServiceNow enables users to design unique workflows. Based on their specific needs, this functionality enables organizations to automate and streamline their procedures.

Design Custom User Interfaces: Users can leverage its UI Builder to create visually appealing and intuitive interfaces that align with their branding and user experience goals.

Extend Functionality through Custom Code: JavaScript-based custom code development is supported by ServiceNow. Businesses can do this to increase the functionality of the platform and combine it with other systems or APIs.
Limitations/Constraints on Customization:
The Complexity of Customization

Upgrades and Compatibility
14. Productivity
When selecting a development platform for software development, productivity is an important factor to take into account. The speed and quality of application development can be significantly impacted by a platform's efficiency and effectiveness.
There are a number of important aspects to take into account when contrasting OutSystems with ServiceNow in terms of productivity:
Visual Development Capabilities:
OutSystems offers a user-friendly platform with drag-and-drop features, making it easy to work with. The flow editor in OutSystems is simple and intuitive, guiding users through the development process step-by-step. The drag-and-drop feature allows for quick and efficient development without the need for manual coding.

ServiceNow also provides visual development capabilities, allowing users to create applications with ease. The platform offers a workspace feature that enables users to edit everything from one screen, providing convenience and streamlining the development process.
Low-Code/No-Code Functionality:
Because OutSystems is a low-code solution, the majority of its features are pre-built and simple to alter. Using pre-built components and functionality allows developers to save time and effort. For certain needs, however, some customization might be necessary.

ServiceNow has low-code features in addition to its main strengths in IT service management. This enables users to create applications quickly without having to have substantial coding experience. Offering versatility and effectiveness in application development, ServiceNow offers a variety of choices for optimization, customization, automation, and reporting.
Integration with Third-Party Tools:
OutSystems provides a seamless connection with a range of external tools and platforms, enabling developers to make use of the technologies and functions already in use. By making it simple for developers to include other services, APIs, and databases in their applications, this integration feature increases productivity.

Likewise, ServiceNow provides integration capabilities to help users connect with other systems and tools. This enables developers to leverage existing infrastructure and services, which enhances productivity by streamlining workflows and data exchange at the same time.
Time-to-Market:
OutSystems takes pride in its low-code development methodology, which enables them to produce apps quickly. A shorter time-to-market is made possible by the visual development tools, pre-built components, and simple integration possibilities.

ServiceNow also places a strong emphasis on speed-to-market, enabling businesses to implement solutions more rapidly and boost operational effectiveness. Even non-technical individuals can make adjustments and streamline procedures thanks to the platform's user-friendly design and simple customization choices.
15. Team collaboration
Why is team collaboration a crucial aspect of software development? That's because it enables teams to work together efficiently, share knowledge, and streamline processes. Both OutSystems and ServiceNow offer features and capabilities that facilitate team collaboration in software development projects.
OutSystems is a user-friendly platform that encourages team members to collaborate. Developers no longer need to manually code programs, and quicker development cycles are made possible by the drag-and-drop capability. Another useful feature of OutSystems is the flow editor, which leads users through the collaborative process step-by-step.
On the other side, ServiceNow's Workspace functionality streamlines collaboration by enabling users to edit and manage tickets, workflows, and projects from a single interface. Teams that are involved in several projects and workflows would especially benefit from this capability. A consolidated platform for communication and collaboration is also offered by ServiceNow.