Considering the growing demand for digital transformation in the financial field, it's no surprise that Accounts Payable (AP) automation software has become a vital tool for businesses. These systems help to simplify complex financial processes, increase efficiency, and eliminate the risk of human error. Being critical for efficient fiscal management, selecting the right AP software is a significant decision.
Add a header to begin generating the table of contents
What is Accounts Payable Software?
Accounts Payable software automates the processes related to managing and maintaining the ledger of amounts owed by a company to its suppliers for goods and services provided. Traditionally these processes were accomplished manually, involving tiresome paperwork, errors, and inefficient cost practices.
AP software automates this entire process, making it convenient, exact, and more efficient. Managing incoming bills and invoices becomes significantly simpler with the software keeping track of details such as invoice due dates and amounts, helping businesses avoid late payment penalties and optimize their cash flow management.
Modern AP software also incorporates artificial intelligence and machine learning technologies to analyze expenses, mitigate potential risks, and offer invaluable financial insights.
Benefits of Accounts Payable Automation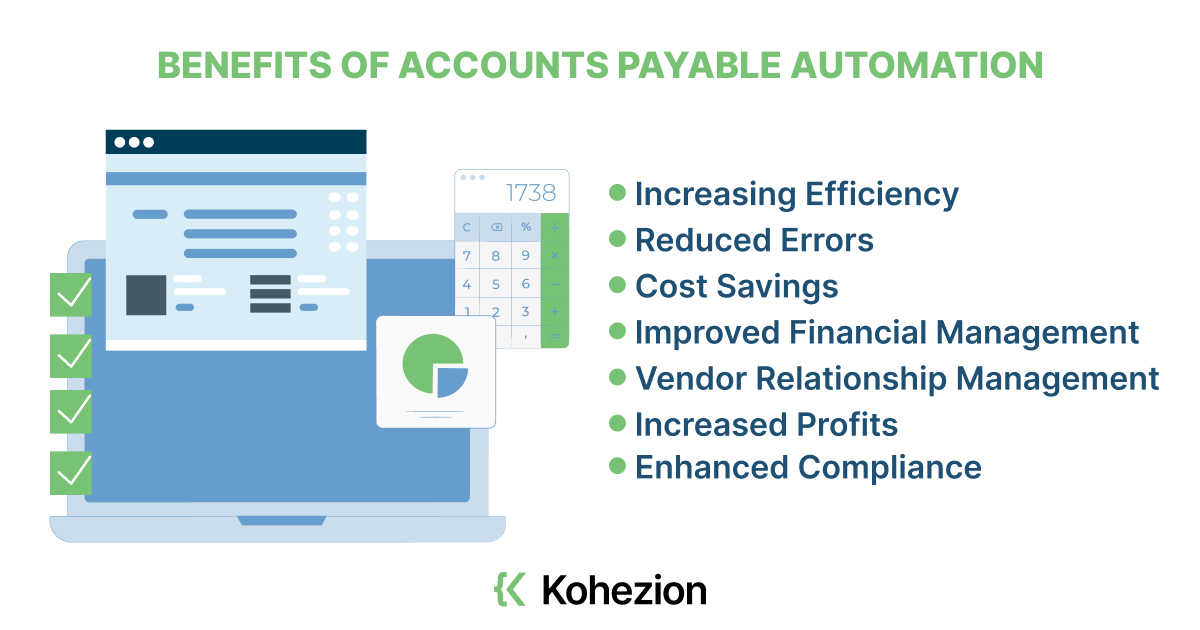 Accounts Payable Automation provides a wide array of benefits. Automating tedious manual tasks allows businesses to save time and focus their resources on more strategic goals. Here are the key benefits:
Increasing Efficiency: Automation software drastically reduces the time taken to process invoices, increasing the overall efficiency of the financial department.
Reduced Errors: With AP automation, businesses can eliminate the probability of human errors in data entry and computations.
Cost Savings: As the software automates data capture, extraction, and workflow management, businesses save substantial operational costs.
Improved Financial Management: With precise and real-time data, businesses can effectively manage their cash flow, and have better budgeting, and forecasting abilities.
Vendor Relationship Management: Efficient and prompt processing of payments improves business relationships with vendors and partners.
Increased Profits: Companies can reduce overhead costs, streamline business operations, and enhance their bottom line.
Enhanced Compliance: Automation software adheres to regulatory norms and standards, ensuring that your business does not violate any rules or regulations.
Top 9 Automated AP Software Tools
1. Kohezion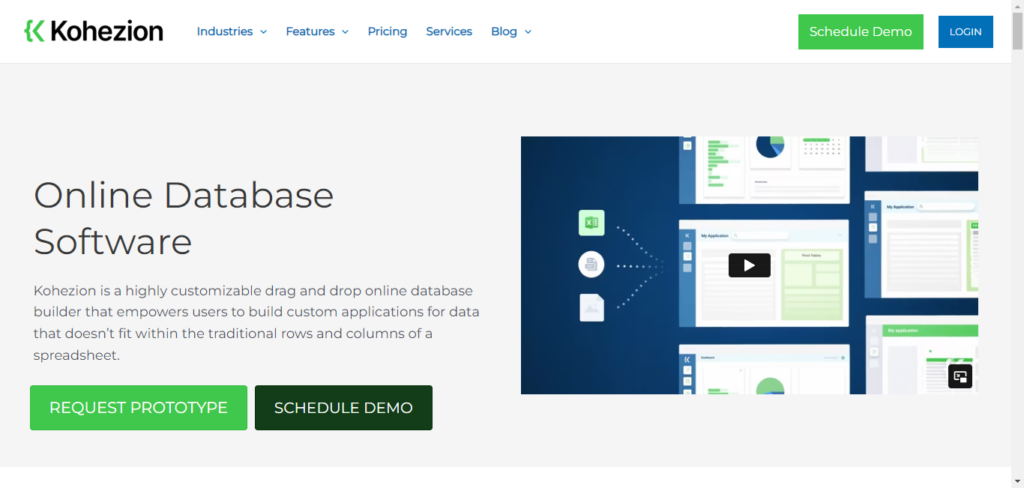 Kohezion is a prominent player in the AP Automation space. Regarded for its extensive customization ability, it facilitates effortless invoice capture, approval workflows, and reporting. It simplifies managing accounts payable and allows businesses to design their own databases catered to their unique requirements - without any coding knowledge needed. What sets Kohezion apart from the rest is its powerful reporting capability. It allows for easy tracking of outstanding dues, essential for reputation-building and scaling businesses. With robust and detailed reporting, businesses can stay ahead, managing transactions judiciously.
Unique to Kohezion is its unrivaled speed. This ensures faster processing and creates more efficiency in managing larger volumes of invoices. Plus, the data security that Kohezion provides maintains the integrity of your financial data, making it an innovative pick in the market. Kohezion is also known for its swift data processing, facilitating efficiency in managing vast volumes of invoices. Complementing this is its stringent data security protocol, which safeguards your financial data comprehensively.
Hence, while a plethora of AP automation tools are available, Kohezion excels in blending simplicity, functionality, and innovation in the realm of AP management, making the process incredibly efficient and seamless.
[FOR PUBLISHING: ADD CTA]
2. Tipalti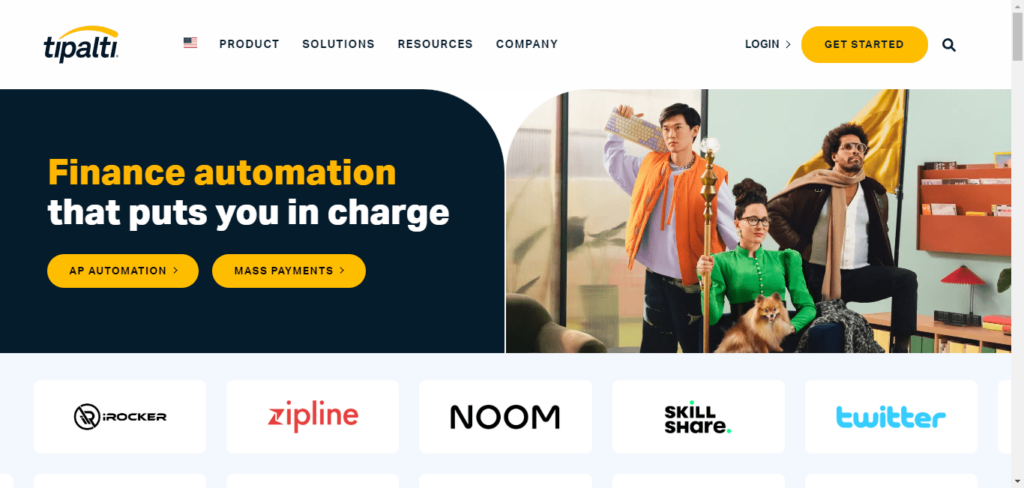 Tipalti is a leading name in the world of mass payments and AP automation solutions. Offering a myriad of features, including invoice management tools, payment processing, global payment capabilities, flexible payment methods, enhanced fraud protection, and tax compliance, Tipalti stands as a powerhouse in AP automation.
One of the distinctive qualities of Tipalti is its exceptional international payment offerings, providing various options such as ACH transfers, wire transfers, and foreign currency checks. This makes it perfect for businesses that operate on a global scale.
Tipalti is designed to streamline complex AP workflows, particularly benefiting mid-level and large businesses that process a high volume of monthly invoices. However, it lacks cash management functionality, which might be a factor to consider for AP teams focusing on working capital strategies.
For pricing, Tipalti Express starts at $149 per month, scaling up depending on the specific needs of your business. It's highly recommended as an AP solution for small businesses with 20 employees and beyond.
3. Beanworks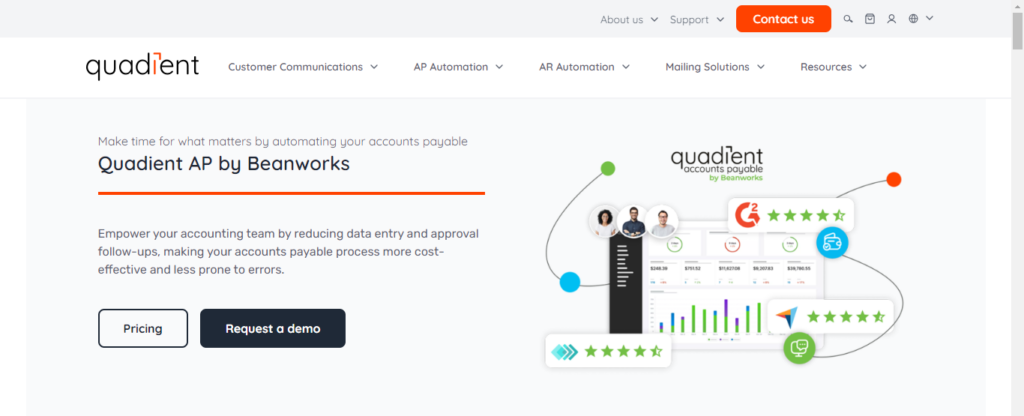 Beanworks is an excellent choice, especially for those already using Sage accounting systems, thanks to its great functionality integration. It offers an impressive plethora of AP automation tools suitable for small, medium, and large enterprises.
Key features of Beanworks include matching purchase orders to invoices, centralized AP for multiple locations, automated approval of invoices, quick payment clearing, and an advanced search tool for swift document retrieval. Its dynamic approval workflows are designed to help reduce errors and increase overall efficiency.
Beanworks recognizes the challenges related to AP management and presents its users with a system for rapid invoice processing plus remote vendor payment ability, all while aiming to significantly reduce AP-associated costs.
However, businesses using ERPs other than Sage might face less profound integrations, making it slightly challenging to automate AP tasks across all systems.
For pricing, Beanworks offers Standard, Pro, Premium, and Enterprise plans, making it feasible for a range of businesses. A free demo is also available on request.
4. Stampli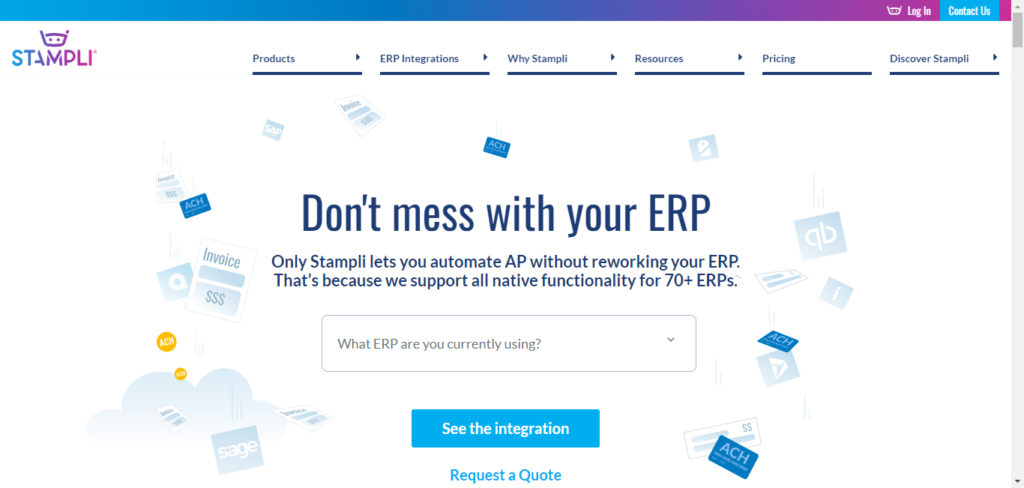 Stampli is renowned for its AI-driven invoice processing software that offers impeccable detection of inconsistencies, duplicated invoices, or fraudulent attempts within seconds. A key differentiator for Stampli is its intuitive yet sophisticated user interface that allows users to navigate through and manage invoices with ease. Moreover, with over 70 ERP integrations offered, Stampli is an ideal choice for businesses working with a variety of accounting systems.
Stampli's solution is not merely limited to invoice processing; it facilitates an efficient communication hub that promotes effortless auditing, as all invoice-related activities are readily accessible. Also, Stampli makes the tedious process of capturing and processing invoices straightforward and handles it in real time.
However, Stampli does not offer true cash management capabilities, which may be significant for many finance teams. Aside from this, thoroughly vet Stampli's ERP integrations and reporting capabilities to ensure smooth integration with their specific accounting systems.
While Stampli's payment processing capabilities might be limited, its exceptional platform seems to help businesses enormously, as it saves money, enhances efficiency, and reduces human errors. Therefore, Stampli is highly recommendable for businesses of all sizes looking for a comprehensive and efficient AP automated solution.
5. Bill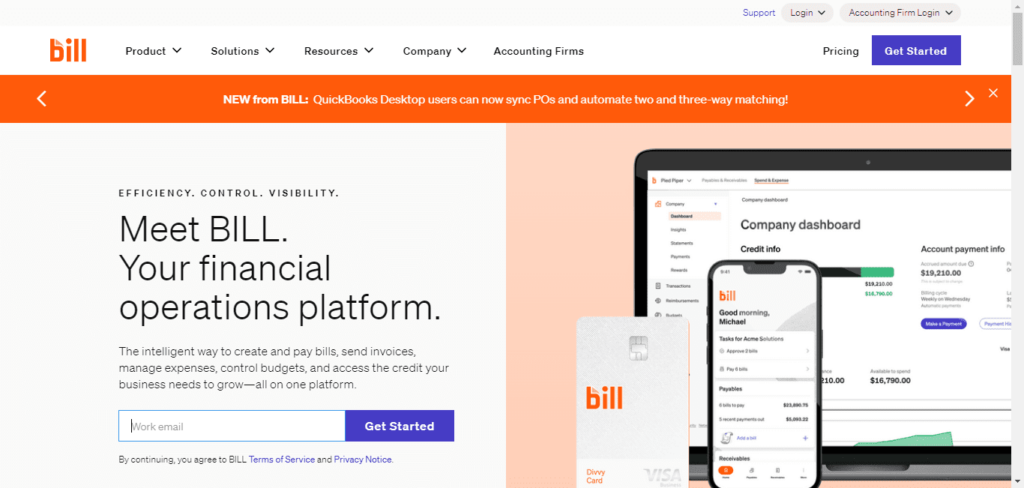 The newly renamed Bill, formerly Bill.com, is a cloud-based financial management platform designed to streamline the financial workflows of small businesses. It assists in managing accounts payable and receivable, focusing specifically on vendor bill processing and customer invoicing.
The features distinguishing Bill include its robust international payment capabilities and direct bank integration, making it a cost-effective AP solution for businesses that operate in multiple countries. Small businesses find its interface quite suitable for efficiently handling their financial operations.
Bill also provides a centralized dashboard where all payable and receivable accounts can be managed, providing visibility and control over financial management processes.
However, it's worth mentioning a few potential drawbacks. The platform often experiences 2-4 day payment delays and lacks true cash management capabilities. In addition, customer support options are quite conservative, which might be a disadvantage for businesses requiring white-glove customer service.
6. AvidXchange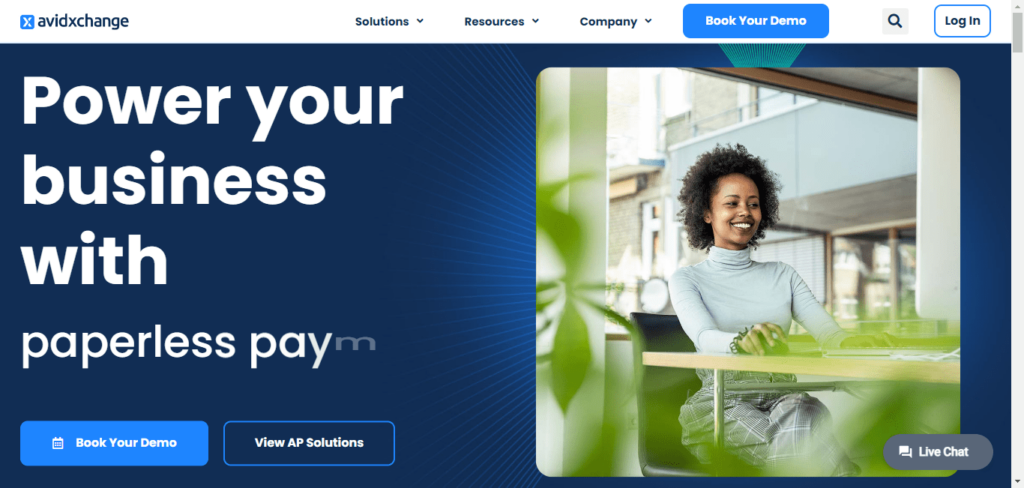 AvidXchange, known for its top-notch AP automation solutions, is popular, particularly in the real estate and construction industries. Its comprehensive software provides features such as automatic invoice capture, payment approval workflows, and effective payment processing. A key highlight is its seamless integration with potent ERPs like Yardi and Sage300CRE, making it more user-friendly for consumers in the property management and construction sectors.
Over the years, AvidXchange has gained a reputation for offering competitive pricing on its invoice capture. It's also recognized for solid cash rebates offered to customers, which helps them save more money.
However, like any tool, it has its limits. AvidXchange's credit card isn't as flexible as one might expect, functioning more like a debit or prepaid card, with only 1-2 days of floats. This limitation, combined with a lack of cash management capabilities and control over vendor relationships, might make it unsuitable for some businesses, especially those requiring flexible payment terms or businesses keen on controlling their supplier relationships.
7. MineralTree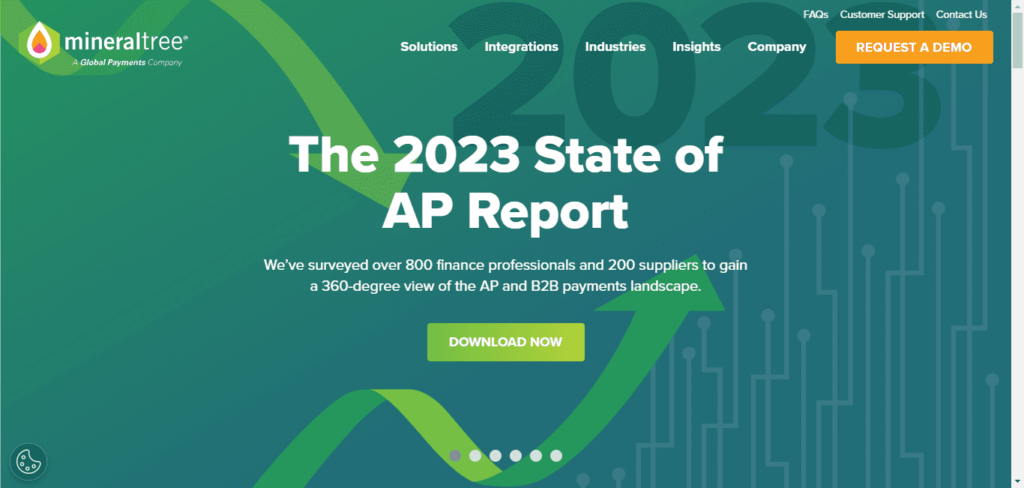 MineralTree has proven its proficiency in the world of AP automation, targeting small-to-medium organizations. They have ample experience with clients across various industries including healthcare, retail, and non-profit sectors. One of the standout features is the high invoice capture accuracy rate - MineralTree's OCR and human review processes deliver a whopping 99.8% accuracy rate.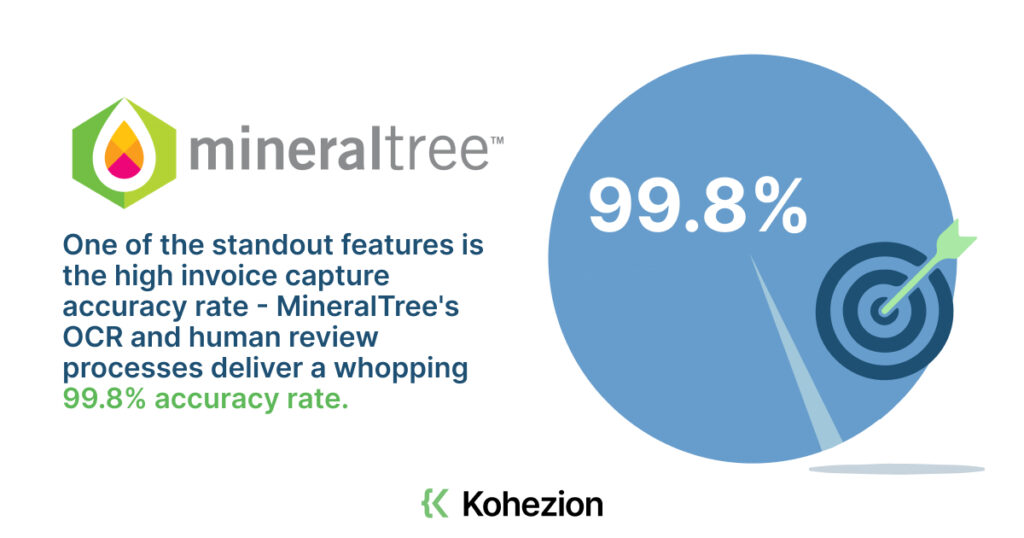 Other appealing features of MineralTree include the user-friendly onboarding process, comprehensive vendor management, and impressive customer service support, said to be prompt and helpful. It's also worth mentioning their admirable range of integrations, proving its flexibility and compatibility with many other tools.
The major pitfalls of MineralTree are the somewhat dated user interface, which may seem a touch archaic compared to competitor platforms, and the absence of a cash planning tool within AP. This means it cannot assist teams with planning their payables in a manner that extends their Days Payable Outstanding (DPO) and optimizes cash flow.
8. Airbase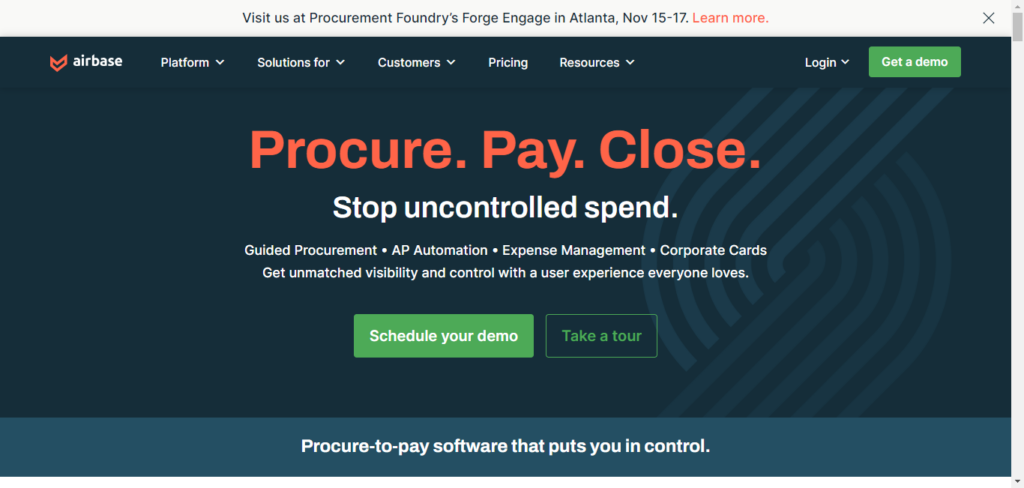 Born as an expense management tool in 2017, Airbase has surfaced as a comprehensive AP automation platform ideal for fast-growing small to medium-sized start-ups. Airbase's forte lies in catering to the dynamic and sometimes chaotic settings of burgeoning businesses, especially those of the technological sphere.
The platform encompasses broad AP functions, including invoice automation, bill payment, purchase order management, and convenient corporate card issuing. Its corporate card offering is highly user-friendly, enabling employees to make purchases and efficiently track their expenses. Moreover, Airbase provides real-time visibility into company expenditure, empowering teams to identify patterns and take corrective measures in a prompt manner.
Nevertheless, the platform falls short on certain aspects. It notably lacks capabilities for cash management functions, which extend beyond mere spend management and doesn't offer credit lines for borrowing funds, which might be a deal-breaker for businesses with such requirements.
While Airbase does not explicitly state its pricing model, it promises flexible pricing plans according to business requirements.
9. Centime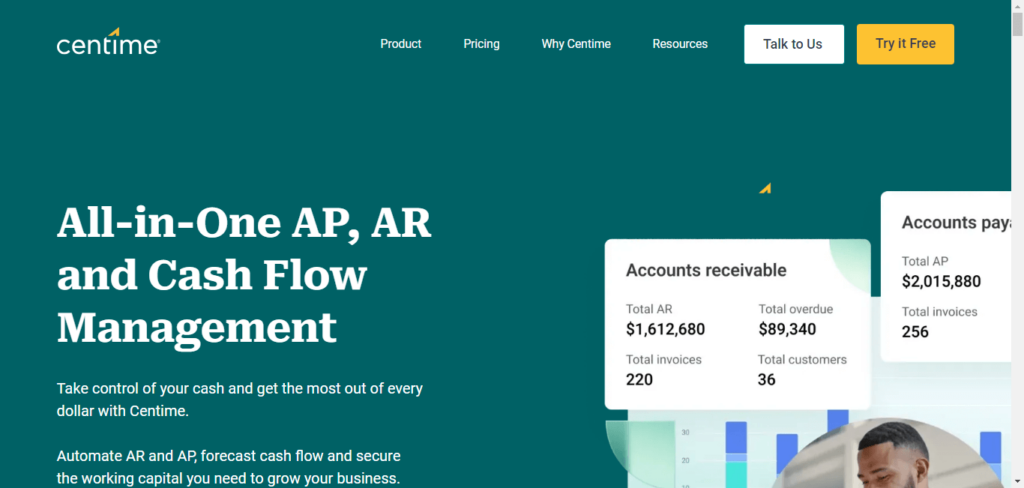 Centime is a comprehensive AP automation solution ideal for small to medium-sized businesses looking to streamline their accounts payables process and maximize control over their cash flow. Noteworthy for its dedicated customer service team and best-in-class ERP integrations (including QuickBooks Desktop, QuickBooks Online, and Oracle NetSuite), Centime offers end-to-end cash flow management which sets it apart from many competitors.
A unique feature of Centime's AP solution includes the usage of advanced OCR technology to pull key information from invoices, significantly reducing manual data entry mistakes and elevating the efficiency of your AP teams. This cutting-edge software allows businesses to manage their cash position with high precision without wasting resources on manual management processes.
While there is flexibility in picking and matching products from their platform suite based on unique needs, the platform is slightly limited in terms of the number of ERP systems it can integrate with, which might be a consideration for some businesses.
Important Automated Account Payable Programs Features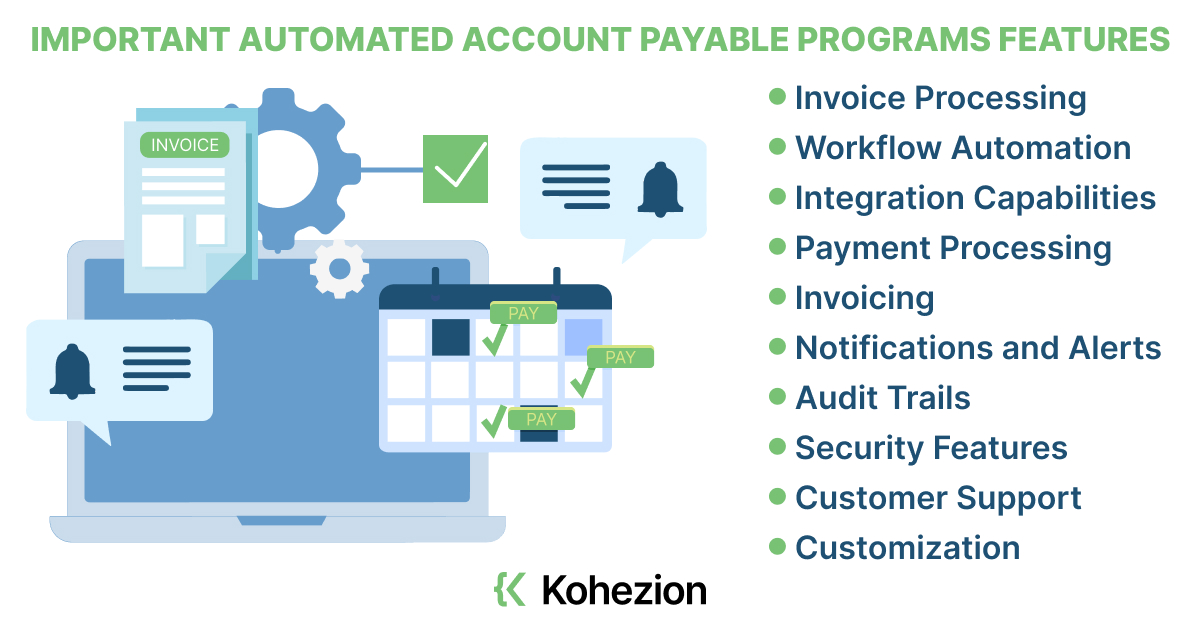 As you've seen from the rundown of the best AP automation tools, each software carries an assortment of attributes catering to varied business needs. However, some features are essential across all businesses. When choosing an AP automation software, consider the following features:
Invoice Processing: Capturing invoice data and automating its entry into the system. Tools with Optical Character Recognition (OCR) technology can capture invoice data quickly and accurately, reducing manual entry errors.
Workflow Automation: This includes automating approval workflows, payment authorizations, and batch processing, saving time and reducing human errors.
Integration Capabilities: Integration with existing accounting systems for smooth, seamless operations.
Payment Processing: Support of multiple payment methods, handle recurring payments, and automate these tasks for efficiency and accuracy.
Invoicing: Handling invoicing efficiently, accurately, and quickly, as it's one of the major tasks of AP solutions in general.
Notifications and Alerts: Automated alerts for tasks such as due payments or received invoices prevent missed payments.
Audit Trails: A clear audit trail helps maintain transparency in transactions, ensuring all bills are processed following company policies.
Security Features: Robust security measures to protect sensitive financial data.
Customer Support: Good customer support is paramount in case of any issues or queries related to the software.
Customization: The ability to customize the software according to your business needs can prove beneficial.
As a decision-maker, understand your business's unique needs and then pick an AP automation tool that covers these key features and any other aspect crucial to your operations. The ultimate aim is to leverage the software to make your AP processes efficient, accurate, and quick.
Kohezion Offers Best Accounts Payable Automated Solutions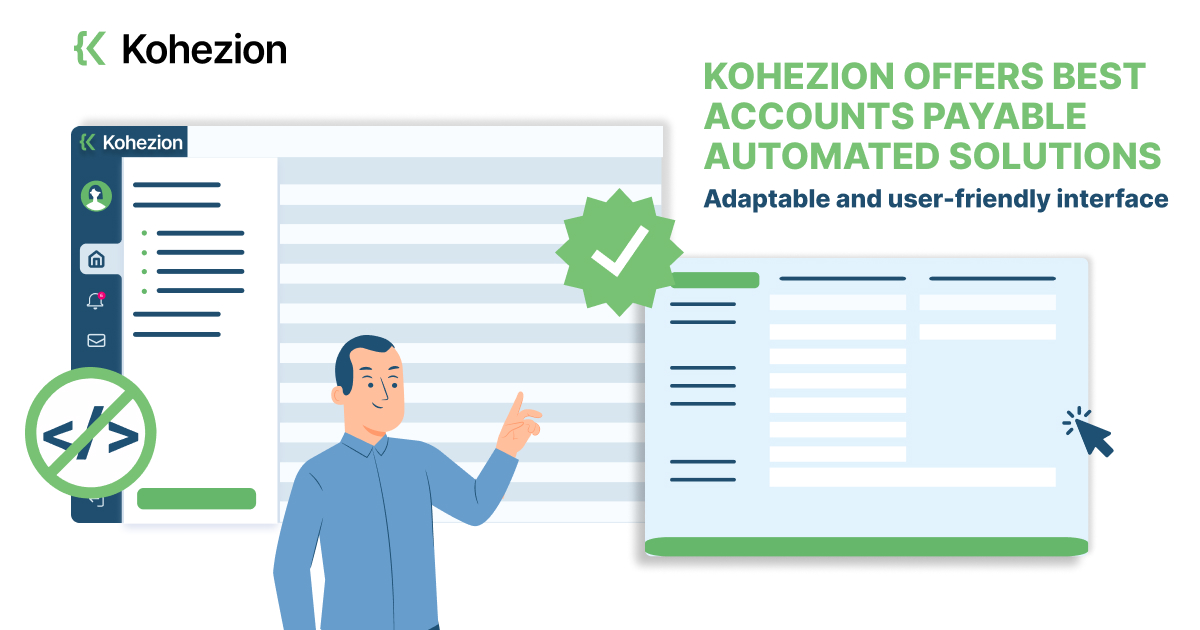 Choosing an accounts payable automation software involves considering numerous variables. However, if you prefer a versatile tool with a comprehensive interface, remarkable features, and an exceptional reputation, Kohezion lines up as the top recommendation. Its powerful customizability provides a unique proposition, allowing businesses to design their own databases according to their specific requirements without needing any coding expertise.
Kohezion's strength lies in its ability to seamlessly integrate with diverse platforms, ensuring compatibility with the various software your business might already be using. Its focus on delivering an adaptable and user-friendly interface sets it apart, making it a standout in the variety of AP Automation tools.
Frequently Asked Questions
Accounts payable automation software is a digital platform that helps organizations manage and streamline their accounts payable processes. It significantly reduces the need for manual tasks such as data entry, invoice processing, and payment approvals, replacing them with automated workflows. These platforms use technologies like Optical Character Recognition (OCR), Artificial Intelligence (AI), and Machine Learning (ML) to capture and process data, eliminate potential errors, and generate insights.
The pricing for accounts payable automation software greatly varies based on the features, scalability, and services involved. Some vendors have a flat monthly or annual subscription fee, while others may charge based on the number of invoices processed each month.
For small to mid-sized businesses, the average cost can range between $50 and $150 per user per month. Larger enterprises with more complex needs may expect to pay several hundred to several thousand dollars per month. On the higher end, AP automation software can cost up to $10,000 or more per year, especially for solutions that offer advanced features like deep integration capabilities, high-level security measures, and extensive customizability.
The best accounts payable software is designed with user-friendliness in mind. While the complexity of the software may vary based on the range of features and functions it provides, the ultimate goal is to simplify and streamline the AP process.
Most modern AP software includes intuitive interfaces, clear navigation, interactive dashboards, and step-by-step guides to get users up and running quickly. They often also provide comprehensive training resources such as video tutorials, webinars, and written documentation to support users in understanding the platform better.
The ability to integrate with existing software is a significant feature of modern accounts payable automation solutions. Most AP automation tools can directly integrate with popular accounting software like QuickBooks, Sage, Oracle, and Xero.
This integration capability enables the seamless sharing of data between systems, eliminating the need for duplicate data entry and reducing the chance of errors. It also ensures that all financial data across systems remains consistent and updated, enabling better financial analysis and reporting.
However, the level of integration varies among different AP automation software. Hence, it's pivotal to check with the software provider about their tool's integration capabilities to ensure it can interact adequately with your current software system. Understand how the integration process happens, what level of support the vendor provides during this process, and any associated costs.
The decision to choose between Accounts Payable Automation Software and generic Accounts Payable Software largely depends on your business needs, size, and complexity of operations.
A/P Automation Software specializes in the automation of A/P tasks with features like Optical Character Recognition (OCR) for data capture, automatic approval routing based on predefined rules, automatic payment processing, and more. If your business handles a large volume of invoices, has complex approval processes, or aims to significantly reduce manual labor in its A/P processes, A/P Automation Software can be beneficial.
On the contrary, A/P Software is typically included in general accounting or ERP systems and provides basic functionalities to manage accounts payable like manual data entry for invoices, tracking due payments, and making payments. This type of software may be sufficient for small businesses with fewer invoices and simpler A/P processes.
A key aspect to consider here is cost-effectiveness. While A/P Automation Software can streamline and speed up business operations, it tends to be more expensive than basic A/P Software. Hence, weigh your options considering the increased efficiency and reduced labor costs automation can bring against the price you'd be willing to pay for such software.