Have you ever caught yourself staring at worksheets containing extensive data sets and had no idea where to start? How do you extract meaningful data without wasting hours doing it? Welcome to the power of a pivot table. Even with the most complex standard reports, pivot tables are easy to create and invaluable to your company's success. However, Excel is not the only solution for business owners looking to slice and dice their database. Numerous companies opt for online database software to match their unique requirements and structure. Everyone can make a basic pivot table in about one minute and begin interactively exploring their data. But what is a pivot table?
This article will explain its purpose and how you can use it to analyze your business data. If you follow our step-by-step guide with examples and you'll be ready to create a pivot table in no time. Let's get started!
What Is a Pivot Table?
Let's say you have this data set you want to get insights from and create reports fast. For instance, you have to figure out the total sales by product to see which products bring the highest profit. The most efficient way of doing this is by creating a pivot table.
A pivot table is a table you can use to store the summary of a specific data set in a condensed manner. This data can be from a database, spreadsheet, or any other business intelligence program. Such a table consists of rows, columns, pages, and data fields. They usually include sums, averages, or other statistics, which the pivot table groups together in a meaningful way. It enables the user to view the differences in a vast set of information.
You can move these components in order to expand or group the selective data in real-time. This arranging and rearranging (pivoting) of statistics is where they got their name. By allowing users to find figures and facts quickly, they became crucial to data analysis.
Kohezion's Pivot Tables
One of the reasons we make Pivot Tables is to transfer information. Everyone likes to support their story with data that is easy to understand and well-structured. You can use pivot tables to sort, reorganize, group, count, total or average data stored in a database. They are the perfect solution when you need to summarize and analyze large amounts of information. That way, you get to put your raw data into meaningful insights in a single table – and this brings many benefits. Some of them are:
Simplicity. It's very simple to create and customize basic pivot tables. There is no need to learn complex formulas, as you can set one up in a few steps using the drag-and-drop tool.
Speed. You can create an efficient, helpful report with a pivot table in a matter of minutes. Even if you are pretty good with formulas, pivot tables require much less effort and are faster to set up. Furthermore, you can speed up the process by organizing your source data before importing it to a pivot table.
Flexibility. Unlike with formulas, pivot tables don't get you locked into a singular data view. You can quickly rearrange the appearance to meet your needs. You can even clone a pivot table to build a separate view.
Accuracy. As long as you set up a pivot table correctly, you can rest assured that the results are accurate. In fact, a pivot table will usually highlight problems in the data faster than any other tool.
Formatting. A Pivot table can automatically apply consistent number and style formatting, even as data changes. Therefore, you don't need to worry about switching data between columns and rows.
Filtering. Pivot tables contain several tools for filtering data. You can use them to define the particular data sets you (don't) want to display in the table. As you set up the filter, any associated visualizations or metrics also update to reflect the filtered data.
Charts. Once you make a pivot table, you can easily create a pivot chart. It is the visual representation of a pivot table. Kohezion offers various layouts, such as heatmaps, table bar charts, line charts, and area charts.
When Do You Use a Pivot Table?
Users usually opt for pivot tables in situations where they need to aggregate and slice and dice data for analysis. It's handy when you are looking to calculate and summarize data to make comparisons. Within Kohezion, we see our customers commonly use pivot tables to do the following:
Run automatic calculations on summed or counted values
Create %'s of totals
Segment data by date, the user, or other variable and calculate totals
Organize data into columns and rows with automatic calculations that would otherwise be impossible with Excel
How to Use Pivot Tables?
You can think of pivot tables as reports. However, unlike a static report, a pivot table provides an interactive view of your data. With minimal effort (and no formulas), you can look at the same data from many different perspectives. You can group data into categories, break it down into years and months, and even build charts. Furthermore, if you need to include or exclude specific categories, you can do so easily by applying the desired filter. It's worth mentioning that a Pivot Table will count any text field by default. This can be a convenient feature. For example, you can get a count by the department from your list of employees.
A snappy, efficient pivot table is worth its weight in gold. Getting there is, however, half the battle for many non-technical Excel users. The key is to not make a single report out of all the information you have. Utilize function tables and pivot tables to summarize and filter data sets that each tell different stories. Don't be afraid to create as many pivot tables as you need.
As one of the essential data analysis tools, pivot tables can quickly answer many critical business questions. Once you get a gist of it, I'm confident you'll use them daily. As already said, spreadsheets are one solution to create pivot tables. Still, the best tools don't require writing complicated formulas or starting all over again every time you want to organize the data differently. A drag and drop option to move your fields around is the easiest way to go. However, before making the final decision, you should browse through other database examples. Only then can you find what fits your business the best.
The Challenge With Excel Pivot Tables
Unless you're a Microsoft Excel power user, creating pivot tables in a spreadsheet can be a daunting task. It requires time and dedication to learn the functions and overcome the inevitable error messages. Once mastered, they're valuable for anyone looking to glean information from their database. Online software applications are built on the foundation of a relational database that enables this functionality. Yet, it lacks the intimidation factor that comes with Excel. What's more, with online database software, you can even convert Excel to a web app and keep all your data intact.
Suppose you're unfamiliar with pivot tables or find that Excel has several limitations now for analyzing your data set. In that case, it may be time to look at online database software. Numerous Excel Power users find that their customers leave as their business becomes more complex or the number of users increases. This is due to a lack of user permissions. The risk of human error escalates, and report data accuracy can be called into question. It's generally at this stage that businesses realize they need online database software. They can provide them with this level of security, along with the database customization and analytical tools they need. And in many cases, enterprise-scale ERP or CRM applications are either not affordable or perhaps just not a perfect fit.
Alternatives to Excel Pivot Tables
Building a pivot table in Kohezion's online database application is not complicated, nor is it time-consuming. As a small business database software, Kohezion is the perfect solution for a quick analysis of large amounts of data. Besides Kohezion, there are over forty database application software that you can choose from today. In fact, you can build a pivot table in most database applications in minutes compared to the time it would take you to make it manually or in Excel. But most importantly, as with any enterprise SaaS software, it has inherent user rights, which ensure that only certain people can edit your database, ensuring the accuracy of your pivot tables and reports.
How to Create a Pivot Table in Kohezion
It's a lot harder to explain a pivot table than to show you how one works, so let's take a look.
Create a database with Excel using Kohezion. Article: Create a database with Excel (3 min read)
Build your pivot table

Once you've set up your Kohezion account, you can import your data from the existing Excel file.
Before moving on to the next step, you'll need to select the row in a dropdown menu that contains your column captions. This will ensure your data is properly uploaded to Kohezion.
After selecting 'Finish', navigate to the Workspace. There you can open the desired search in the search group's left sidebar.
Click on the third icon (blue cube) to switch from a grid or calendar view to the pivot table view.
Drag and drop the desired field(s) in the boxes to use them as columns and/or rows. Now you have all the tools to create your data summary table.
Choose a type of aggregation view: table, bar chart, heatmap, table with heatmap, line chart, etc.
Choose a type of aggregation function: count, sum, average, etc.
Here is a complete video tutorial to help you in the process in case you've missed some points.
Pivot Table Examples
1. Pivot Table With Subtotal – Count Aggregation – Column Only
The sample database below is a sales tracking database and contains just a few fields such as categories, profit, and state. Utilizing the pivot table functionality, you can create a pivot table to summarize all sales. Simply drag the category field as a column and use a table view paired with the sum function. This is a simple sum function, using only one column.
This took 20 seconds to build.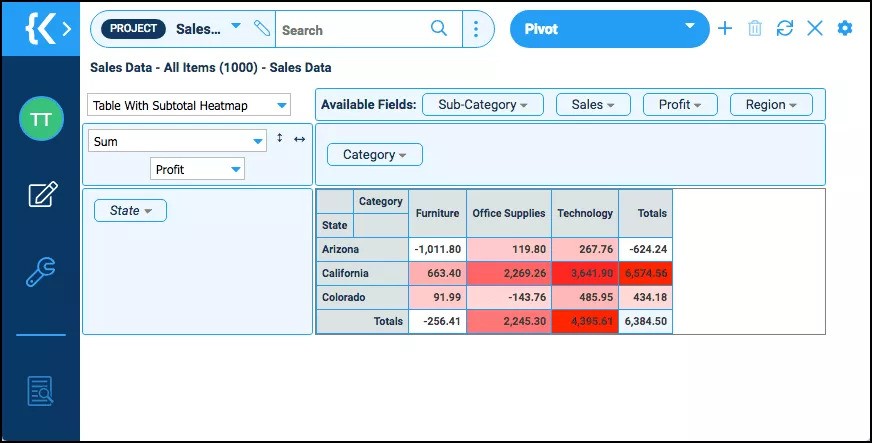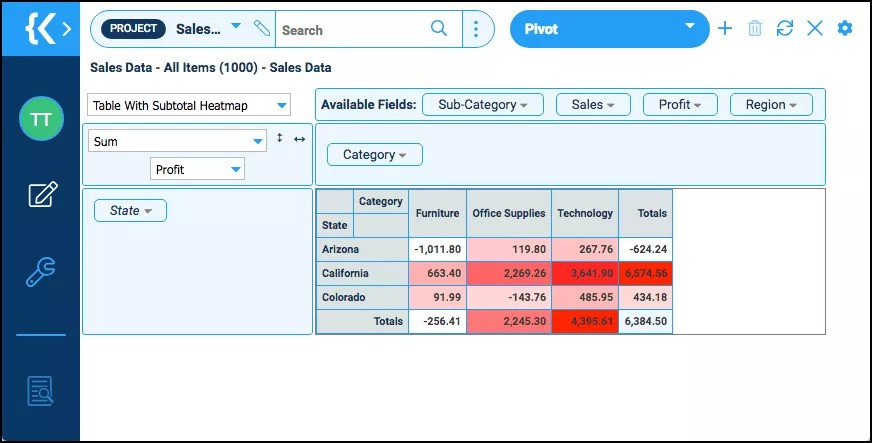 2. Pivot Table With Subtotal Bar Chart – Count Aggregation – Column And Row
In order to push the functionalities a bit further, you can pair columns and rows to rearrange data. Within this same database, you can pair a table with a subtotal bar chart aggregation view with a simple count aggregation function. Then you can use the category field as a column and the State field as a row.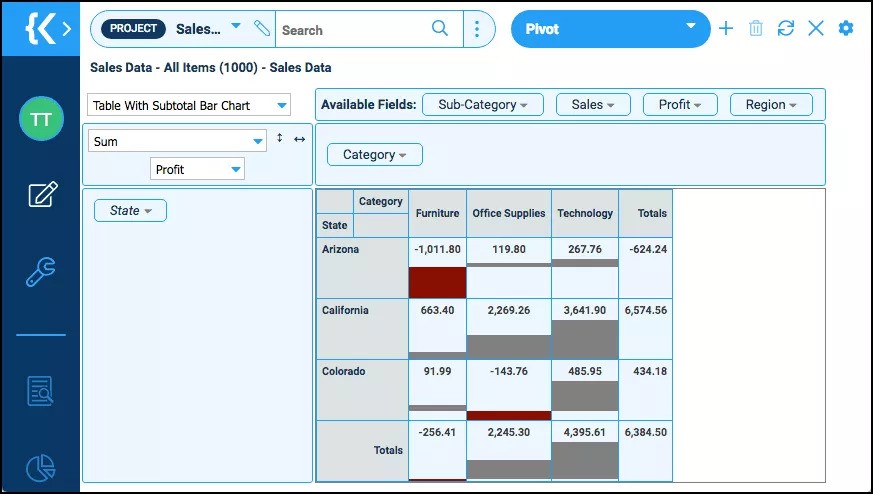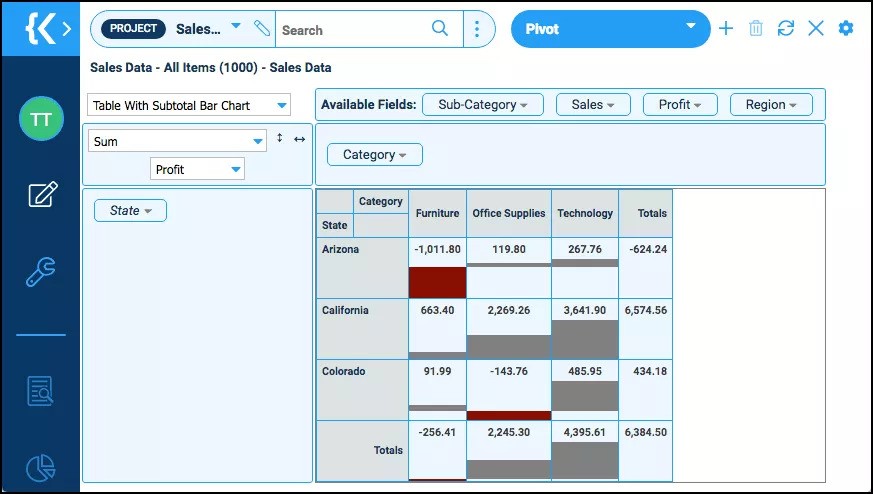 Unlike Excel, which would return an error reference, this Kohezion pivot table isn't generating errors when some fields are left empty.