Using an Excel database is a good choice to manage numbers and formulas. However, when it comes to managing business data such as clients, tasks, or meetings, it may not be the best solution. If you want to make the best use of your data, choosing the right tool is critical.
To collect, analyze, and share your organization's information, we think online database software is a much better option. In this article, I'll explain the pros and cons of using an Excel database to manage business data, the advantages of switching from an Excel database to online database software, and I'll give you a quick visual tour of how easy it is to make the switch.
Excel Database: Pros and Cons
Microsoft Excel database files are useful for creating simple tables or spreadsheets based on numbers and formulas. When considering data management options, take into account these pros and cons of an Excel database.
Pros of Excel Database
It is best used for calculations and statistical purposes.
It is best for data analysis.
It's a great solution for quick, one-time use such as expense reports.
Its rows and columns format is easy to understand when creating your spreadsheet.
It is an affordable solution.
It is perfect for a single user.
Cons of Excel Database
It is not the best choice for data management.
Can be difficult to collaborate on the same document and to keep an updated version circulating within a team.
Will flag errors if cells or rows are left empty.
It is hard to master formulas and use them properly.
The data is difficult to summarize when presented in a spreadsheet.
It is difficult to create pivot tables.
Database applications and excel
When businesses are implementing optimal data management, they prefer online database software to Excel databases. It allows the design of database applications to manage all business data under the same roof. It is a reliable, customizable, and sustainable enterprise solution. Here is an extended list of the advantages of using such a product.
Data Management Solution
It is the best tool for data management.
Can be used for text or numbers.
Allows different types of data within the same application and offers different types of fields.
Create your Own Applications
It permits the creation of multiple applications that serve as blueprints for your projects.
All the applications, projects, and items are stored in the same account.
It offers drag and drops application creation.
Data can be viewed in grids, calendars, or pivot tables with just one easy click.
There are no formulas to master nor any programming to do to build your applications.
All accounts include extensive features including customizable dashboards, reports, one-to-many relationships, security settings, and so much more!
Import and Export Data
It is quick and easy to import pre-existing data in xlsx, xls or csv format.
Thousands of rows and columns can be imported into your account, including linked items.
Data can be exported anytime in CSV format.
Collaboration in the Cloud
It allows seamless online collaboration within your team.
Your data is stored safely and securely in the cloud.
Users can update data anywhere and anytime.
Import your Excel Database into Kohezion
If you started managing your data with Excel, you may think switching to a better solution will be a difficult endeavor, but it's quite simple. Once you're ready to create a database application in your Kohezion account, clean up your Excel spreadsheet and import it into Kohezion.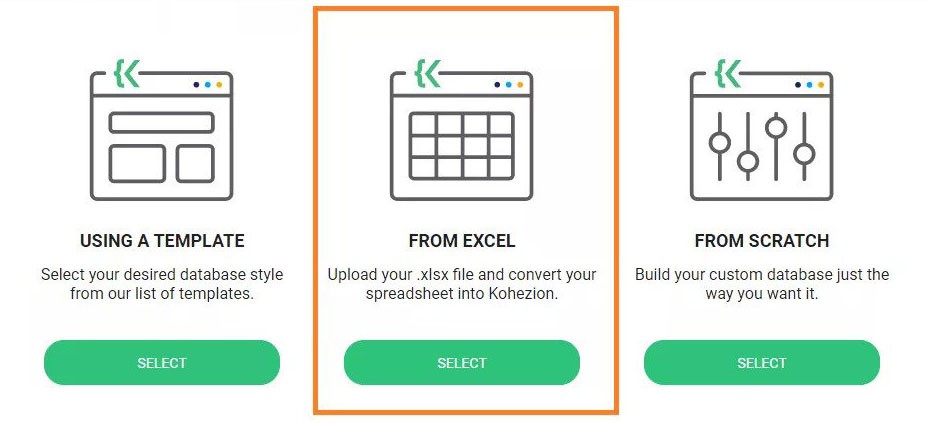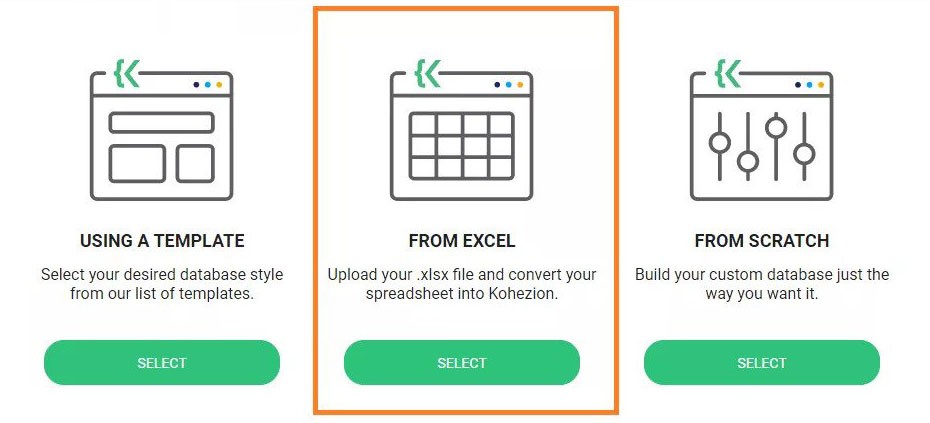 If you have just one or a few spreadsheets to import, it's a simple and easy DIY task to tackle. If you have bigger or multiple Excel databases you would like to migrate to Kohezion, get in touch, you'll be surprised how fast and affordable our turnkey solutions are. Kohezion has a team of database consultants eager to lend a hand whenever you might need it.