Last updated on November 30th, 2023 at 11:11 pm
Add a header to begin generating the table of contents
Welcome to our comprehensive guide on the 10 best Airtable alternatives you could consider in 2023. In this guide, we delve into why you might be considering alternatives to Airtable and critically evaluate some top competitors of this high-performing software.
Why Consider Alternatives to Airtable?
Airtable, despite its extensive capabilities, may not be the best fit for everyone. Some may find its user interface overwhelming, while others might feel restricted by its feature set. Perhaps you're seeking more advanced features or specific functionalities that Airtable doesn't provide. Or maybe you're looking for a more cost-effective solution. By evaluating Airtable alternatives, you'll be able to find a tool that better meets your unique business requirements and preferences.
The Shortcomings of Airtable
While Airtable brings a lot to the table, it does have some limitations that could make it less than ideal for certain users. These include:
Limited Project Management Features: Airtable is excellent as a database solution, but as a project management tool, its features may fall short compared to other robust tools in the market. Users may feel the need for more advanced task tracking and project planning features.
Collaboration Hurdles: While Airtable does offer collaboration features, some users find that they can be lacking in certain areas, such as real-time updating and communication.
Paid Extensions: Some beneficial features and functionalities in Airtable are only available as paid extensions, adding to the total cost.
Limited Reviewing Features: Airtable might lack the in-depth reviewing features that other tools offer, such as detailed activity logs or version history.
Costly for Larger Teams: Airtable's pricing can become quite steep when catering to larger teams. There are more economical solutions available that provide the same, or even better, range of features.
Top 10 Airtable Alternatives and Competitors
1. Kohezion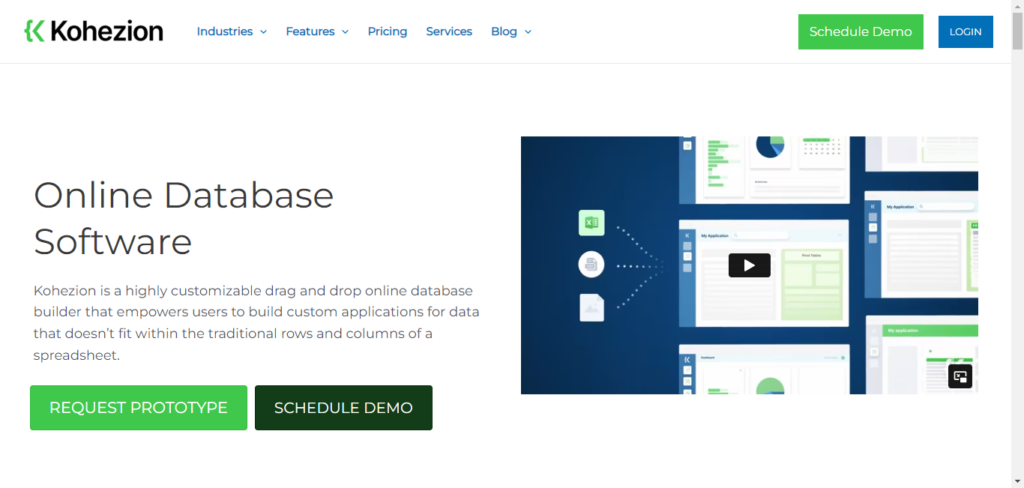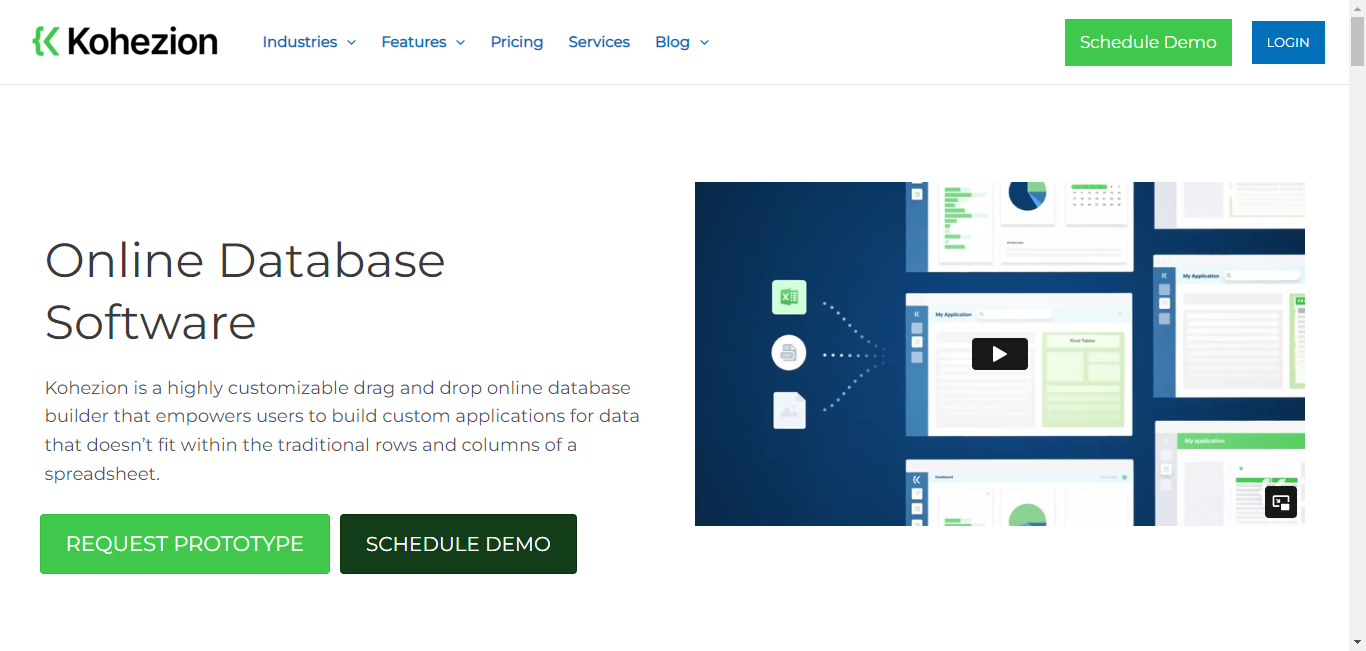 Kohezion is a dynamic Airtable alternative that covers a wide array of features and offers user-friendly online database software.
Why it's on the best list:
Kohezion allows users to create as many applications, projects, and tasks as they need without limitations, and its intuitive interface is easy to navigate.
It also provides a customizable dashboard, giving users greater control over their data.
Top 5 features:
Customizable Web Forms
Task Management
Time Tracking
Customizable Reports
Advanced Permissions
Five benefits:
Advanced Search Function
Data Export/Import
High Data Security
Private Cloud Hosting
User-friendly UI
Best suited for: Small to large businesses looking for a versatile and comprehensive solution.
Pricing: Affordable pricing options starting at $50/month for 5 users. A free trial is available.
2. Notion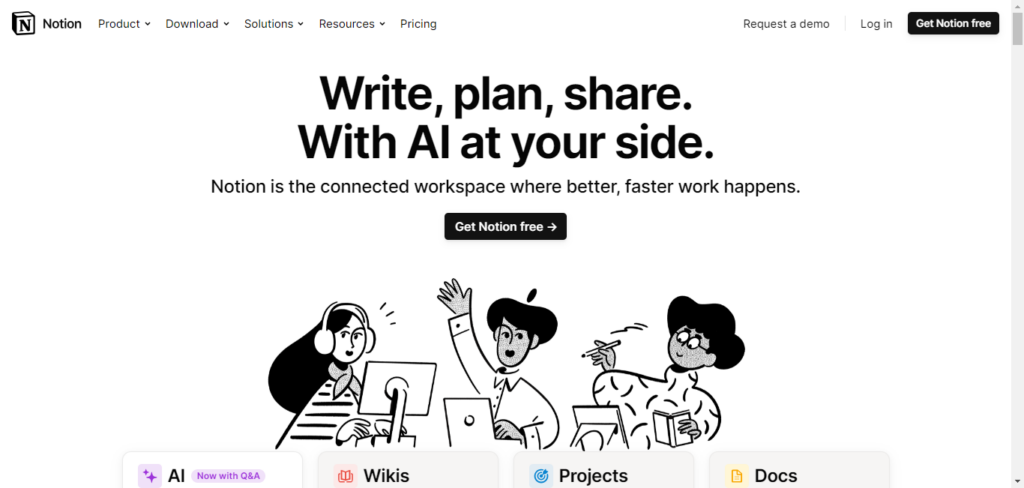 Notion is a highly flexible tool that amalgamates note-taking, knowledge base storage, project management, and data management into one software.
Why it's on the best list:
Notion allows for extensive customization and collaboration, making it ideal for a wide range of tasks and team sizes.
It is especially valuable for those seeking an all-in-one tool instead of juggling multiple pieces of software.
Top 5 features:
Integrated Note-taking
Comprehensive Project Management
Collaborative Workspaces
Sophisticated Table Formats
Markdown Support
Five benefits:
Versatile and Customizable
Supports a wide array of data types
Real-time messaging features
User-generated templates for numerous use cases
Web clipper for easy image and web page saving
Best suited for: Both individuals and teams seeking a multipurpose SaaS tool for a variety of tasks.
Pricing: Notion provides a limited free version, with paid team plans starting from $8 per user per month.
3. ClickUp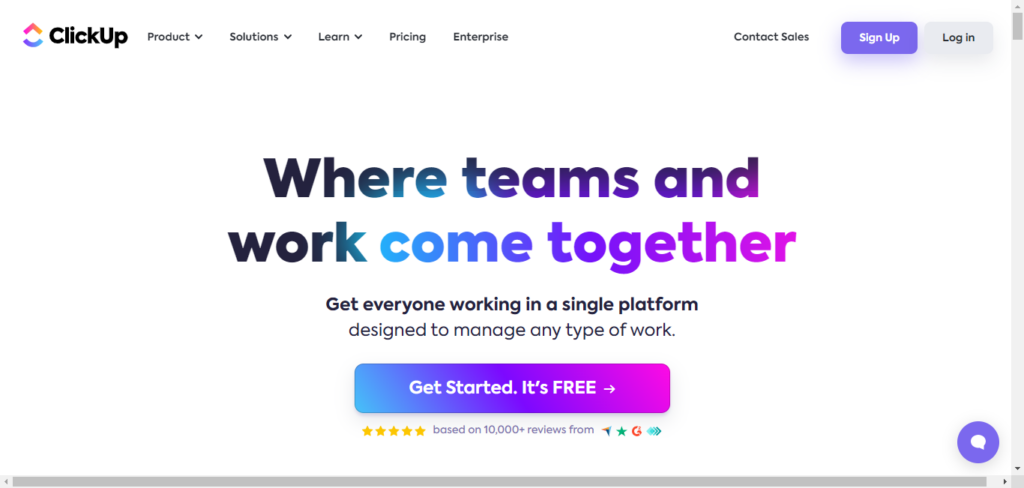 ClickUp is a comprehensive project management tool and an excellent Airtable alternative, particularly for those seeking a more all-inclusive solution to manage tasks, projects, and workflows.
Why it's on the best list:
ClickUp takes task management a step further and offers a broader spectrum of features than Airtable.
Its robust team collaboration features allow you to avoid miscommunication and stay ahead of deadlines.
Top 5 features:
Task checklists and Custom Task Statuses
Smart Notification
Team Chat
Workload View
Dynamic Recurring Tasks
Five benefits:
Handy Kanban boards and Gantt chart views for project management.
Comprehensive dashboard view.
Offers features like goals and embedded emails in its free plan.
Provides several templates and free integrations.
24/7 support availability.
Best suited for: Teams looking to streamline document management, chat function, and goal planning, and those who want a holistic view of their work.
Pricing: ClickUp has a free plan, with paid options starting at $5 per member per month.
4. ProofHub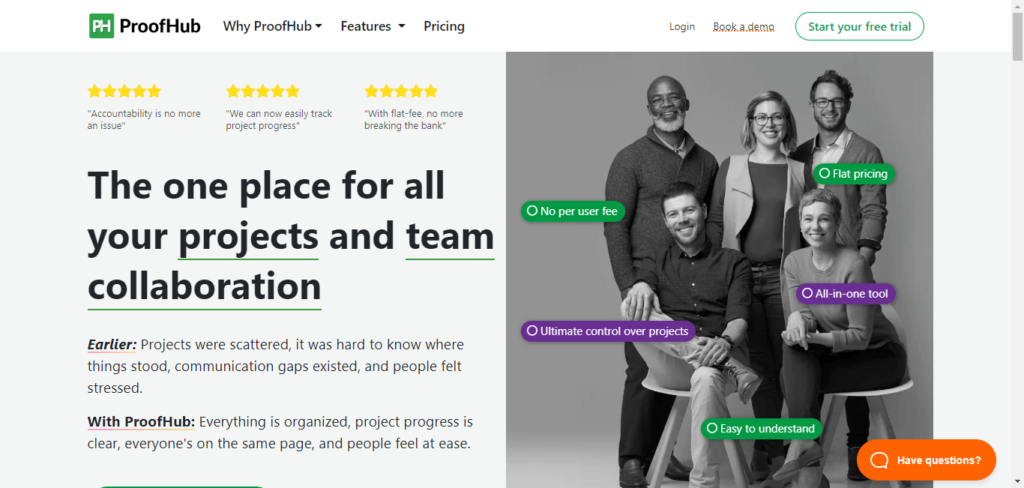 ProofHub is an all-in-one organizational tool. It's a perfect Airtable alternative for teams wanting to streamline project management and team collaboration.
Why it's on the best list:
ProofHub is excellent for managing numerous tasks and brainstorming with colleagues. It combines project management and resource planning capabilities to facilitate efficiency.
One notable distinction is the flat pricing structure, making it a cost-effective choice for large and growing teams.
Top 5 features:
Task and Project Management
In-Built Team Communication Tools
Gantt Charts for Project Timelines
Custom Workflows and Kanban Boards
Detailed Project Reports and Dashboards
Five benefits:
Offers a centralized platform for managing work.
Aids in efficient data tracking and management.
Provides a project calendar for scheduling work and milestone tracking.
Intuitive interface with powerful customization options.
Aids in prioritizing work and monitoring team progress.
Best suited for: Project teams of any size to manage work aspects from a centralized platform, where ease of use and efficient team collaboration is a primary concern.
Pricing: ProofHub offers a flat subscription rate of $89/month, without the limitation of users. A free trial is also available.
5. Smartsheet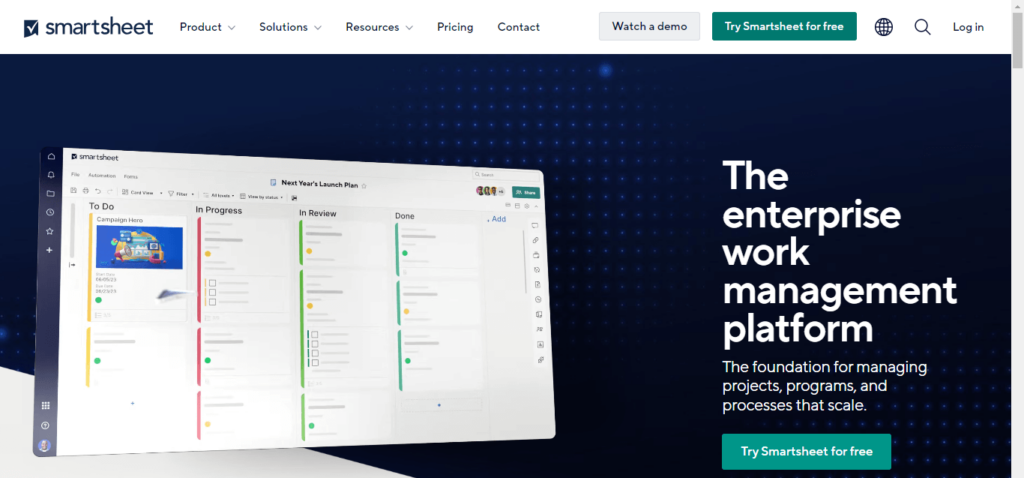 Smartsheet presents itself as a versatile Airtable alternative, providing a scalable, spreadsheet-based platform that enhances productivity.
Why it's on the best list:
Smartsheet ramps up project management and collaboration to a new level, with an interface similar to Microsoft Excel, making it easy to adopt.
It excels in task management and resource allocation, offering superior customization options.
Top 5 features:
Automated Alerts and Reminders
Gantt Chart View for Project Timeline
Exportable and Automated Reports
Resource Management
Seamless Integration with Google Apps
Five benefits:
Facilitates multiple project connections with collaboration and communication features.
Offers a simple and clean user interface that's customizable.
Provides great tracking functions, enhancing productivity.
Works well with Google Drive, and you can sync it with Google Calendar.
Allows sign-in with Google account info.
Best suited for: Businesses of all sizes that require excellent project management tools and are used to a spreadsheet-based workflow.
Pricing: Smartsheet's pricing plans start at $14 per month for individual users, with enterprise-level pricing available on request.
6. Microsoft Excel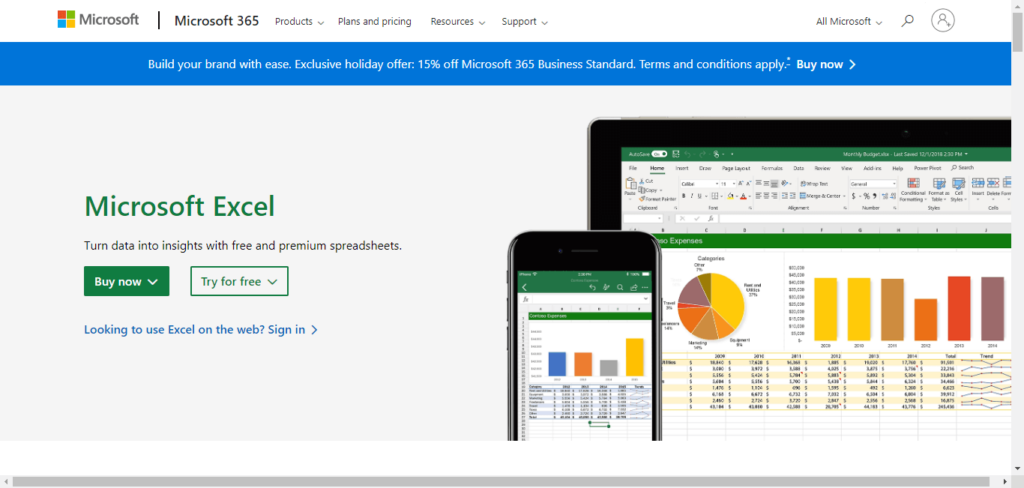 Microsoft Excel is a powerful spreadsheet tool that can serve as an effective alternative to Airtable for users who desire exceptional data analysis and complex calculations.
Why it's on the best list:
With more than 450 formulas and a vast array of built-in features and add-ins, Excel elevates data organization and calculation tasks.
Its robust graphing tools, pivot tables, and macro programming language (VBA) make it a versatile option.
Top 5 Features:
Advanced Formulas and Functions
Impressive Charting and Graphing Tools
Powerful Pivot Tables for Data Manipulation
Conditional Formatting
Data Validation Tools
Five benefits:
Excel enjoys wide acceptance, with a familiar interface and extensive online resources.
Highly customizable, Excel allows you to format cells and data to suit your needs.
Presents a good set of data visualization tools for generating reports and dashboards.
Allows automation of repetitive tasks with VBA scripting.
Strong offline performance.
Best suited for: Individuals and businesses in fields such as finance and accounting, researchers, or anyone needing advanced data manipulation and analysis.
Pricing: As part of MS 365, Microsoft Excel offers six pricing plans from $6.99/month for personal use and $5/user per month for business use.
[kohezion cta]
7. Trello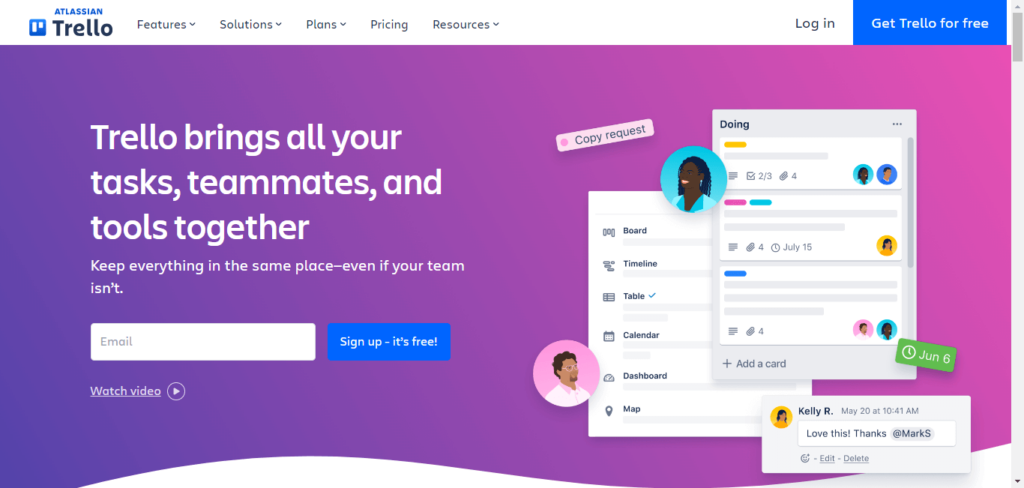 Trello is an easy-to-use, kanban-style project management tool, serving as a great Airtable alternative, especially for users who prefer a visually-driven task management system.
Why it's on the best list:
While Trello excels in simplicity, it also offers powerful features for task management and collaboration.
If you're a fan of sticky notes and whiteboards, Trello's card-based design will appeal to you.
Top 5 features:
Visual Boards, Lists, and Cards
Workflow Automation with Trello's Butler
Collaboration tools (Comments, Attachments, Task Assignment)
Multiple Task View (Board, Timeline, Calendar)
Integrations (Power-Ups)
Five benefits:
Intuitive drag-and-drop interface.
Easy to set up and start using.
Notifications and due date reminders.
Customizable to suit your team's workflow.
Provides a transparent view of project progress.
Best suited for: Teams looking for a flexible, simple-to-understand project management tool that makes day-to-day tasks fun and productive.
Pricing: Trello offers a free plan with limited features and paid plans starting at $5 per user/month.
8. Nifty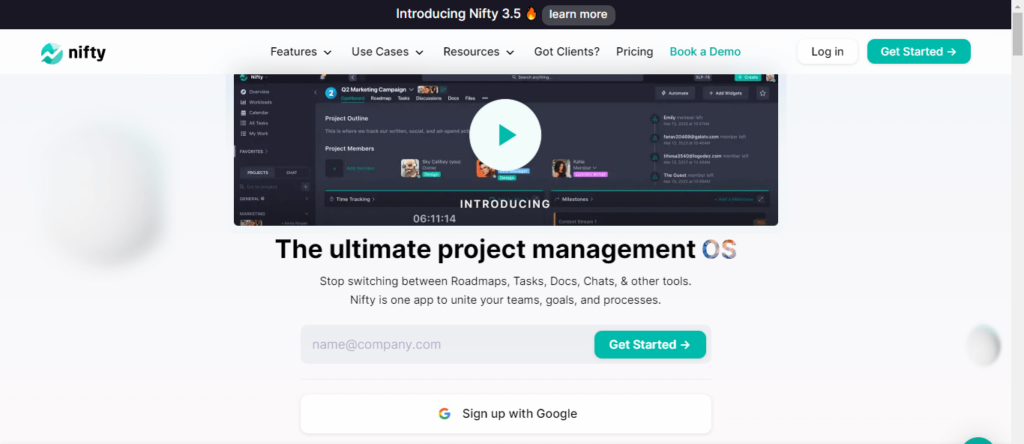 Nifty is a robust project management software and an alternative to Airtable. It's equipped with file storage and offers a collaborative workspace, making large-scale project management a breeze.
Why it's on the best list:
Nifty stands apart for its ability to close the gap between project management and team communication.
It facilitates progressive project planning using milestones, allowing for smoother management of tasks and team activities.
Top 5 features:
Milestone-Based Project Planning
Portfolio-level Overview
Time Tracking and Reporting
User Roles and Permissions
Task Comments and Document Sharing
Five benefits:
Simplifies goal tracking and task assignment.
Allows you to view data in varied ways to suit your preferences.
Packed with integrations to enhance its functionality.
Loop in your clients on projects with moderated permissions.
Excellent for remote collaboration.
Best suited for: Nifty is a favorite among product, marketing, development, client-facing teams, and anyone with complex projects requiring advanced tasks and time management.
Pricing: Nifty offers a free plan, with paid plans starting at $39/month for 10 team members.
9. Wrike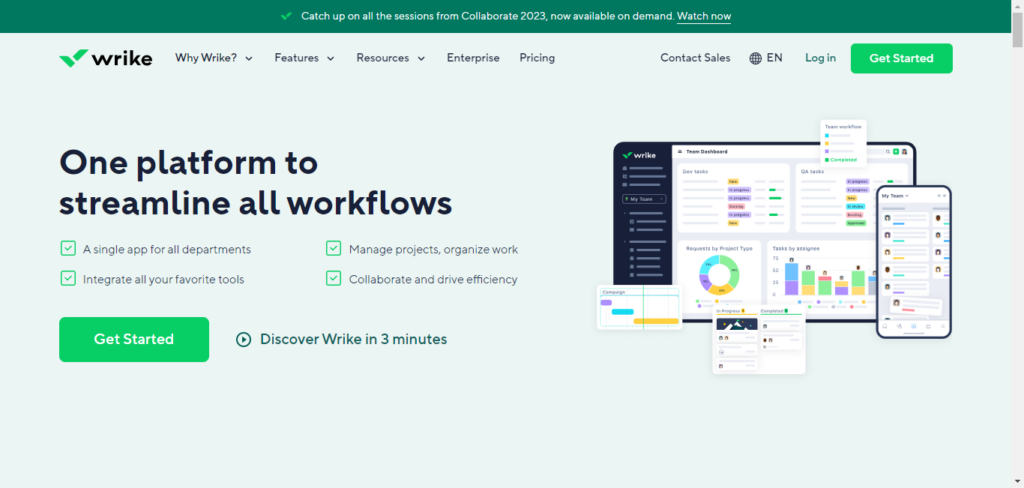 Wrike is a robust task management software that makes project organization easier and more customizable - A fantastic Airtable alternative.
Why it's on the best list:
Wrike excels at managing shared calendars and tasks, with a visual markup tool that expedites feedback.
It's highly suitable for small agencies looking for customizable workspaces.
Top 5 features:
Conditional Logic Forms
Task-sharing and Report-sharing
Unique three-pane dashboard
Interactive Gantt Charts for project tracking
Over 400 different SaaS apps integration possibilities
Five benefits:
Easily track time spent on tasks/projects.
Scalable according to your team's size.
Multiple views including an Airtable-like table view.
Create projects using pre-made templates for formidable teamwork requirements.
A wide user base of 20,000+ users stands testament to its efficacy.
Best suited for: Teams aiming for better task management, custom workspaces, shared calendars, and expedited collaboration.
Pricing: Wrike has a free plan, the Professional Plan starts at $9.80/user per month, and the Business Plan at $24.80/user per month
10. Teamwork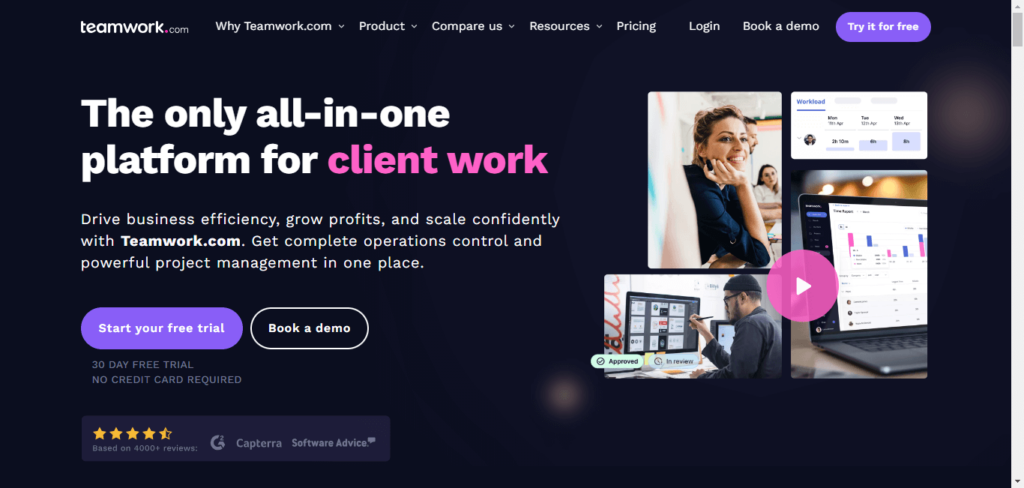 Teamwork is a complete project management tool that focuses on helping teams improve collaboration, visibility, accountability, and ultimately results.
Why it's on the best list:
Teamwork provides a multi-tiered solution for task management, making it a valuable Airtable alternative.
It excels at time tracking, billable hours, and resource management, making it ideal for client-facing teams.
Top 5 features:
Granular User Permissions
Integrated Team Chat
Document Management and Editing
Task Management with Time Logging
Project and Task Templates
Five benefits:
An intuitive interface ensures quick adoption by team members.
Hassle-free scheduling and resource management.
Provides detailed reports for an in-depth view of project performance.
Offers native integration with Google Drive, Dropbox, and other popular apps.
Excellent privacy features, such as private tasks and locking comments.
Best suited for: Agencies, customer service teams, or any team especially focused on time-tracking, resource management, and seamless collaboration.
Pricing: Teamwork's pricing starts at $10/user/month with a free plan available.
What Features to Look for Among Airtable Competition?
When considering alternatives to Airtable, ensure that these contenders provide the features that are most valuable to your unique objectives and needs. Key features to look for:
Task and Project Management: Look for solid task and project management features such as assignments, tagging, progress tracking, and due dates.
Ease of Use: Even with many features, the tool should be intuitive and easy to use with a minimal learning curve.
Flexibility and Customization: The platform should provide custom fields, views, and workflows to suit your needs.
Integration Capabilities: Consider whether the tool integrates seamlessly with the software you already use, such as Google Workspace, Microsoft tools, or CRM software.
Team Collaboration Features: Effective collaboration tools like shared views, comments, document sharing, and real-time updates are crucial.
Scalability: For businesses aiming to grow, consider if the software can be scalable as per the changing needs.
Budget-Friendly: Consider the cost and if it matches the value you're getting from the tool.
Kohezion is a Great Alternative for Airtable
As you've seen, there's a variety of Airtable alternatives available, each offering unique features and strengths that suit differing needs. Whether you require a robust project management system, a flexible task manager, or something that simplifies your work processes, there's an alternative for you.
Fully explore the software's features, weigh the costs, assess the user-friendliness, and consider customer reviews. Even better, most of these platforms offer free trials, making it easier to test and decide which works best for you.
So, have you chosen the best Airtable alternative for your business needs yet? The right choice can indeed make a significant difference in improving your productivity and achieving your business goals.